DALLAS (FWAA) – Florida's Brandon Antwine is the final nominee for the 2008 FedEx Orange Bowl/FWAA Courage Award, to be announced at the end of the season. Antwine, a sophomore defensive tackle from Garland, Texas, has overcome kidney failure and a significant muscular breakdown in his lower back to return to football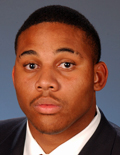 Antwine
In October 2007, Antwine suffered symptoms of dehydration along with pain in his lower back. He was taken to the hospital, and acute kidney failure was discovered. Further examination revealed the kidney troubles resulted from a rare muscle failure called lumbar spine myonecrosis, a loss of blood pressure that kills muscular cell fibers.
Essentially a muscle in his lower back had died. Normal kidney function returned in several days, but the pain in his back got worse.
"It was like no other pain I've ever experienced in my life," Antwine told the Gainesville (Fla.) Sun. "It felt like someone had lit my back on fire and then was stabbing me with a knife."
Antwine spent several weeks in a wheelchair, then had to relearn how to walk. The process included therapy in a swimming pool, followed by learning to balance and then walking with a cane.
Many suspected he would not play football again, but he gradually progressed. Although he wasn't cleared for full contact until the second week of September, Antwine has contributed this season as a backup nose tackle, and has pushed for more playing time.
He stretches the back four times a day.
"I don't want to say it's a miracle because that's awful deep, but he's come this far," Florida coach Urban Meyer told the Orlando Sentinel. "Our medical staff is amazed."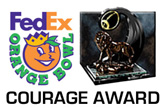 For the third straight year, the Football Writers Association of America and the FedEx Orange Bowl has announced a weekly nominee during the season. A blue-ribbon panel will determine the winner from all of the nominees. The winner of the FedEx Orange Bowl/FWAA Courage Award will be announced in December and be presented with the trophy.
The Courage Award was created by ESPN The Magazine's senior writer Gene Wojciechowski, also a FWAA member. A select group of writers from the FWAA vote on the winner each year. The requirements for nomination include displaying courage on or off the field, including overcoming an injury or physical handicap, preventing a disaster or living through hardship.
Previous winners of the FWAA's Courage Award are Navy's Zerbin Singleton (2007), Clemson's Ray Ray McElrathbey (2006), the Tulane football team (2005), Memphis' Haracio Colen (2004), San Jose State's Neil Parry (2003) and Toledo's William Bratton (2002).
Celebrating its 75th anniversary, the Orange Bowl Committee is a not-for-profit, 333-member, primarily-volunteer organization. It is a self-sustaining, independent organization that supports and produces activities and events that enhance the image, economy and culture of South Florida. In addition to the 75th edition of the Orange Bowl Festival, which features a year-round schedule of events culminating with the FedEx Orange Bowl on January 1, the Orange Bowl Committee will host the 2009 FedEx BCS Championship Game on January 8. For more information on the 2008-09 Orange Bowl Festival and its events, including promotional and volunteer opportunities, visit orangebowl.org.
The Football Writers Association of America, a non-profit organization founded in 1941, consists of more than 1,000 men and women across North America who cover college football for a living. The membership includes journalists, broadcasters and publicists, as well as key executives in all the areas that involve the game. The FWAA works to govern areas that include game day operations, major awards, a national poll and its annual All-America team.
For more information in the FedEx Orange Bowl/FWAA Courage Award, contact George Schroeder at 541-953-4080 or gschroeder@aol.com.
2008 Orange Bowl Courage Award Nominees
• Sept. 10: Artrell Woods, Oklahoma State
• Sept. 17: Terence Campbell, East Carolina
• Sept. 24: Johnell Neal, Central Florida
• Oct. 1: Wilson Holloway, Tulsa
• Oct. 8: Inquoris "Inky" Johnson, Tennessee
• Oct. 15: Richard Bowman, North Dakota State
• Oct. 22: Tyson Gentry, Ohio State
• Oct. 29: Chris Ogbonnaya, Texas
• Nov. 12: Robert Quinn, North Carolina
• Nov. 19: Brandon Antwine, Florida