DALLAS (FWAA) – Central Florida's Johnell Neal is this week's nominee for the 2008 FedEx Orange Bowl/FWAA Courage Award, to be announced at the end of the season. Neal, a senior cornerback from Baton Rouge, La., returned to play this season, less than four months after he was shot four times.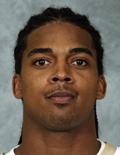 Neal
Last May, six days after Neal graduated with a degree in criminal justice – becoming the first person in his family to earn a college degree – he was ambushed outside the family's home in Baton Rouge. Neal, his brother and a cousin had just returned from his brother's R&B concert when they were attacked. Three people have been charged in connection with the shooting.
The alleged shooter apparently was angry with Neal's cousin for a long-ago incident. Neal was shot twice in the arm and twice in the chest.
"We ended up at the wrong place at the wrong time," Neal told the Orlando Sentinel. "We didn't see it coming." Neal underwent surgery to repair a punctured lung, but was able to start rehabilitation within two weeks. His goal was to return in time for the start of football season.
"All I could think about when it happened was I wanted to come back to Orlando and be with my team," Neal told the newspaper. "I'm better when I'm with these guys. I wanted to work hard to be back stronger than ever for our first game."
Neal achieved that goal. He has started 41 games, including 16 straight. He has two interceptions this season to share the team lead. In 2007, he shared the Conference USA lead in interceptions with six.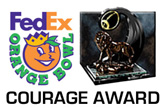 For the third straight year, the Football Writers Association of America and the FedEx Orange Bowl will announce a weekly nominee each Wednesday during the season. A blue-ribbon panel will determine the winner from all of the nominees. The winner of the FedEx Orange Bowl/FWAA Courage Award will be announced in December and be presented with the trophy.
The Courage Award was created by ESPN The Magazine's senior writer Gene Wojciechowski, also a FWAA member. A select group of writers from the FWAA vote on the winner each year. The requirements for nomination include displaying courage on or off the field, including overcoming an injury or physical handicap, preventing a disaster or living through hardship.
Previous winners of the FWAA's Courage Award are Navy's Zerbin Singleton (2007), Clemson's Ray Ray McElrathbey (2006), the Tulane football team (2005), Memphis' Haracio Colen (2004), San Jose State's Neil Parry (2003) and Toledo's William Bratton (2002).
Celebrating its 75th anniversary, the Orange Bowl Committee is a not-for-profit, 333-member, primarily-volunteer organization. It is a self-sustaining, independent organization that supports and produces activities and events that enhance the image, economy and culture of South Florida. In addition to the 75th edition of the Orange Bowl Festival, which features a year-round schedule of events culminating with the FedEx Orange Bowl on January 1, the Orange Bowl Committee will host the 2009 FedEx BCS Championship Game on January 8. For more information on the 2008-09 Orange Bowl Festival and its events, including promotional and volunteer opportunities, visit orangebowl.org.
The Football Writers Association of America, a non-profit organization founded in 1941, consists of more than 1,000 men and women across North America who cover college football for a living. The membership includes journalists, broadcasters and publicists, as well as key executives in all the areas that involve the game. The FWAA works to govern areas that include game day operations, major awards, a national poll and its annual All-America team.
For more information in the FedEx Orange Bowl/FWAA Courage Award, contact George Schroeder at 541-953-4080 or gschroeder@aol.com.
2008 Orange Bowl Courage Award Nominees
• Sept. 10: Artrell Woods, Oklahoma State
• Sept. 17: Terence Campbell, East Carolina
• Sept. 24: Johnell Neal, Central Florida
• Oct. 1: Wilson Holloway, Tulsa
• Oct. 8: Inquoris "Inky" Johnson, Tennessee
• Oct. 15: Richard Bowman, North Dakota State
• Oct. 22: Tyson Gentry, Ohio State
• Oct. 29: Chris Ogbonnaya, Texas
• Nov. 12: Robert Quinn, North Carolina
• Nov. 19: Brandon Antwine, Florida