DALLAS (FWAA) – East Carolina's Terence Campbell is this week's nominee for the 2008 FedEx Orange Bowl/FWAA Courage Award, to be announced at the end of the season. Campbell, a junior offensive lineman from Maxton, N.C., has returned to action after undergoing emergency heart surgery in the winter of 2007.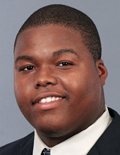 Campbell
Campbell was a starter at tackle in 2006, when he recorded 47 knockdown blocks, played 880 snaps and made Conference USA's all-freshman team. But in February 2007, he was diagnosed with a blood clot in his heart after a scary episode when he began coughing and felt numbness in his arms and pain in his chest.
Two days later, he was undergoing surgery for a condition known as acute coronary thrombosis. Surgery removed the clot, but Campbell's athletic future was in doubt. He wasn't allowed to run or lift weights – much less play football – in 2007.
"That was hard to take," Campbell told the News & Observer, "that I would have to live without (football)."
A scar remains on Campbell's heart wall, but the organ's function has returned to normal. Last January, he received doctors' clearance to resume athletic participation, and chose to do so.
"When I first started (in spring practice), I worried," Campbell told the News & Observer. "Any little thing would scare me. Now I don't think about it. It feels like it never happened."
Campbell has played a reserve role in ECU's first three games this season, helping the Pirates to a 3-0 start that includes wins over Virginia Tech and West Virginia. Because of injuries, Campbell is expected to start at left tackle this week.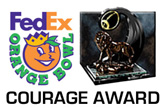 For the third straight year, the Football Writers Association of America and the FedEx Orange Bowl will announce a weekly nominee each Wednesday during the season. A blue-ribbon panel will determine the winner from all of the nominees. The winner of the FedEx Orange Bowl/FWAA Courage Award will be announced in December and be presented with the trophy.
The Courage Award was created by ESPN The Magazine's senior writer Gene Wojciechowski, also a FWAA member. A select group of writers from the FWAA vote on the winner each year. The requirements for nomination include displaying courage on or off the field, including overcoming an injury or physical handicap, preventing a disaster or living through hardship.
Previous winners of the FWAA's Courage Award are Navy's Zerbin Singleton (2007), Clemson's Ray Ray McElrathbey (2006), the Tulane football team (2005), Memphis' Haracio Colen (2004), San Jose State's Neil Parry (2003) and Toledo's William Bratton (2002).
Celebrating its 75th anniversary, the Orange Bowl Committee is a not-for-profit, 333-member, primarily-volunteer organization. It is a self-sustaining, independent organization that supports and produces activities and events that enhance the image, economy and culture of South Florida. In addition to the 75th edition of the Orange Bowl Festival, which features a year-round schedule of events culminating with the FedEx Orange Bowl on January 1, the Orange Bowl Committee will host the 2009 FedEx BCS Championship Game on January 8. For more information on the 2008-09 Orange Bowl Festival and its events, including promotional and volunteer opportunities, visit orangebowl.org.
The Football Writers Association of America, a non-profit organization founded in 1941, consists of more than 1,000 men and women across North America who cover college football for a living. The membership includes journalists, broadcasters and publicists, as well as key executives in all the areas that involve the game. The FWAA works to govern areas that include game day operations, major awards, a national poll and its annual All-America team.
For more information in the FedEx Orange Bowl/FWAA Courage Award, contact George Schroeder at 541-953-4080 or gschroeder@aol.com.
2008 Orange Bowl Courage Award Nominees
• Sept. 10: Artrell Woods, Oklahoma State
• Sept. 17: Terence Campbell, East Carolina
• Sept. 24: Johnell Neal, Central Florida
• Oct. 1: Wilson Holloway, Tulsa
• Oct. 8: Inquoris "Inky" Johnson, Tennessee
• Oct. 15: Richard Bowman, North Dakota State
• Oct. 22: Tyson Gentry, Ohio State
• Oct. 29: Chris Ogbonnaya, Texas
• Nov. 12: Robert Quinn, North Carolina
• Nov. 19: Brandon Antwine, Florida