DALLAS (FWAA) – North Dakota State's Richard Bowman is this week's nominee for the 2008 FedEx Orange Bowl/FWAA Courage Award, to be announced at the end of the season. Bowman, a junior cornerback from Houston, has overcome a severe neck injury that necessitated surgery and threatened his playing career.
The 5-8, 172-pounder was injured in the first game of the 2007 season while making a hit. Bowman felt his body go numb, and it wasn't the first time. He'd had the same feeling once after a hit during high school.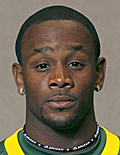 Bowman
"I wasn't afraid, because in high school I was only out for one week," Bowman told ncaa.com.
Bowman lay on the field for several minutes before feeling returned to his extremities. He walked to the sideline but later underwent further tests which revealed spinal stenosis, a narrowing of the spinal canal which meant spinal fluid was unable to flow easily through the canal.
"Whenever I suffer any type of impact," Bowman said, "my spinal cord hits the canal and that's what caused me to be immobilized."
Doctors told Bowman he could have been paralyzed on the hit. He underwent surgery to widen the spinal canal. Doctors used bones from cadavers and titanium plates, allowing spinal fluid to flow normally.
Bowman returned to action last August. He has played in all six games and has 20 tackles, as well as two pass-breakups. North Dakota State is 3-3 and ranked No. 16 in the Football Championship Subdivision coaches' Top 25 poll.
"In the first game, it seemed like everything was moving so fast," Bowman said. "I felt like I was a rookie again. After that, everything slowed down and I got used to it again."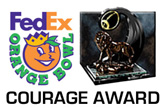 For the third straight year, the Football Writers Association of America and the FedEx Orange Bowl will announce a weekly nominee each Wednesday during the season. A blue-ribbon panel will determine the winner from all of the nominees. The winner of the FedEx Orange Bowl/FWAA Courage Award will be announced in December and be presented with the trophy.
The Courage Award was created by ESPN The Magazine's senior writer Gene Wojciechowski, also a FWAA member. A select group of writers from the FWAA vote on the winner each year. The requirements for nomination include displaying courage on or off the field, including overcoming an injury or physical handicap, preventing a disaster or living through hardship.
Previous winners of the FWAA's Courage Award are Navy's Zerbin Singleton (2007), Clemson's Ray Ray McElrathbey (2006), the Tulane football team (2005), Memphis' Haracio Colen (2004), San Jose State's Neil Parry (2003) and Toledo's William Bratton (2002).
Celebrating its 75th anniversary, the Orange Bowl Committee is a not-for-profit, 333-member, primarily-volunteer organization. It is a self-sustaining, independent organization that supports and produces activities and events that enhance the image, economy and culture of South Florida. In addition to the 75th edition of the Orange Bowl Festival, which features a year-round schedule of events culminating with the FedEx Orange Bowl on January 1, the Orange Bowl Committee will host the 2009 FedEx BCS Championship Game on January 8. For more information on the 2008-09 Orange Bowl Festival and its events, including promotional and volunteer opportunities, visit orangebowl.org.
The Football Writers Association of America, a non-profit organization founded in 1941, consists of more than 1,000 men and women across North America who cover college football for a living. The membership includes journalists, broadcasters and publicists, as well as key executives in all the areas that involve the game. The FWAA works to govern areas that include game day operations, major awards, a national poll and its annual All-America team.
For more information in the FedEx Orange Bowl/FWAA Courage Award, contact George Schroeder at 541-953-4080 or gschroeder@aol.com.
2008 Orange Bowl Courage Award Nominees
• Sept. 10: Artrell Woods, Oklahoma State
• Sept. 17: Terence Campbell, East Carolina
• Sept. 24: Johnell Neal, Central Florida
• Oct. 1: Wilson Holloway, Tulsa
• Oct. 8: Inquoris "Inky" Johnson, Tennessee
• Oct. 15: Richard Bowman, North Dakota State
• Oct. 22: Tyson Gentry, Ohio State
• Oct. 29: Chris Ogbonnaya, Texas
• Nov. 12: Robert Quinn, North Carolina
• Nov. 19: Brandon Antwine, Florida