DALLAS (FWAA) – Texas' Chris Ogbonnaya is this week's nominee for the 2008 FedEx Orange Bowl/FWAA Courage Award, to be announced at the end of the season. Ogbonnaya, a senior from Missouri City, Texas, has overcome the deaths of several adopted family members and friends to succeed on and off the field.
Ogbonnaya's father, Kalu Ogbonnaya, a native of Nigeria and a physician specializing in internal medicine, was raising his four children alone after a divorce. The family grew to seven in 1997 when tragedy struck close family friends. When Jonah Ifegwu died of terminal brain cancer and his wife, Rose, was killed in a car accident, Kalu Ogbonnaya took over caring for the Ifegwu family's three sons.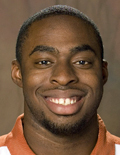 Ogbonnaya
Six years ago, Ifegwu Ifegwu, an adopted brother, was killed in a head-on collision. Two months later, another adopted brother, Jonathan Ifegwu, collapsed and died of a congenital heart condition as Chris Ogbonnaya watched.
"To have it happen in front of you," Chris Ogbonnaya told The Dallas Morning News, "it's different. It's a hollow feeling."
"Why would a whole family be wiped out like this?" Kalu Ogbonnaya wondered.
But Chris Ogbonnaya has overcome to become a success story. He has already graduated with a degree in history and a minor in business, and is a semifinalist for the Draddy Award, which recognizes athletes' academic prowess.
During his first four years at Texas, he played fullback and receiver, but never found a consistent role. But he emerged this season, as a fifth-year senior, as the Longhorns' starting tailback. He has become a consistent threat for the nation's top-ranked team.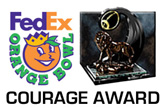 For the third straight year, the Football Writers Association of America and the FedEx Orange Bowl will announce a weekly nominee each Wednesday during the season. A blue-ribbon panel will determine the winner from all of the nominees. The winner of the FedEx Orange Bowl/FWAA Courage Award will be announced in December and be presented with the trophy.
The Courage Award was created by ESPN The Magazine's senior writer Gene Wojciechowski, also a FWAA member. A select group of writers from the FWAA vote on the winner each year. The requirements for nomination include displaying courage on or off the field, including overcoming an injury or physical handicap, preventing a disaster or living through hardship.
Previous winners of the FWAA's Courage Award are Navy's Zerbin Singleton (2007), Clemson's Ray Ray McElrathbey (2006), the Tulane football team (2005), Memphis' Haracio Colen (2004), San Jose State's Neil Parry (2003) and Toledo's William Bratton (2002).
Celebrating its 75th anniversary, the Orange Bowl Committee is a not-for-profit, 333-member, primarily-volunteer organization. It is a self-sustaining, independent organization that supports and produces activities and events that enhance the image, economy and culture of South Florida. In addition to the 75th edition of the Orange Bowl Festival, which features a year-round schedule of events culminating with the FedEx Orange Bowl on January 1, the Orange Bowl Committee will host the 2009 FedEx BCS Championship Game on January 8. For more information on the 2008-09 Orange Bowl Festival and its events, including promotional and volunteer opportunities, visit orangebowl.org.
The Football Writers Association of America, a non-profit organization founded in 1941, consists of more than 1,000 men and women across North America who cover college football for a living. The membership includes journalists, broadcasters and publicists, as well as key executives in all the areas that involve the game. The FWAA works to govern areas that include game day operations, major awards, a national poll and its annual All-America team.
For more information in the FedEx Orange Bowl/FWAA Courage Award, contact George Schroeder at 541-953-4080 or gschroeder@aol.com.
2008 Orange Bowl Courage Award Nominees
• Sept. 10: Artrell Woods, Oklahoma State
• Sept. 17: Terence Campbell, East Carolina
• Sept. 24: Johnell Neal, Central Florida
• Oct. 1: Wilson Holloway, Tulsa
• Oct. 8: Inquoris "Inky" Johnson, Tennessee
• Oct. 15: Richard Bowman, North Dakota State
• Oct. 22: Tyson Gentry, Ohio State
• Oct. 29: Chris Ogbonnaya, Texas
• Nov. 12: Robert Quinn, North Carolina
• Nov. 19: Brandon Antwine, Florida