DALLAS (FWAA) – North Carolina's Robert Quinn is this week's nominee for the 2008 FedEx Orange Bowl/FWAA Courage Award, to be announced at the end of the season. Quinn, a freshman defensive end from Ladson, S.C., underwent emergency brain surgery in October 2007, during his senior year of high school, but has recovered to earn a starting position for the Tar Heels.
He's a candidate for ACC defensive rookie of the year honors, with 18 tackles, five tackles for loss, one sack and two forced fumbles. The forced fumbles came last week, when he also had six tackles in North Carolina's win over No. 22 Georgia Tech.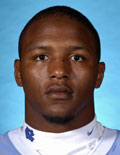 Quinn
But a year ago, no one was sure if Quinn would play football again.
The 6-5, 260-pound Quinn was considered one of the top recruits in South Carolina last fall at Fort Dorchester High School, but suddenly he started missing tackles in high school games, and understanding the defensive scheme. He also struggled to keep his balance, found himself occasionally disoriented, and twice fainted.
After the second fainting spell, Quinn's parents rushed him to the hospital, where a CT scan revealed a tumor blocking his spinal cavity and causing a buildup of fluids that resulted in swelling in his brain. A day later – Oct. 29, 2007 – doctors performed five hours of surgery to relieve the fluid buildup and take a biopsy of the tumor. Although the tumor could not be removed, it was determined to be benign.
A nurse told Robert and his family his athletic career was over. Although it wasn't certain whether Quinn would be able to play football, North Carolina and several other schools stood by their scholarship offers. North Carolina coach Butch Davis, who had undergone treatment for a cancerous growth in his mouth in 2006, told the Raleigh (N.C.) News & Observer he had "personal empathy with someone going through the uncertainty of the future."
Quinn's recovery went well. He was cleared to wrestle three months after the surgery and went on to win his second state title in the sport. Then, he earned the starting role with the Tar Heels.
"I'm just blessed," Quinn told the newspaper, "and just happy to get this chance."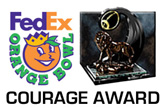 For the third straight year, the Football Writers Association of America and the FedEx Orange Bowl will announce a weekly nominee each Wednesday during the season. A blue-ribbon panel will determine the winner from all of the nominees. The winner of the FedEx Orange Bowl/FWAA Courage Award will be announced in December and be presented with the trophy.
The Courage Award was created by ESPN The Magazine's senior writer Gene Wojciechowski, also a FWAA member. A select group of writers from the FWAA vote on the winner each year. The requirements for nomination include displaying courage on or off the field, including overcoming an injury or physical handicap, preventing a disaster or living through hardship.
Previous winners of the FWAA's Courage Award are Navy's Zerbin Singleton (2007), Clemson's Ray Ray McElrathbey (2006), the Tulane football team (2005), Memphis' Haracio Colen (2004), San Jose State's Neil Parry (2003) and Toledo's William Bratton (2002).
Celebrating its 75th anniversary, the Orange Bowl Committee is a not-for-profit, 333-member, primarily-volunteer organization. It is a self-sustaining, independent organization that supports and produces activities and events that enhance the image, economy and culture of South Florida. In addition to the 75th edition of the Orange Bowl Festival, which features a year-round schedule of events culminating with the FedEx Orange Bowl on January 1, the Orange Bowl Committee will host the 2009 FedEx BCS Championship Game on January 8. For more information on the 2008-09 Orange Bowl Festival and its events, including promotional and volunteer opportunities, visit orangebowl.org.
The Football Writers Association of America, a non-profit organization founded in 1941, consists of more than 1,000 men and women across North America who cover college football for a living. The membership includes journalists, broadcasters and publicists, as well as key executives in all the areas that involve the game. The FWAA works to govern areas that include game day operations, major awards, a national poll and its annual All-America team.
For more information in the FedEx Orange Bowl/FWAA Courage Award, contact George Schroeder at 541-953-4080 or gschroeder@aol.com.
2008 Orange Bowl Courage Award Nominees
• Sept. 10: Artrell Woods, Oklahoma State
• Sept. 17: Terence Campbell, East Carolina
• Sept. 24: Johnell Neal, Central Florida
• Oct. 1: Wilson Holloway, Tulsa
• Oct. 8: Inquoris "Inky" Johnson, Tennessee
• Oct. 15: Richard Bowman, North Dakota State
• Oct. 22: Tyson Gentry, Ohio State
• Oct. 29: Chris Ogbonnaya, Texas
• Nov. 12: Robert Quinn, North Carolina
• Nov. 19: Brandon Antwine, Florida