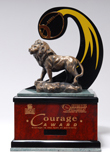 About the Orange Bowl Courage Award ...
The Orange Bowl Courage Award is annually given to a player, coach or support person in college football who displays courage, on or off the field.
The award was created by ESPN The Magazine's senior writer Gene Wojciechowski, also a FWAA member. A select group of writers from the FWAA vote on the winner each year.
The requirements for nomination for the weekly award include displaying some sort of courageous act, on or off the field including, overcoming an injury or physical handicap, preventing a disaster and living through a lifetime of hardships.
The 2014 recipient ...
Duke offensive guard Laken Tomlinson is the winner or the 2014 Orange Bowl-FWAA Courage Award. Tomlinson, a 6-3, 330-pound senior from Chicago (Lane Tech), has started 51 consecutive games and has helped the Blue Devils (9-3) score 390 points this season, the third-most in program history. Duke's offensive line leads the country in fewest tackles-for-loss per game allowed with just 3.33 and has surrendered just 13.0 sacks, tied for the 13th fewest in the nation. But Tomlinson just making a college roster and winding up in Durham was a challenge.
2014 Orange Bowl Courage Award Nominees
• Sept. 17: Deon Hill, Georgia Tech
• Sept. 24: Ian Frye, Virginia
• Oct. 1: Zack Golditch, Colorado State
• Oct. 8: Josh Clemons, Kentucky
• Oct. 15: Shon Coleman, Auburn
• Oct. 22: Rori Blair, Pittsburgh
• Oct. 29: Lorenzo Mauldin, Louisville
• Nov. 5: Laken Tomlinson, Duke
• Nov. 12: Kyle McCarthy, Notre Dame
• Nov. 19: Jarvis Byrd, N.C. State
Related link:
• Orange Bowl Courage Award
The 2013 recipient ...
San Josι State's Anthony Larceval is the winner of the 2013 Discover Orange Bowl-FWAA Courage Award. Larceval becomes the second player from San Josι State to win the Courage Award after Neil Parry (2003), now a graduate assistant defensive coach on the Spartans football team. The 6-2, 284-pound defensive tackle from Spring Valley, Calif., was named second team All-Western Athletic Conference in 2012, but he never made it to the team's bowl practices. On Dec. 14, 2012, he was admitted to the hospital and diagnosed with viral meningoencephalitis, a virus that infects and causes swelling in the brain.
2013 Discover Orange Bowl Courage Award Nominees
• Sept. 25: Eric Fieilo, San Houston State
• Oct. 2: Gabe Woullard, East Carolina
• Oct. 9: Bryson James, South Alabama
• Oct. 16: Anthony Larceval, San José State
• Oct. 23: Jim Weaver, Virginia Tech
• Oct. 30: L'Damian Washington, Missouri
• Nov. 6: Josh Stewart, Oklahoma State
• Nov. 13: Case McCoy, Texas
• Nov. 20: Coaching Staff, Minnesota
Related link:
• Discover Orange Bowl Courage Award
The 2012 recipient ...
Clemson's Daniel Rodriguez is the winner of the 2012 Discover Orange Bowl-FWAA Courage Award, as selected by a panel of FWAA members. Rodriguez, a redshirt freshman receiver from Stafford, Va., is playing for the Tigers after being awarded a Purple Heart and Bronze Star in Afghanistan. Rodriguez, 24, was wounded Oct. 3, 2009, during a battle near Kamdesh, Afghanistan, while serving in the U.S. Army. Combat Outpost Keating, in a mountainous region near the Pakistan border, was ambushed by nearly 300 Taliban insurgents. Eight Americans were killed; 22 were injured. Rodriguez was shot and wounded in the leg, neck and shoulder. Once recovered and discharged from the military, Rodriguez kept a promise to his friend, Pfc. Kevin Thompson, who was killed during the initial moments of the attack. Rodriguez had told Thompson if he made it home from Afghanistan, he would find a way to play college football.
2012 Discover Orange Bowl Courage Award Nominees
• Sept. 26: Daniel Rodriguez, Clemson
• Oct. 3: Angelo Richardson, Arizona State
• Oct. 10: Patience Beard, Arkansas
• Oct. 17: Neiron Ball, Florida
• Oct. 31: Dan Werner, Mississippi
• Nov. 8: Jay Prosch, Auburn
• Nov. 15: Austin Woods, Oklahoma
The 2011 recipient ...
Michigan State's Arthur Ray Jr. has been named the winner of the 2011 Discover Orange Bowl/FWAA Courage Award. Ray, a senior offensive lineman from Chicago, returned to football this season, four years after bone cancer derailed his career. Ray signed with Michigan State as a highly recruited lineman from Chicago's Mount Carmel High School in 2007, but was soon diagnosed with cancer in his left leg. Through nine surgeries – including four bone grafts – countless rounds of chemotherapy and several outbreaks of infection, he was unable to practice or play. For almost two years, he was unable to walk without crutches.
2011 Discover Orange Bowl Courage Award Nominees
• Sept. 28: Shane Blissard and Robbie Stewart, Middle Tennessee
• Oct. 5: Carson Tinker, Alabama
• Oct. 12: Blaine Irby, Texas
• Oct. 19: David Lerner, Florida
• Oct. 26: Mike James, Miami
• Nov. 2: Arthur Ray Jr., Michigan State
• Nov. 16: Shane Simpson and Jack Long, Missouri Western State
Related link:
• Discover Orange Bowl Courage Award
The 2010 recipient ...
Rutgers defensive tackle Eric LeGrand has been named the winner of the 2010 Discover Orange Bowl/FWAA Courage Award. LeGrand, a junior from Avenel, N.J., was paralyzed from the neck down Oct. 16, while making a tackle against Army. LeGrand, a backup defensive tackle, suffered the injury while making a tackle on a kickoff during the fourth quarter. He collided with Army's Malcolm Brown, then lay motionless on the field for several minutes. He underwent emergency surgery to stabilize his spine. Damage was to the C-3 and C-4 level of the vertebrae.
2010 Discover Orange Bowl Courage Award Nominees
• Sept. 29: Zac Etheridge, Auburn and Rodney Scott, Ole Miss
• Oct. 6: Jon Hoese, Minnesota
• Oct. 13: Marquez Herrod, Colorado
• Oct. 20: Matt Anderson, North Dakota State
• Oct. 27: Jamie Hampton, Troy
• Nov. 3: Ricky Dobbs, Navy
• Nov. 17: Andrew, Colter and Paul Phillips
• Nov. 24: Mississippi State Bulldogs
• Dec. 1: Eric LeGrand, Rutgers
The 2009 recipient ...
The University of Connecticut football team has been named the winner of the 2009 Orange Bowl-FWAA Courage Award. The Huskies persevered throughout the 2009 season after the tragic death of starting cornerback Jasper Howard. Howard, a 20-year-old junior, died in the early morning hours of Oct. 18, just hours after UConn's homecoming win over Louisville, after he was stabbed following an off-campus party. The Huskies lost three emotional games following Howard's death – to West Virginia and Rutgers by identical scores of 28-24, after holding the lead late, and 47-45 at Cincinnati. But the Huskies, whose five losses were by a combined 15 points, finished the year with three straight wins – including a double-overtime win over Notre Dame on Nov. 21 and a 29-27 win over South Florida on Dave Teggart's field goal on the final play.
2009 Orange Bowl Courage Award Nominees
• Sept. 23: D.J. Williams, Arkansas
• Sept. 30: Mark Herzlich, Boston College
• Oct. 7: Darius Nall, UCF
• Oct. 14: Ricky Rosas, USC
• Oct. 21: Derrick Coleman, UCLA
• Oct. 28: Connecticut Huskies
• Nov. 4: Antoine "Shaky" Smithson, Utah
• Nov. 11: Dan Potokar, Ohio State
• Nov. 18: Thomas "Rock" Roggeman, East Carolina
The 2008 recipient ...
Tulsa's Wilson Holloway, a freshman offensive lineman, has battled cancer since last spring, when a softball-sized mass was discovered in his chest. After Holloway was diagnosed with Hodgkin's Lymphoma, he underwent chemotherapy treatment throughout the spring and returned to play for the Golden Hurricane this season on special teams and in a reserve role. Despite the cancer, Holloway played in six games – including one game (Oct. 26 vs. Central Florida) after he had begun treatment. When he began losing his hair, his fellow offensive linemen shaved their heads. His coaches and teammates say through it all, Holloway has remained optimistic and determined.
2008 Orange Bowl Courage Award Nominees
• Sept. 10: Artrell Woods, Oklahoma State
• Sept. 17: Terence Campbell, East Carolina
• Sept. 24: Johnell Neal, Central Florida
• Oct. 1: Wilson Holloway, Tulsa
• Oct. 8: Inquoris "Inky" Johnson, Tennessee
• Oct. 15: Richard Bowman, North Dakota State
• Oct. 22: Tyson Gentry, Ohio State
• Oct. 29: Chris Ogbonnaya, Texas
• Nov. 12: Robert Quinn, North Carolina
• Nov. 19: Brandon Antwine, Florida
The 2007 recipient ...
Navy's Zerbin Singleton, a senior slotback, overcame a troubled background to win an appointment to the Naval Academy, and is on track to reach his ultimate goal of becoming an astronaut. He was named Brigade Commander for the second semester. Singleton didn't know his father until he was a senior in high school; a year later, his father committed suicide. Singleton had been living with cousins in Decatur, Ga., since he was 11, when he left his home in Alaska because his mother went to jail for a parole violation. Singleton was accepted by the Naval Academy and the Air Force Academy, and chose the Navy because of the potential to "land on a carrier, in pitch black, while it's tilting left and right." But Singleton's dream was deferred when he was hit by a drunk driver one week before he was scheduled to graduate high school (as valedictorian). A broken collarbone meant he couldn't go through Navy's plebe summer, and couldn't enroll. But after a year at Georgia Tech, Singleton transferred to Navy. He's been a two-year starter. He carries a 3.14 GPA in aerospace engineering.
2007 Orange Bowl Courage Award Nominees
• Sept. 12: Brian Kajiyama, Hawaii
• Sept. 19: Terry Clayton, Kentucky
• Sept. 26: Danny Langsdorf, Oregon State
• Oct. 3: Lester Karlin, Virginia Tech
• Oct. 10: Zerbin Singleton, Navy
• Oct. 17: Ben Mauk, Cincinnati
• Oct. 24: Nic Harris, Oklahoma
• Oct. 31: Marcus Smith, New Mexico
• Nov. 7: Keegan Herring, Arizona State
The 2006 recipient ...
Ray Ray McElrathbey, a redshirt freshman at Clemson, saw most of his action on special teams this season. But he has undertaken the responsibility of caring for his 11-year-old brother, Fahmarr (now 12). Ray Ray and Fahmarr's mother has a cocaine addiction; their father has a gambling addiction. The brothers' home life in Atlanta was not stable and both had spent time in foster care. Ray Ray obtained temporary custody of Fahmarr and planned to support him with Pell grants, odd jobs and the monthly stipend for living off-campus.
2006 Orange Bowl Courage Award Nominees
• Sept. 20: Ray Ray McElrathbey, Clemson
• Sept. 27: Martel Van Zant, Oklahoma State
• Oct. 4: Terry Hoeppner, Indiana
• Oct. 11: Dan Howell, Washington
• Oct. 18: Eddie Martin, Navy
• Oct. 25: Bill Doba, Washington State
• Nov. 1: Jerry Kill, Southern Illinois
• Nov. 8: Carl Pendleton, Oklahoma
• Nov. 15: Mike Tepper, California
• Nov. 29: Carlos Garcia, Oregon State
In 2006, the FWAA and the Discover Orange Bowl announced a weekly nominee during the season. A blue-ribbon panel determined the winner from those nominees.
For more information ...
Contact Steve Richardson with the FWAA (972-713-6198, tiger@fwaa.com) or Noah Sharfman at the Discover Orange Bowl (305-341-4737, nsharfman@orangebowl.org).