DALLAS (NCBWA) – Five future 2022 consensus All-America selections who led their respective schools this spring are finalists for the 35th Dick Howser Trophy presented by The Game Headwear in balloting by the National Collegiate Baseball Writers Association in conjunction with the Dick Howser Trophy Committee and the St. Petersburg Area Chamber of Commerce.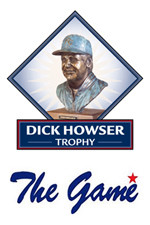 Oregon State starting pitcher Cooper Hjerpe, Tennessee third baseman Trey Lipscomb, Texas first baseman Ivan Melendez, Georgia Tech catcher Kevin Parada and Clemson third baseman Max Wagner are the five finalists for the prestigious Howser Trophy.
The winner will be announced on Friday, June 17, on MLB Network during the 9 a.m. (CDT) hour and at a national news conference at 10 a.m. (CDT) in the media room at Charles Schwab Park prior to the 75th NCAA College World Series in Omaha, Nebraska.
Hjerpe, a finalist for the '22 Golden Spikes Award, is the lone pitcher mentioned and racked up standout statistics for the NCAA Super Regional host Beavers this season. The All-Pac12 Conference star was 10-2 in all games with a 2.40 earned run average and a stunning 14.3 strikeouts per nine innings. He already has been named first team All-America on a consensus basis and was an NCBWA Dick Howser Trophy co-National Pitcher of the Week on April 5.
Lipscomb has helped the Volunteers to a nation's best 56-7 record prior to the NCAA Knoxville Super Regional, the Southeastern Conference regular-season crown, the postseason SEC title and the most overall victories in school history. The first team All-SEC first baseman led the conference in runs-batted-in with 80 through 63 contests, is a second team All-America selection and made the SEC All-Tournament squad. The steady third baseman also led the Vols to a final mark of 25-5 in SEC activity for one of the highest triumph totals in conference annals.
Melendez is the 2022 Collegiate Baseball Newspaper Player of the Year, the Big 12 Player of the Year in 2022 and unanimous All-Big 12 first team both years. The first team All-America selection and finalist for the Golden Spikes Award paced the Longhorns to the NCAA Greenville (N.C.) Super Regional against East Carolina with a school-record 30 home runs (the most by any Big 12 star since the 2004 season) and is tops nationally in Division I with 90 RBI. He has been in the top 10 in at least five NCAA individual statistical categories since the second week of the season.
Parada, third nationally in RBI with 88 in 60 contests, also is a finalist for the Golden Spikes Award, first team All-America choice, finalist for the Buster Posey Award (named in honor of the 2008 Dick Howser Trophy recipient and recently retired Major League and MLB World Series stalwart catcher Posey of Florida State) and an All-Atlantic Coast Conference first teamer. He paced the ACC in RBI and was among conference mainstays in RBI, hits, runs, and homers as well as sparkling defensively behind the plate for the NCAA-contending Yellow Jackets.
Wagner, like Parada, was a dominant force in the ACC and earned conference Player of the Year laurels. A first team All-America member and consensus All-ACC performer, the Tigers third baseman led the league in home runs with 27 – one more than fellow Howser Trophy finalist Parada – and is another star who has been in the ACC's top five in virtually every offensive category on offense throughout the campaign.
Each of these five finalists symbolizes the major principles of character, leadership, desire and competitive spirit exhibited by Dick Howser, the All-America shortstop, head coach at Florida State and manager of the 1985 World Series champion Kansas City Royals. He also is the namesake of Florida State's Dick Howser Stadium.
Recent finalists for the Dick Howser Trophy have included the likes of Florida starting pitcher Brady Singer (2018 winner), Texas second baseman Kody Clemens (just called up to the MLB Detroit Tigers), Auburn pitcher Casey Mize, Georgia Tech catcher Joey Bart, Clemson outfielder Seth Beer (2016 winner, first freshman to receive Dick Howser Trophy), Wake Forest third baseman Will Craig, Louisville utility player Brendan McKay, Kent State pitcher Eric Lauer, and Texas A&M third baseman Boomer White, Arkansas outfielder Andrew Benintendi (2015 winner), UCLA relief pitcher David Berg, Vanderbilt starting pitcher Carson Fulmer, Vanderbilt shortstop Dansby Swanson (2021 MLB champ Atlanta Braves standout), Miami third baseman David Thompson and 2019 finalists catcher Adley Rutschman ('19 Howser Trophy recipient) of Oregon State, 1B Andrew Vaughn of California, OF JJ Bleday of Vanderbilt, pitcher Alek Manoah (made his MLB debut with the Toronto Blue Jays in May 2021) of West Virginia, 2021 Howser Trophy winner Kevin Kopps of Arkansas and pitcher Noah Song of Navy.
The Howser Trophy was created in 1987, shortly after Howser's death. Previous winners of the Howser Trophy are Mike Fiore, Miami, 1987; Robin Ventura, Oklahoma State, 1988; Scott Bryant, 1B-P, Texas, 1989; Alex Fernandez, P, Miami-Dade Community College South, 1990; Frank Rodriguez, P, Howard College (Texas), 1991; Brooks Kieschnick, UT-P, Texas, 1992 and 1993; Jason Varitek, C, Georgia Tech, 1994; Todd Helton, 1B, Tennessee, 1995; Kris Benson, P, Clemson, 1996; J. D. Drew, OF, Florida State, 1997; Eddy Furniss, 1B, LSU, 1998; Jason Jennings, UT-P, Baylor, 1999; Mark Teixeira, 1B, Georgia Tech, 2000; Mark Prior, P, USC, 2001, Khalil Greene, SS, Clemson, 2002; Rickie Weeks, 2B, Southern U., 2003; Jered Weaver, P, Long Beach State, 2004; Alex Gordon, 3B, Nebraska, 2005; Brad Lincoln, P/DH, Houston, 2006; David Price, P, Vanderbilt, 2007; Buster Posey, C, Florida State, 2008; Stephen Strasburg, P, San Diego State, 2009; Anthony Rendon, 3B, Rice, 2010; Taylor Jungmann, P, Texas, 2011; Mike Zunino, C, Florida, 2012; Kris Bryant, 3B, San Diego, 2013; A.J. Reed, DH-P, Kentucky, 2014; Andrew Benintendi, OF, Arkansas, 2015; Seth Beer, OF, Clemson, 2016; Brendan McKay, DH-P, Louisville, 2017; Brady Singer, P, Florida, 2018; Adley Rutschman, C, Oregon State, 2019; No Award, COVID-19, 2020; Kevin Kopps, P, Arkansas.