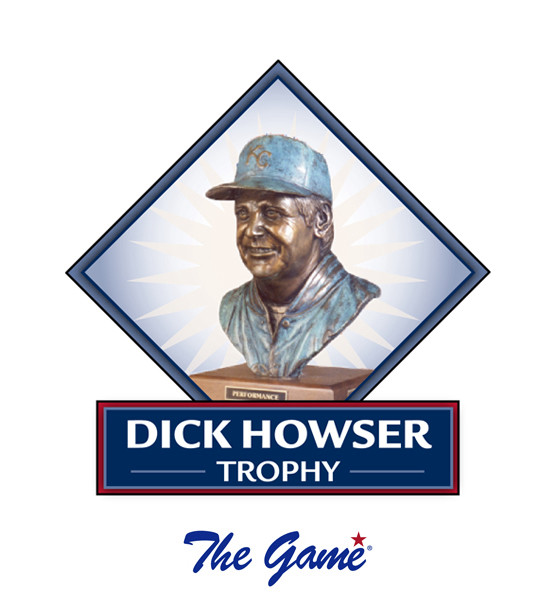 NCBWA Dick Howser Trophy
The Dick Howser Trophy is a national sponsorship that was created on behalf of Dick Howser to promote baseball excellence and scholastic achievement for collegiate baseball. Education is one of the country's biggest concerns and through sports will bring an enhanced national focus. As the baseball equivalent of the Heisman Trophy, the Dick Howser Trophy is the annual national award for the outstanding collegiate baseball player. The National Collegiate Baseball Writers Association (NCBWA) votes for the recipient based on nominees' performance, character, leadership and courage – all features to be emulated in memory of the late Dick Howser. The trophy, a bronze bust of the late Dick Howser, is permanently displayed at Tropicana Field in St. Petersburg, home of the Tampa Bay Rays.
Presenting sponsor: The Game Headwear
The Game Headwear, a division of MV Sport/Weatherproof (a family-owned and operated company founded in 1948), is one of the leading national suppliers of custom decorated apparel with outstanding custom-decorated baseball caps, sweatshirts, tees, and accessories. The Game Headwear also is among the country's largest and most sophisticated screen printers and embroiderers.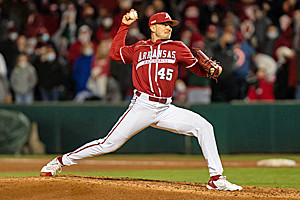 Arkansas' Kevin Kopps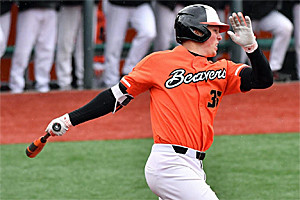 Oregon State's Adley Rutschman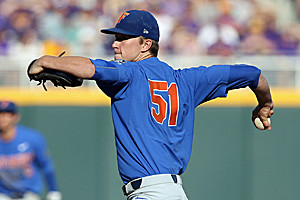 Florida's Brady Singer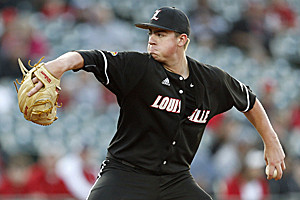 Louisville's Brendan McKay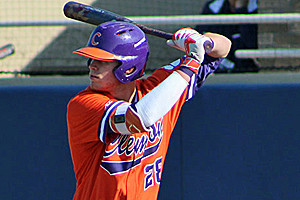 Clemson's Seth Beer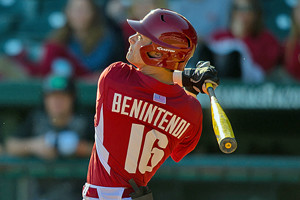 Arkansas' Andrew Benintendi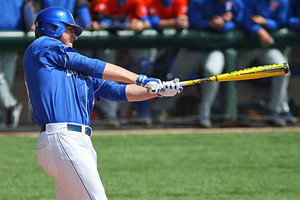 Kentucky's A.J. Reed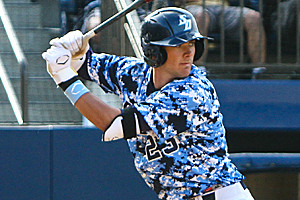 San Diego's Kris Bryant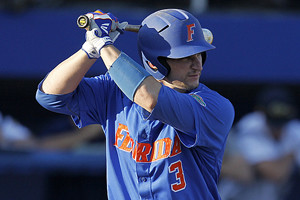 Florida's Mike Zunino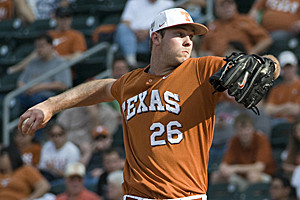 Texas' Taylor Jungmann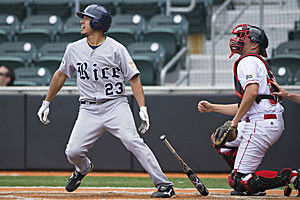 Rice's Anthony Rendon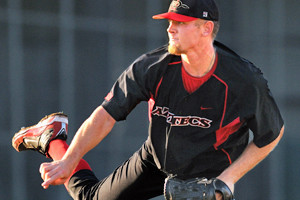 San Diego State's Stephen Strasburg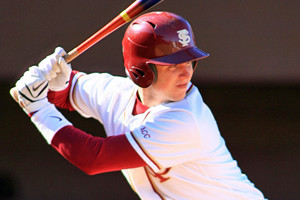 Florida State's Buster Posey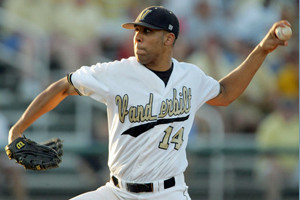 Vanderbilt's David Price
2023 Winner: Paul Skenes, LSU | Presentation video
The 6-5, 245-pound junior from Lake Forest, California, joins LSU star Eddy Furniss – the 1998 winner of the Dick Howser Trophy and celebrating the 15-year anniversary of his honor – as the second Tiger to capture the nation's top collegiate baseball award since 1998. Skenes is the 2023 Collegiate Baseball Player of the Year and one of the most decorated pitchers in the LSU's long and successful run as a NCAA powerhouse. The big righthander is ranked among the top five in every major NCAA Division I pitching category with a 12-2 record (tied for second), 188 strikeouts (first), 15.8 strikeouts per nine innings (first), 10.44 strikeouts-to-walks ratio (third), 0.78 WHIP (first), and 1.77 ERA (second). Opponents have managed just a .170 batting average against him with only 65 safeties in 107 total innings pitched. The 2023 Southeastern Conference Pitcher of the Year also tops that conference in all five rankings and made the all-tournament team in the NCAA Baton Rouge Regional and Super Regional.
• Finalists
2022 Winner: Ivan Melendez, Texas
The 6-foot-3, 225-pound redshirt junior from El Paso (Texas) Coronado High School, also is the fourth Longhorn (five times) to nab this national honor since 1992. Known as the 'Hispanic Titanic' for his solid redshirt junior season and power numbers, he belted his nation-leading 31st and 32nd homers of the season in the Greenville Super Regional to pace UT. A week earlier in the NCAA Austin Regional, he hit his 30th round-tripper and continued to uphold his prior All-America, NCBWA All-District and All-Big 12 honors with clutch plays throughout the 2022 postseason. The El Paso resident also is first in NCAA Division I runs-batted-in with 94, first in slugging percentage at .886, first in total bases with 209, fourth in on-base percentage at .518, 13th in runs with 75, 12th in total hits with 94, and 14th in batting average at .396.
• Finalists
2021 Winner: Kevin Kopps, Arkansas | Presentation video
The 6-foot, 200-pound senior from Sugar Land, Texas put together a magical campaign with statistics previously unheard of for a closer in college baseball. He becomes the second Razorback to receive the Dick Howser Trophy joining former Boston Red Sox and current Kansas City Royals standout Andrew Benintendi in 2015. Kopps also has become the first student-athlete to win the Howser Trophy and the coveted Stopper of the Year Award for his mound exploits. Kopps, the 2021 Southeastern Conference Pitcher of the Year and Collegiate Baseball magazine National Player of the Year, had a hand in 23 of the Razorbacks 50 victories in '21 with a 12-1 record and 11 saves. He allowed just nine earned runs in 89-2/3 innings, appeared in 33 contests (32 in relief), struck out 131 hitters (13.1 per nine innings), walked only 18 batters, allowed 50 hits (just five hits every nine frames), and had an 0.90 ERA to lead NCAA Division I
• Finalists
2021 Winner: Kevin Kopps, Arkansas | Presentation video
The 6-foot, 200-pound senior from Sugar Land, Texas put together a magical campaign with statistics previously unheard of for a closer in college baseball. He becomes the second Razorback to receive the Dick Howser Trophy joining former Boston Red Sox and current Kansas City Royals standout Andrew Benintendi in 2015. Kopps also has become the first student-athlete to win the Howser Trophy and the coveted Stopper of the Year Award for his mound exploits. Kopps, the 2021 Southeastern Conference Pitcher of the Year and Collegiate Baseball magazine National Player of the Year, had a hand in 23 of the Razorbacks 50 victories in '21 with a 12-1 record and 11 saves. He allowed just nine earned runs in 89-2/3 innings, appeared in 33 contests (32 in relief), struck out 131 hitters (13.1 per nine innings), walked only 18 batters, allowed 50 hits (just five hits every nine frames), and had an 0.90 ERA to lead NCAA Division I
• Finalists
2019 Winner: Adley Rutschman, Oregon State
Rutschman is the second all-time winner from the Pac-12 Conference after Mark Prior of USC captured the 2001 honor. A 6-2, 216-pound switch-hitting junior catcher from Sherwood, Ore., Rutschman was the 2019 Pac-12 Player of the Year, the Pac-12 Defensive Player of the Year, and a finalist for the Buster Posey Award, which honors the nation's top catcher and is named in honor of the 2008 Dick Howser Trophy recipient. Rutschman earned unanimous first team All-America laurels as well as National Player of the Year honors from every college baseball entity. He led the Beavers and is fifth nationally with a .411 batting average to go along with an impressive .575 on-base percentage (tops in NCAA Division I), 17 home runs, 58 RBIs and a .751 slugging percentage – also all among the top five individually in Pac-12 statistics.
• Semifinalists | Finalists
2018 Winner: Brady Singer, Florida
A 6-5, 220-pound right-handed pitcher from Eustis, Fla., was the 2018 SEC Pitcher of the Year. He also garnered 2018 consensus first-team All-American honors and was the No. 18 player chosen in the recent Major League Baseball Draft by the Kansas City Royals, the organization Dick Howser managed to the 1985 World Series crown. After helping the Gators win their first NCAA baseball title last season with a 9-5 overall record and CWS All-Tournament honors, Singer enjoyed an even more stellar campaign as a junior in '18. Singer is 12-1 this year with a 2.30 ERA, along with 107 strikeouts and only 21 walks in 101-plus innings.
• Semifinalists | Finalists
2017 Winner: Brendan McKay, Louisville
A 6-2, 220-pound pitcher/first baseman from Darlington, Pa., McKay was the 2017 ACC Player of the Year, 2017 Collegiate Baseball and Baseball America Player of the Year and a first team consensus All-America choice this year. McKay entered the 2017 CWS with a .343 batting average, 17 home runs, 56 runs-batted-in, .657 slugging percentage, and a .464 on-base percentage. His is ranked in the Top 10 in 2017 ACC individual statistics in seven different categories. Just as effective on the mound, McKay was 10-3 overall with a 2.34 earned run average and 140 strikeouts in 104 innings (12.1 whiffs every nine innings) and an opposing hitters' batting average of .188.
• Semifinalists | Finalists
2016 Winner: Seth Beer, Clemson
Seth Beer is among the top three in virtually every ACC hitting statistic with 18 home runs (tops in the conference), 70 runs-batted-in (second overall), .700 slugging percentage (second), .535 on-base percentage (second), and 2.29 total bases per game (second), and .369 (eighth in the ACC). The 2016 ACC Player and Freshman Hitter of the Year also was among national leaders in numerous batting categories. His .535 on-base percentage is fourth in NCAA Division I individual stats. His 62 bases-on-balls ranks third nationally and second in the conference while his 18-homer total is tied for 13th nationally along with leading the league. Beer's 70 RBI is ninth nationally while he is 21st in RBI per game with a 1.13 average over 62 contests in which he competed. His .700 slugging percentage is ninth in NCAA Division I individually.
• Semifinalists | Finalists
2015 Winner: Andrew Benintendi, Arkansas
Andrew Benintendi is among the Top 15 in seven different NCAA Division I categories and enters the '15 NCAA World Series with a nation-co-leading 19 home runs, 55 RBI, a .380 batting average, .715 slugging percentage, a .489 on-base percentage, 158 total bases, and 23 stolen bases. He also recently led the Razorbacks to their eighth all-time trip to the NCAA World Series and fourth trek since 2004 under head coach Dave Van Horn after winning the NCAA Fayetteville Super Regional over Missouri State.
• Midseason Watch List | Finalists
2014 Winner: A.J. Reed, Kentucky
Reed, who leads the nation in home runs with 23, slugging percentage at .735 and OPS (batting average plus slugging percentage) at 1.211, also had a 12-2 pitching record for coach Gary Henderson's Wildcats. He is Kentucky's first national baseball player of the year and is bidding to become the third consensus national player from the Southeastern Conference, along with 2007 Howser Trophy recipient David Price of Vanderbilt and Alabama's David Magadan, the 1985 honoree and current hitting coach for the Texas Rangers. The native of basketball-famous Terre Haute, Ind., batted .336 with 73 RBI and a .476 on-base percentage for the '14 Wildcats. He also started 16 games for Kentucky, had a 2.09 earned run average, gave up 98 hits in 112 innings of work, struck out 71 hitters, and walked only 29. He accounted for just under one-third (12) of the 37-25 Wildcats' total team victories.
• Semifinalists | Finalists
2013 Winner: Kris Bryant, San Diego
The sterling junior third baseman led NCAA Division I in home runs (31, 10 more than the individual runner-up), runs with 80, total bases with 187, and slugging percentage at .820 while helping USD roll to a 37-25 overall record and second place in the NCAA Los Angeles Regional behind College World Series-bound UCLA. The consensus All-American from Las Vegas paced the West Coast Congerence in virtually every power hitting category as well and was 2013 WCC Co-Player of the Year. He also was the second player chosen overall in the 2013 Major League Baseball draft by the Chicago Cubs on June 6. Bryant has been one of the most honored student-athletes in baseball in San Diego history and carries a cumulative 3.1 grade point average. Besides being Academic All-WCC, he is a previous NCBWA Freshman All-America in 2011 and All-WCC on the field from 2011-13 for Coach Rich Hill's Toreros.
• Kris Bryant video | Semifinalists | Finalists
2012 Winner: Mike Zunino, Florida
The consensus All-America and 2012 honoree from Cape Coral, Fla., started all 64 games for coach Kevin O'Sullivan's Gators, had a team-leading 28 doubles. 19 homers, 64 RBI, and nine sacrifice flies, posted a .678 slugging percentage, had 162 total bases, fielded at a torrid .994 clip (three errors in 493 total chances), and led Florida into the 2012 CWS with a 47-18 overall record. On June 4 he became the highest draft choice in Gators' history as the No. 3 selection in the first round to the Seattle Mariners.
• Semifinalists | Finalists
2011 Winner: Taylor Jungmann, Texas
Jungmann, who hails from Georgetown, Texas, near Austin, brought the Longhorns back to the 2011 NCAA World Series with a 13-3 mark, five complete games, three route-going shutouts (five combined), a 1.60 ERA, 36 walks issued, and 125 strikeouts. He was the Big 12 Conference Pitcher of the Year, helped UT to a 49-18 mark through Saturday's opener in the CWS, has 19 appearances with 18 starts, and allowed opponents a batting average of .165. The consensus All- America selection was selected No. 12 overall in the 2011 MLB draft by the Milwaukee Brewers. Jungmann won the Howser Trophy over two other outstanding finalists: UCLA junior pitcher Trevor Bauer and Virginia junior utility performer (P-DH-1B) Danny Hultzen.
• Semifinalists | Finalists
2010 Winner: Anthony Rendon, Rice
Rendon batted .402 in conference play and finished the season hitting .394 overall. He led Conference USA in home runs with 26 and had more homers than strikeouts (22) all season long. Rendon ranks among the nation's leaders in runs scored (83) and walks (65) while maintaining a .530 on-base percentage. He had 12 doubles and 85 RBI, while posting an .801 slugging percentage.
• Semifinalists | Finalists
2009 Winner: Stephen Strasburg, San Diego State
The San Diego resident was the national leader in strikeouts with 195 and No. 2 in NCAA Division I with a 1.32 ERA and hits allowed per nine innings with 5.37 to compliment a 13-1 overall record. The 2008 USA Baseball Player of the Year for all divisions, Strasburg was the first selection in the 2009 Major League Baseball free agent draft by the Washington Nationals in June. Strasburg totally dominated the Mountain West Conference in '09. In round-robin league play, he was 7-0 with 111 strikeouts and a 1.50 ERA in eight starts. Overall, he pitched 109 innings in 15 starts, had a pair of complete games, had a hand in four shutouts (two in personal complete games), gave up 65 hits, and walked just 19 hitters in 15 contests. Opponents batted just .172 against the Aztec standout.
• Semifinalists | Finalists
2008 Winner: Buster Posey, Florida State
The fifth player chosen overall in the June 2008 Major League Baseball free agent draft by the San Francisco Giants, Buster Posey entered the College World Series with an NCAA-leading .460 batting average and Top 10 individual credentials in seven of the NCAA's Division I statistical categories. Through 66 games he topped the NCAA with 92 RBI, 26 home runs (tied for first place), 114 hits, 88 runs, a .564 on-base percentage, and 220 total bases. He was one of the top defensive catchers in the country with just eight errors in 474 chances for a .983 fielding percentage.
• Watch List | Semifinalists | Finalists
2007 Winner: David Price, Vanderbilt
The consensus All-America left-hander led the Southeastern Conference in five different pitching categories and was dominant in almost every start for his 2007 squad. He led Vanderbilt to a school-record-season victories' total at 54-13 overall and is the Commodores' first men's athletics national player of the year in any sport. Price was chosen as the first player in the 2007 Major League Baseball Draft by the Tampa Bay Devil Rays (Vanderbilt's first-ever initial draft selection) and ended the year at 11-1 overall with 194 strikeouts in 133 1/3 innings pitched.
• Watch List | Semifinalists | Finalists
All-Time Dick Howser Trophy Winners
1987 Mike Fiore, Miami
1988 Robin Ventura, Oklahoma State
1989 Scott Bryant, Texas
1990 Alex Fernandez, Miami-Dade C.C. South
1991 Frank Rodriguez, Howard College
1992 Brooks Kieschnick, Texas
1993 Brooks Kieschnick, Texas
1994 Jason Varitek, Georgia Tech
1985 Todd Helton, Tennessee
1996 Kris Benson, Clemson
1997 J.D. Drew, Florida State
1998 Eddy Furniss, LSU
1999 Jason Jennings, Baylor
2000 Mark Teixeira, Georgia Tech
2001 Mark Prior, USC
2002 Khalil Greene, Clemson
2003 Rickie Weeks, Southern
2004 Jered Weaver, Long Beach State
2005 Alex Gordon, Nebraska
2006 Brad Lincoln, Houston
2007 David Price, Vanderbilt
2008 Buster Posey, Florida State
2009 Stephen Strasburg, San Diego State
2010 Anthony Rendon, Rice
2011 Taylor Jungmann, Texas
2012 Mike Zunino, Florida
2013 Kris Bryant, San Diego
2014 A.J. Reed, Kentucky
2015 Andrew Benintendi, Arkansas
2016 Seth Beer, Clemson
2017 Brendan McKay, Louisville
2018 Brady Singer, Florida
2019 Adley Rutschman, Oregon State
2020 None selected
2021 Kevin Kopps, Arkansas