DALLAS (NCBWA) – The National Collegiate Baseball Writers Association and the Dick Howser Trophy Committee have named the five finalists for the 36th Dick Howser Trophy presented by The Game Headwear as the national player of the year.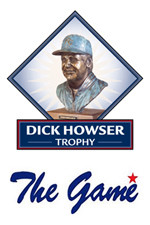 The five finalists for the Howser Trophy, which has been presented since 1987 except for the 2020 COVID-shortened season, are sophomore 1B/SP Jac Caglianone of Florida, junior OF Dylan Crews of LSU, junior SP Rhett Lowder of Wake Forest, SP junior Paul Skenes of LSU and sophomore 2B JJ Wetherholt of West Virginia.
The winner will be announced on Thursday, June 15, on MLB Network during the 9 a.m. (CDT) hour and on Friday, June 16 at a national news conference at 10 a.m. (CDT) in the media room at Charles Schwab Park prior to the 76th NCAA College World Series in Omaha, Nebraska.
All five NCAA Division I standouts have earned All-America and all-conference status and are expected to be featured on next week's NCBWA All-America squads. Lowder (3.50/economics) and Wetherholt (3.87/finance) were named Academic All-America First Team selections by the College Sports Communicators.
Caglianone, a 2023 All-Southeastern Conference First Team selection via Tampa, Florida, is the all-time leader for home runs in a season for the Gators with 31 (tops nationally through June 8 contests) and the first SEC slugger to hit 30-plus homers since the 2003 season. He also has been a key starting rotation pitcher for UF with a 7-3 record, and 81 strikeouts in 69 innings.
The Gators standout led UF to a 20-10 SEC mark (tied for first overall with Arkansas) and an SEC-most 48 victories entering the Super Regionals. A USA Baseball Golden Spikes Award finalist also leads NCAA DI with 0.5 round-trippers per clash with 31 in 62 games.
Crews, a power-hitting member of LSU's Super Regional Team from Longwood, Florida, enters the final weekend before the NCAA Baseball College World Series with a .432 average – third in the country – and a team-most 95 hits in 61 games.
The 2023 Southeastern Conference Player of the Year junior standout helped LSU remain atop national rankings for the first 11 weeks of 2023 and a sweep of the NCAA Baton Rouge Regional. Crews was an All-Southeastern Conference All-Defensive Team member and was recently named a finalist for the USA Baseball's Golden Spikes Award. He withdrew from consideration for the 2021 Major League Baseball draft to continue his education and to help the Tigers ascend back to their place of diamond prominence.
Lowder, a sophomore righthander from Albemarle, North Carolina, leads the nation with a 14-0 record prior to the Super Regionals and was 2023 Atlantic Coast Conference Pitcher of the Year for the second straight year. He also is second in the country with a microscopic 1.77 earned run average.
The Demon Deacons' ace is the top rotation hurler for the nation's winningest squad (50-10) and a team with an ERA of 2.78 – .82 better than NCAA ERA runner-up Tennessee at 3.60. He is a composite 25-3 on the mound since the 2022 campaign and has 125 strikeouts in 101-plus innings of work.
Skenes, a fireballing righthander and transfer from Air Force, from Lake Forest, California, was the 2023 SEC Pitcher of the Year, Collegiate Baseball's Player of the Year and a finalist for USA Baseball's Golden Spikes Award. His 179 strikeouts are the most in NCAA Division I, and he averages 16.6 whiffs and just 1 1/2 walks for every nine innings hurled.
The Tigers' star sports an 11-2 record and possessed an ERA below 1.00 for most of the season and is currently fourth nationally with a 1.90 standard. He tossed a clutch, complete game against Tulane in LSU's opening NCAA tournament victory with 12 strikeouts, two walks and seven hits allowed in the NCAA Baton Rouge Regional.
Wetherholt, the Big 12 Conference Player of the Year, who paced the Mountaineers to a share of their first championship in Big 12 annals, is just one of two DI standouts to hit 15 home runs and steal 35 bases in '23. The first-team Collegiate Baseball All-America selection started the week leading the nation with a .449 batting average along with a Big 12-best 101 hits (tied for third nationally) and the school's most victories (40) since the 1994 Mountaineers closed 40-21.
The Mars, Pennsylvania, resident is among the top 10 in numerous other NCAA hitting categories with a 1.84 hits per game (first), a .787 slugging percentage (11th) and stolen bases (36, tied for 10th). He had the top overall individual performance in one season by any WVU player in history.
The winner's name is inscribed on the permanent trophy, a bronze bust of Howser, and the winner and his school receive a special trophy to keep.
NCBWA membership includes writers, broadcasters and publicists. Designed to promote and publicize college baseball, it is the sport's only college media-related organization, founded in 1962.
The Howser Trophy was created in 1987, shortly after Howser's death. Previous winners of the Howser Trophy presented by The Game Headware are Mike Fiore, OF, Miami (Fla.), 1987; Robin Ventura, 3B, Oklahoma State, 1988; Scott Bryant, 1B-P, Texas, 1989; Alex Fernandez, P, Miami-Dade Community College South, 1990; Frank Rodriguez, P, Howard College (Texas), 1991; Brooks Kieschnick, UT-P, Texas, 1992 and 1993; Jason Varitek, C, Georgia Tech, 1994; Todd Helton, 1B, Tennessee, 1995; Kris Benson, P, Clemson, 1996; J. D. Drew, OF, Florida State, 1997; Eddy Furniss, 1B, LSU, 1998; Jason Jennings, UT-P, Baylor, 1999; Mark Teixeira, 1B, Georgia Tech, 2000; Mark Prior, P, USC, 2001, Khalil Greene, SS, Clemson, 2002; Rickie Weeks, 2B, Southern U., 2003; Jered Weaver, P, Long Beach State, 2004; Alex Gordon, 3B, Nebraska, 2005; Brad Lincoln, P/DH, Houston, 2006; David Price, P, Vanderbilt, 2007; Buster Posey, C, Florida State, 2008; Stephen Strasburg, P, San Diego State, 2009; Anthony Rendon, 3B, Rice, 2010; Taylor Jungmann, P, Texas, 2011; Mike Zunino, C, Florida, 2012; Kris Bryant, 3B, San Diego, 2013; A.J. Reed, DH-P, Kentucky, 2014; Andrew Benintendi, OF, Arkansas, 2015; Seth Beer, OF, Clemson, 2016; Brendan McKay, DH-P, Louisville, 2017; Brady Singer, P, Florida, 2018; Adley Rutschman, C, Oregon State, 2019; No Award, COVID-19, 2020; Kevin Kopps, P, Arkansas, 2021; and Ivan Melendez, 1B, Texas, 2022.
2023 Dick Howser Trophy presented by The Game Headwear Finalists
Jac Caglianone, P/1B, Florida (6-5, 245, So., Tampa, Fla.)
Dylan Crews, OF, LSU (6-0, 205, Jr., Longwood, Fla.)
Rhett Lowder, P, Wake Forest (6-2, 200, Jr., Albemarle, N.C.)
Paul Skenes, P, LSU (6-6, 247, Jr., Lake Forest, Calif.)
JJ Wetherholt, 2B, West Virginia (5-10, 190, So. Mars, Pa.)