OMAHA, Nebraska (NCBWA) – LSU pitching standout and consensus All-American Paul Skenes is the 36th recipient of the 2023 Dick Howser Trophy presented by The Game Headwear.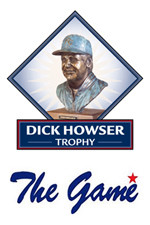 The 6-5, 245-pound junior from Lake Forest, California, joins LSU star Eddy Furniss – the 1998 winner of the Dick Howser Trophy and celebrating the 15-year anniversary of his honor – as the second Tiger to capture the nation's top collegiate baseball award since 1998.
Skenes is the 2023 Collegiate Baseball Player of the Year and one of the most decorated pitchers in the LSU's long and successful run as a NCAA powerhouse.
The big righthander is ranked among the top five in every major NCAA Division I pitching category with a 12-2 record (tied for second), 188 strikeouts (first), 15.8 strikeouts per nine innings (first), 10.44 strikeouts-to-walks ratio (third), 0.78 WHIP (first), and 1.77 ERA (second). Opponents have managed just a .170 batting average against him with only 65 safeties in 107 total innings pitched.
The 2023 Southeastern Conference Pitcher of the Year also tops that conference in all five rankings and made the all-tournament team in the NCAA Baton Rouge Regional and Super Regional.
He also is second for single-season strikeouts with 188 – just 14 behind Tigers all-time great Ben McDonald with 202 in 1989.
The Californian has allowed two or fewer runs in 17 starts this season and fired shutouts against both Tulane and Kentucky in the opening rounds of the two recent NCAA regionals to help LSU make its 19th all-time NCAA World Series appearance since 1986 with six NCAA titles.
Skenes transferred from Air Force where he was All-America as a sophomore and 2022 NCBWA District Player of the Year (the first player in history to be named NCBWA District Player of the Year over two different seasons with a similar honor in 2023),
The seven-time (most in nation) Collegiate Baseball National Player of the Week also has a strong background with several family members serving in the U.S. Armed Services along with his appointment to the Air Force Academy in 2020-21.
Skenes donates $10 for every strikeout in '23 to the Folds of Honor program for educational scholarships to the spouses and children of military and first responders who have passed away or have been disabled in the line of duty.
The three-time All-America choice at Air Force in 2021 and '22 and LSU this season also captured the 2022 John Olerud Two-Way Player Award and was Mountain West Co-Pitcher of the Year for the '22 Falcons while notching 2021 Collegiate Baseball Co-Freshman of the Year laurels in 2021. Skenes also was selected for the 2021 USA Baseball Collegiate National Team.
He was the winner among a standout field of fellow 2023 finalists sophomore 1B-P Jac Caglianone of Florida, junior OF Dylan Crews of LSU, SP Rhett Lowder of Wake Forest, and sophomore 2B JJ Wetherholt of West Virginia.
He is slated to be the starting pitcher for the Tigers when they open the 76th NCAA World Series Saturday at 7 p.m. (CDT) against Tennessee.
The announcement of the trophy honor was made at a national news conference Friday after extensive national balloting by the National Collegiate Baseball Writers Association at Charles Schwab Park – site of the NCAA World Series June 16-25/26.
"Paul Skenes certainly is deserving of the 2023 Dick Howser Trophy," Howser Trophy chairman David Feaster said. "He has established himself as head and shoulders above any pitcher in NCAA Division I this season as well as a team leader and community service champion. His tremendous talent also has helped LSU make the NCAA World Series field for the 19th time overall and the first time since 2017.
"The Dick Howser Trophy committee again is indebted to the NCAA, National Collegiate Baseball Writers Association, Major League Baseball, the MLB Network, and many others who have helped make this the most prestigious award in college baseball for the last four decades."
A Florida native, Dick Howser was twice an All-America shortstop at Florida State (1957-58), then head coach of the Seminoles in 1979 after a career as a Major League player and coach. After one year in the college ranks, he returned to the majors to manage the New York Yankees and Kansas City Royals and won the World Series with the Royals in 1985. The baseball stadium on the Florida State campus is named for Howser.
The Dick Howser Trophy not only honors a player with some of the best ability nationally, but it also is based upon the tenets of - leadership, moral character and courage. The top draft choices for the upcoming Major League Baseball free agent draft usually are among the Howser Trophy finalists, but this is not a criterion for the eventual winner.
NCBWA membership includes writers, broadcasters and publicists. Designed to promote and publicize college baseball, it is the sport's only college media-related organization, founded in 1962. The NCBWA has been the voting mechanism for the Howser Trophy annually since 1998.
The Howser Trophy was created in 1987 shortly after Howser's death. Previous winners of the Howser Trophy are Mike Fiore, OF, Miami (Fla.), 1987; Robin Ventura, 3B, Oklahoma State, 1988; Scott Bryant, 1B-P, Texas, 1989; Alex Fernandez, P, Miami-Dade Community College South, 1990; Frank Rodriguez, P, Howard College (Texas), 1991; Brooks Kieschnick, UT-P, Texas, 1992 and 1993; Jason Varitek, C, Georgia Tech, 1994; Todd Helton, 1B, Tennessee, 1995; Kris Benson, P, Clemson, 1996; J. D. Drew, OF, Florida State, 1997; Eddy Furniss, 1B, LSU, 1998; Jason Jennings, UT-P, Baylor, 1999; Mark Teixeira, 1B, Georgia Tech, 2000; Mark Prior, P, USC, 2001, Khalil Greene, SS, Clemson, 2002; Rickie Weeks, 2B, Southern U., 2003; Jered Weaver, P, Long Beach State, 2004; Alex Gordon, 3B, Nebraska, 2005; Brad Lincoln, P/DH, Houston, 2006; David Price, P, Vanderbilt, 2007; Buster Posey, C, Florida State, 2008; Stephen Strasburg, P, San Diego State, 2009; Anthony Rendon, 3B, Rice, 2010; Taylor Jungmann, P, Texas, 2011; Mike Zunino, C, Florida, 2012; Kris Bryant, 3B, San Diego, 2013; A.J. Reed, DH-P, Kentucky, 2014; Andrew Benintendi, OF, Arkansas, 2015; Seth Beer, OF, Clemson, 2016; Brendan McKay, DH-P, Louisville, 2017; Brady Singer, P, Florida, 2018; Adley Rutschman, C, Oregon State, 2019; No Award, COVID-19, 2020; Kevin Kopps, P, Arkansas, 2021; and Ivan Melendez, 1B, Texas, 2022.