OMAHA, Neb. (NCBWA) – Texas first baseman Ivan Melendez, the Longhorns' all-time seasonal home run leader and Big 12 Conference Player of the Year, is the 35th recipient of the 2022 Dick Howser Trophy presented by The Game Headwear.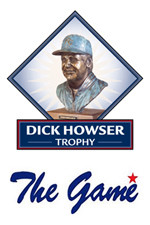 The 6-foot-3, 225-pound redshirt junior from El Paso (Texas) Coronado High School, also is the fourth Longhorn (five times) to nab this national honor since 1992.
"Congratulations to Ivan Melendez for winning the 2022 Dick Howser Trophy presented by The Game Headwear," Howser Trophy chairman David Feaster said. "Texas now has the most winners of the trophy with four winning the award five times, and Clemson is next with three. That shows the prominence of these two great college baseball programs and their longtime development of outstanding student-athletes."
Known as the 'Hispanic Titanic' for his solid redshirt junior season and power numbers, he belted his nation-leading 31st and 32nd homers of the season in the Greenville Super Regional to pace UT. A week earlier in the NCAA Austin Regional, he hit his 30th round-tripper and continued to uphold his prior All-America, NCBWA All-District and All-Big 12 honors with clutch plays throughout the 2022 postseason.
The El Paso resident also is first in NCAA Division I runs-batted-in with 94, first in slugging percentage at .886, first in total bases with 209, fourth in on-base percentage at .518, 13th in runs with 75, 12th in total hits with 94, and 14th in batting average at .396.
His careers at UT, at Odessa (Texas) College and Coronado High School reflect his multiple talents and consistency at the dish.
He had several three-hit games and a two-homer, six-RBI evening against Rice in Houston on Feb. 20, while leading the Big 12 in conference-only statistics with a .432 batting average, 14 homers, 81 total bases, and 32 RBI in 22 contests.
Pitcher/first baseman Brooks Kieschnick, who is still the only repeat winner in Howser Trophy history in 1992 and '93, first baseman-pitcher Scott Bryant in 1989 and pitcher Taylor Jungmann in 2011 preceded the consensus first team All-America first baseman and leader of a Texas program that reached the 75th Baseball NCAA World Series for a NCAA-record 38th time.
The announcement of the honor was made at a national news conference at Charles Schwab Park – site of the NCAA World Series June 17-26/27, Friday after extensive national balloting by the National Collegiate Baseball Writers Association.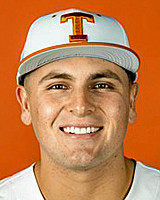 Melendez also was tabbed the National Player of the Year by Collegiate Baseball and Perfect Game publications and earned All-America First Team distinction by the NCBWA, Collegiate Baseball and Perfect Game.
"This is the 35th year we have presented the trophy," he continued, "and we appreciate the great relationship we have with the NCAA, National Collegiate Baseball Writers Association, Major League Baseball, the MLB Network and many others associated with college baseball."
Melendez broke the Longhorns school record for home runs in a season on May 29 with his 29th clout against Oklahoma in the Big 12 Baseball Championship at Globe Life Field in Arlington, Texas.
His 29th and 30th dingers eclipsed the Texas mark for home runs in one year by Kyle Russell with 28 in 2007 and were the most by a Big 12 Conference stalwart since the 2004 season. He later helped the Horns capture the NCAA Austin Regional and Greenville (North Carolina) Super Regionals with more solid play at the plate and in the field.
A year earlier, he hit one of the first collegiate homers in that Major League Baseball home of the Texas Rangers against 2021 NCAA champion Mississippi State in the State Farm College Classic and then homered again vs. MSU in the '21 NCAA World Series.
Melendez also paced the 2021 Longhorns as a sophomore with 13 four-baggers, a .319 batting average and .603 slugging percentage for all games as the team made the NCAA World Series field of eight. In the COVID-19 shortened 2020 season, he led Odessa College to a 21-2 record with a .354 average. A year earlier, he topped Odessa College with a .411 average, 17 home runs and 70 RBI in 60 games while earning All-Region and All-Conference kudos. He was first team All-State while playing third base as a senior at CHS.
His parents Julie and Raul Melendez are lifelong educators in the El Paso area, and he has two brothers – Zach and Ian.
Melendez won the honor over an All-America group of '22 Howser Trophy finalists: Oregon State starting pitcher Connor Hjerpe, Tennessee 3B Trey Lipscomb, Georgia Tech catcher Kevin Parada and Clemson 3B Max Wagner.
A Florida native, Dick Howser was twice an All-America shortstop at Florida State (1957-58), then head coach of the Seminoles in 1979 after a career as a Major League player and coach. After one year in the college ranks, he returned to the majors to manage the New York Yankees and Kansas City Royals and won the World Series with the Royals in 1985. The baseball stadium on the Florida State campus is named for Howser.
The Dick Howser Trophy not only honors a player with some of the best ability nationally, but it also is based upon the tenets of - leadership, moral character and courage. The top draft choices for the upcoming Major League Baseball free agent draft usually are among the Howser Trophy finalists, but this is not a criterion for the eventual winner.

NCBWA membership includes writers, broadcasters and publicists. Designed to promote and publicize college baseball, it is the sport's only college media-related organization, founded in 1962. The NCBWA has been the voting mechanism for the Howser Trophy annually since 1998.
The Howser Trophy was created in 1987 shortly after Howser's death. Previous winners of the Howser Trophy are Mike Fiore, OF, Miami (Fla.), 1987; Robin Ventura, 3B, Oklahoma State, 1988; Scott Bryant, 1B-P, Texas, 1989; Alex Fernandez, P, Miami-Dade Community College South, 1990; Frank Rodriguez, P, Howard College (Texas), 1991; Brooks Kieschnick, UT-P, Texas, 1992 and 1993; Jason Varitek, C, Georgia Tech, 1994; Todd Helton, 1B, Tennessee, 1995; Kris Benson, P, Clemson, 1996; J. D. Drew, OF, Florida State, 1997; Eddy Furniss, 1B, LSU, 1998; Jason Jennings, UT-P, Baylor, 1999; Mark Teixeira, 1B, Georgia Tech, 2000; Mark Prior, P, USC, 2001, Khalil Greene, SS, Clemson, 2002; Rickie Weeks, 2B, Southern U., 2003; Jered Weaver, P, Long Beach State, 2004; Alex Gordon, 3B, Nebraska, 2005; Brad Lincoln, P/DH, Houston, 2006; David Price, P, Vanderbilt, 2007; Buster Posey, C, Florida State, 2008; Stephen Strasburg, P, San Diego State, 2009; Anthony Rendon, 3B, Rice, 2010; Taylor Jungmann, P, Texas, 2011; Mike Zunino, C, Florida, 2012; Kris Bryant, 3B, San Diego, 2013; A.J. Reed, DH-P, Kentucky, 2014; Andrew Benintendi, OF, Arkansas, 2015; Seth Beer, OF, Clemson, 2016; Brendan McKay, DH-P, Louisville, 2017; Brady Singer, P, Florida, 2018; Adley Rutschman, C, Oregon State, 2019; No Award, COVID-19, 2020; and Kevin Kopps, P, Arkansas.
Ivan Melendez's 2022 Individual Hitting Statistics:
Batting Average: .396
Games: 65
AB: 240
Runs: 75
Hits: 95
2B: 18
3B: 2
HR: 32
RBI: 94
BB: 52
SO: 38