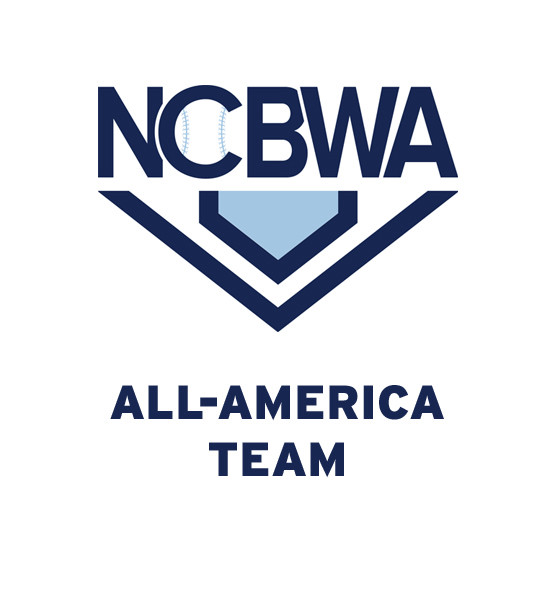 MORGANTOWN, W. Va. (NCBWA) – After two rounds of voting by the organization, 75 baseball student-athletes comprise the National Collegiate Baseball Writers Association's 21st Annual All-America first, second and third teams, as announced on Wednesday.
Nineteen different conferences are represented and 11 conference championships teams. The three All-America squads are also made up of 14 conference players of the year, 10 conference pitchers of the year winners and 10 first-round draft picks in the recent Major League Baseball Amateur Draft.
Members of this year's team lead or are tied for the lead nationally in 18 different categories, including batting average (Greg Cullen, Niagara, .458), hits (Devlin Granberg, Dallas Baptist, 112), hits per game (Ryan Ward, Bryant, 1.80), runs (Matt Sanders, Troy, 90), runs per game (Sanders, 1.43), home runs (Spender Torkelson 25), home runs per game (Bren Spillane, Illinois, 0.46), on-base percentage (Cullen, .556), RBI (Chase Chambers, Tennessee Tech, 84), slugging percentage (Spillane, .903), total bases (Kevin Strohschein, Tennessee Tech, 184), hits allowed per nine innings (John Rooney, Hofstra, 4.83), strikeouts (Logan Gilbert, Stetson, 163), strikeout to walk ratio (Clayton Andrews, Long Beach State, 35.8), victories (Luke Heimlich, Oregon State, 16), ERA (Nick Sandlin, Southern Miss, 1.06), saves (Chris Mauloni, Jacksonville; Brooks Wilson, Stetson, 20) and WHIP (Sandlin, 0.71).
Previous NCBWA All-America teams from 1996-2017 have featured the likes of P Stephen Strasburg of San Diego State, OF J.D. Drew of Florida State, 1B Mark Teixeira of Georgia Tech, RHP Mark Prior of Southern California, SS-2B Rickie Weeks of Southern, 3B Alex Gordon of Nebraska, P David Price of Vanderbilt, C Buster Posey of Florida State, 3B Anthony Rendon of Rice, C Mike Zunino of Florida, 3B Kris Bryant of San Diego, P-1B A.J. Reed from Kentucky; OF Andrew Benintendi from Arkansas, OF Seth Beer of Clemson and UTL Brendan McKay from Louisville among others.
2018 NCBWA DIVISION I ALL-AMERICA TEAM
Pos.
First Team
School
Ht.
Wt.
Cl.
Hometown
C
Joey Bart
Georgia Tech
6-3
225
Jr.
Buford, Ga.
1B
Bren Spillane
Illinois
6-5
210
Jr.
Wheeling, Ill.
1B
Andrew Vaughn
California
6-1
214
So.
Santa Rosa, Calif.
2B
Kody Clemens
Texas
6-2
185
Jr.
Houston, Texas
3B
Jonathan India
Florida
6-0
200
Jr.
Coral Springs, Fla.
SS
Terrin Vavra
Minnesota
6-0
190
Jr.
Menomonie, Wis.
OF
Devlin Granberg
Dallas Baptist
6-2
224
Sr.
Hudson, Colo.
OF
Seth Beer
Clemson
6-3
195
Jr.
Suwanee, Ga.
OF
Trevor Larnach
Oregon State
6-4
210
Jr.
Pleasant Hill, Calif.
OF
Bryant Packard
East Carolina
6-3
210
So.
Greenville, N.C.
DH
Kevin Strohschein
Tennessee Tech
6-0
205
Jr.
McDonough, Ga.
UT
Brooks Wilson
Stetson
6-3
209
Sr.
Lakeland, Fla.
SP
Logan Gilbert
Stetson
6-6
225
Jr.
Apopka, Fla.
SP
Luke Heimlich
Oregon State
6-1
197
Sr.
Puyallup, Wash.
SP
Casey Mize
Auburn
6-3
220
Jr.
Springville, Ala.
SP
Nick Sandlin
Southern Miss
5-11
170
Jr.
Evans, Ga.
SP
Brady Singer
Florida
6-5
210
Jr.
Eustis, Fla.
SP
Andre Pallante
UC Irvine
6-3
203
So.
San Clemente, Calif.
SP
Blaine Knight
Arkansas
6-3
170
Jr.
Bryant, Ark.
RP
Michael Byrne
Florida
6-3
210
Jr.
Orlando, Fla.
RP
Nolan Hoffman
Texas A&M
6-4
190
Jr.
Lincoln, Neb.
RP
Seth Kinker
Ohio State
6-1
205
Sr.
Huntington, W. Va.
RP
Jack Little
Stanford
6-4
190
So.
Las Vegas, Nev.
RP
Chris Mauloni
Jacksonville
6-2
205
Fr.
Jacksonville, Fla.
Second Team: C Alex Holderbach, Eastern Kentucky, Jr.; 1B Chase Chambers, Tennessee Tech, Sr.; 2B Nick Madrigal, Oregon State, Jr.; 3B Luke Reynolds, Southern Miss, Jr.; 3B Josh Jung, Texas Tech, So.; SS Greg Cullen, Niagara, Jr.; OF Matt Wallner, Southern Miss, So.; OF Grant Little, Texas Tech, So.; OF Steele Walker, Oklahoma, Jr.; OF Justin Dirden, Southeast Missouri State, Jr.; DH Drew Millas, Missouri State, So.; UT Clayton Andrews, Long Beach State, Jr.; SP Kyle Brnovich, Elon, So.; SP Colton Eastman, Cal State Fullerton, Jr.; SP Joey Murray, Kent State, Jr.; SP Ryan Tapani, Creighton, Sr.; SP Travis Moths, Tennessee Tech, Sr.; SP Sean Mooney, St. John's, So.; SP Adam Wolfe, Louisville, Jr.; RP Robert Broom, Mercer, Jr.; RP Zach Schneider, Florida Atlantic, Jr.; RP Ryley Gilliam, Clemson, Jr.; RP Ethan DeCaster, Duke, Fr.; RP Jake Hohensee, Nebraska, Sr.
Third Team: C Adley Rutschman, Oregon State, So.; C JJ Schwarz, Florida, Sr.; 1B Spencer Torkelson, Arizona State, Fr.; 2B Chase Strumpf, UCLA, So.; 3B Alec Bohm, Wichita State, Jr.; SS David Garza, Tennessee Tech, Sr.; SS Matt Sanders, Troy, Sr.; OF Joey Denison, Troy, r-Sr.; OF Ryan Ward, Bryant, r-Fr.; OF Josh Stowers, Louisville, Jr.; OF Brett Kinneman, NC State, Jr.; OF Andrew Moritz, UNC Greensboro, Jr.; DH Chase Cockrell, Ole Miss, Jr.; UT Aaron Schunk, Georgia, So.; UT Matt Lloyd, Indiana, Jr.; SP John Rooney, Hofstra, Jr.; SP Ryan Campbell, UIC, Sr.; SP Chris Holba, East Carolina, Jr.; SP Joey Gonzalez, Stetson, Jr.; SP Ryan Rolison, Ole Miss, So.; SP Kris Bubic, Stanford, Jr.; SP Brian Brown, NC State, Sr.; RP Parker Caracci, Ole Miss, r-So.; RP Joe O'Donnell, NC State, r-Sr.; RP Jake Mulholland, Oregon State, So.; RP Durbin Feltman, TCU, Jr.; RP Clark Cota, UNCW, Jr.
Click here for .pdf version of release with complete player statistics
Founded in 1962, the NCBWA is dedicated to the advancement of college baseball. Membership is open to writers, broadcasters and publicists of the sport. For more information about the NCBWA, visit the association's official Web site, www.ncbwa.com.
For more information on the NCAA Division I All-America team, contact NCBWA Assistant Executive Director Mike Montoro of West Virginia University at 304-293-2821.
Related link:
• NCBWA All-America Teams (2001-18)