DALLAS (NCBWA) – Ten relievers have been named finliasts for the 17th NCBWA Stopper of the Year Award, which is given to the top relief pitcher in NCAA Division I Baseball.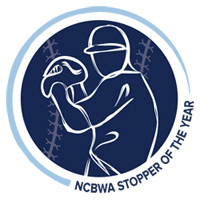 Four hail from the Southeastern Conference, while the other six are from the American Athletic, Atlantic Coast, ASUN, Colonial, Southern and Sun Belt. Eight of the 10 finalists received all-conference accolades. Charleston's William Privette (3-1, 0.91 ERA and 12 saves) and East Carolina's Carter Spivey (8-0, 2.43, 5 saves) were named pitcher of the year from their respective conference.
Three finalists are two victories away from reaching the 2022 NCAA College World Series in Omaha. In addition to Spivey, Auburn's Blake Burkhalter (4-2, 4.02 ERA and 13 saves) and Tennessee's Redmond Walsh (4-1, 2.58 ERA, 7 saves) are competing in NCAA Super Regionals this weeknd.
The nation's statistical leaders are also featured on the list including NCAA saves leader Tristan Stivors from Texas State, who registered 18 saves in 32 appearances with a 7-1 record and 2.21 ERA for the Bobcats. Eastern Kentucky's Will Brian ranked No. 2 with 15 saves, a 3-0 record and a 1.83 ERA in 31 apperances. Miami sophomore Andrew Walters boasted 14 saves with a 1.65 ERA in 24 outings.
Kentucky's Tyler Guilfoil, an All-SEC first-team selection, netted six saves with a 1.59 ERA and 3-1 record, while Georgia's Jack Gowen notched 10 saves with a 2-0 record and 2.39 ERA in 37 2/3 innings pitched. Mercer's Jackson Kelley collected a 7-0 record with six saves a 1.35 ERA in 25 appearances.
These finalists join a standout list of previous NCBWA Stoppers of the Year: Texas' J. Brent Cox, 2005; Kansas' Don Czyz, 2006; Sam Houston State's Luke Prihoda ,2007; Georgia's Joshua Fields, 2008; San Diego State's Addison Reed, 2009; Texas' Chance Ruffi, 2010; Texas' Corey Knebel, 2011; Southeastern Louisiana's Stefan Lopez, 2012; UCLA's David Berg, 2013 and 2015; Louisville's Nick Burdi, 2014; Miami hurler Bryan Garcia, 2016; Louisville's Lincoln Henzman, 2017; Florida's Michael Byrne, 2018; UCLA's Holden Powell in 2019 and Arkansas' Kevin Kopps in 2021. There was no winner in 2020 due to the COVID-19-shortened season.
The Stopper of the Year recipient will be announced via a news conference on Friday, June 17, at Charles Schwab Field Omaha.
2022 NCBWA STOPPER OF THE YEAR FINALISTS (10)
Player
School
Class
Conference
Will Brian
Eastern Kentucky
R-Jr.
ASUN
Blake Burkhalter
Auburn
Jr.
SEC
Jack Gowen
Georgia
Sr.
SEC
Tyler Guilfoil
Kentucky
Jr.
SEC
Jackson Kelley
Mercer
Jr.
Southern
William Privette
College of Charleston
So.
Colonial
Carter Spivey
East Carolina
Jr.
American Athletic
Tristan Stivors
Texas State
Sr.
Sun Belt
Andrew Walters
Miami
So.
ACC
Redmond Walsh
Tennessee
Gr.
SEC
The NCBWA, founded in 1962, presents the Dick Howser Trophy to the nation's top player and the Mike Martin National Coach of the Year to the nations top coach. It also selects All-America Teams for all Divisions, a Division I Freshman All-American team, Division I, II and III Players of the Week and Division I, II and III Players of the Year.