NCBWA Stopper of the Year
The National Collegiate Baseball Writers Association introduced the Stopper of the Year award in the 2005 season to honor the nation's top relief pitcher. Each year, the NCBWA announces a preseason watch list and then updates the list in midseason. Before the NCAA regionals, the association picks up to five finalists for the award. The regular-season national saves leader is automatically chosen as a finalist.
2023 NCBWA Stopper of the Year key dates:
• Thu., Feb. 16: Preseason Watch List
• Wed., April 26: Midseason Watch List
• Wed., June 7: Finalists
• Fri., June 16: Winner announced (College World Series, Omaha, Neb.)
2022 Winner: Tristan Stivors, Texas State: A right-handed pitcher from Castroville, Texas, Stivors boasted a 7-1 record with a nation-leading 18 saves. He allowed just 18 runs, 15 earned, in 61 innings pitched while holding opponents to a .210 batting average. The senior allowed multiple runs in just four of his 32 appearances. He earned a selection to the Stanford All-Region team after guiding the Bobcats to the regional final. Stivors threw two scoreless innings and struck out five to close Texas State's first meeting with Stanford to send TXST to the regional final. In his second game, he held the Cardinal to a run over seven innings, while striking out nine. Stivors was a first-team All-America selection and First-Team All-Sun Belt honoree.
2021 Winner: Kevin Kopps, Arkansas: A consensus All-America First-Team selection, the Dick Howser Trophy winner, Southeastern Conference Pitcher of the Year and Collegiate Baseball magazine National Player of the Year, Kopps had a part in 23 of Arkansas 50 wins in 2021, posting a 12-1 record with 11 saves. The right-hander surrendered nine runs (all earned) on 50 hits, posting an 0.90 ERA, which leads the country, heading into the College World Series. He struck out 131 batters, while walking just 18 in 89 2/3 innings and held opposing hitters to a .162 com­posite batting average and paced the Razorbacks to a No. 1 national ranking throughout the regular season and the No. 1 overall seed in the NCAA Baseball Championship.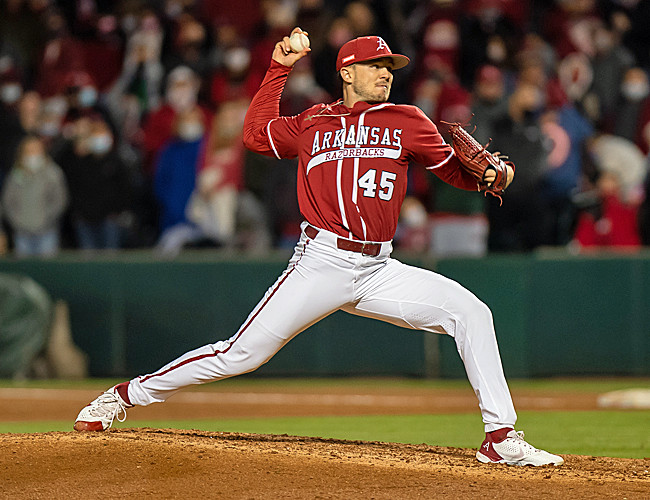 Arkansas' Kevin Kopps
2019 Winner: Holden Powell, UCLA
A First-Team All-America selection by the NCBWA and a Pac-12 All-Conference performer as a sophomore, Powell boasted a 1.84 ERA with a 4-3 record and notched 17 saves. His save total was second, both in the nation this year and in the all-time UCLA single-season record book, trailing only the NCAA-record 24 by David Berg in 2013. The Visalia, Calif., native had a 20-inning streak without allowing an earned run from March 22 to May 5 and surrendered just four earned runs in his last 28 outings dating back to March 18. He lowered his ERA from 4.76 to 1.84 during that span, and has 65 strikeouts in just 49 innings. In all, he allowed just 12 runs (10 earned) while appearing in 40 games, third-most in the country.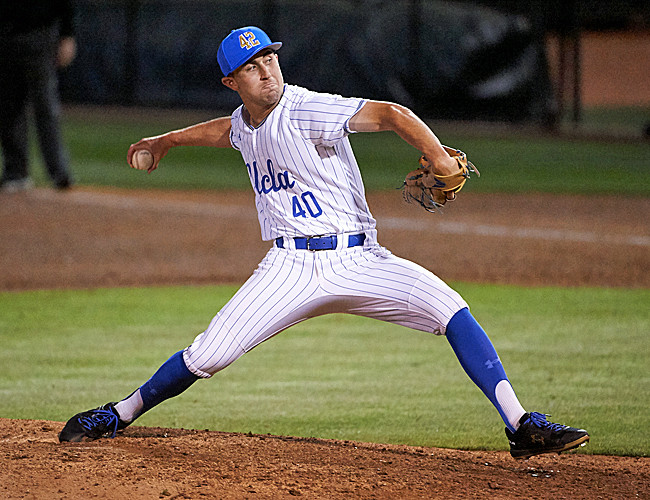 UCLA's Holden Powell
2018 Winner: Michael Byrne, Florida
Byrne earned First-Team All-America honors from the NCBWA to go along with All-Southeastern Conference first-team accolades. Saving 15 games on the season in 34 appearances, Byrne helped his club to a school-record fourth consecutive trip to the College World Series. A 14th-round selection by the Cincinnati Reds in the 2018 Major League Baseball First-Year Player Draft, Byrne entered play in Omaha sporting a 3-1 record with a 1.59 ERA to go along with 60 strikeouts to five walks in 56.2 innings.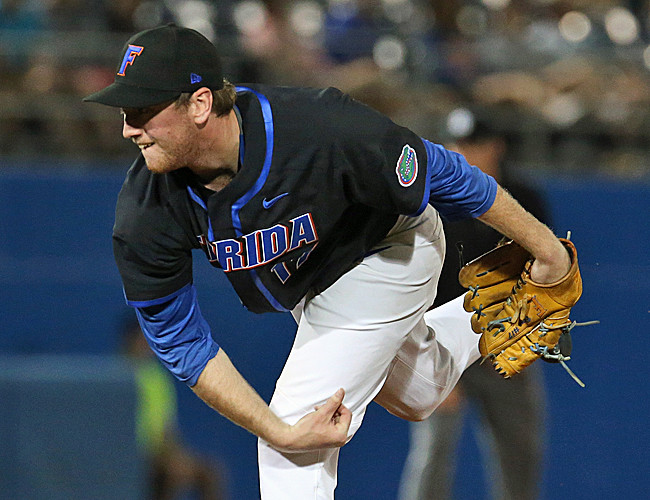 Florida's Michael Byrne
2017 Winner: Lincoln Henzman, Louisville
Henzman was selected in the fourth round of the Major League Baseball Draft by the Chicago White Sox. The right-hander entered play in Omaha with 16 saves, which ranked second nationally. He also owns a 3-0 record with a 1.77 ERA to go with 36 punch outs in 35.2 innings worked this season. Thirteen of the Lexington, Kentucky native's 16 saves came against ACC foes, while opposing hitters are batting just .164 against him this season. His 16 saves are the third-most in a single-season by a Louisville pitcher and his 19 career saves are the third-highest total on the program's all-time charts.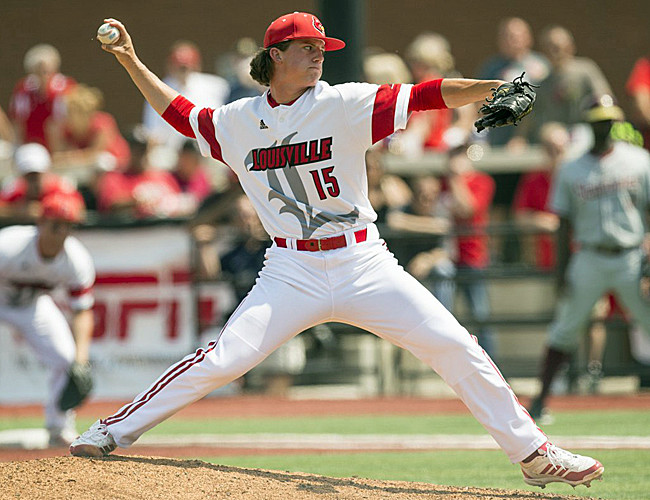 Louisville's Lincoln Henzman
2016 Winner: Bryan Garcia, Miami
A sixth-round pick of the Detroit Tigers, the junior right-hander has 18 saves – second in the nation – and a 2-0 record with a 1.95 ERA in 37 innings over 34 appearances. Garcia has allowed 25 hits and 17 walks while striking out 54 batters, holding opponents to a .184 batting average. He established the school's career saves record on May 26 at the ACC Championship against NC State with his 40th save and has collected three more saves during the NCAA Tournament.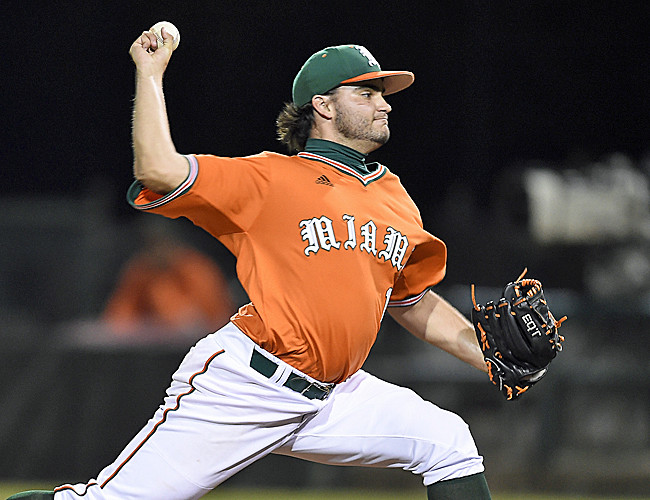 Miami's Bryan Garcia
2015 Winner: David Berg, UCLA
A finalist for the Dick Howser Trophy, Berg was named a first-team All-American by the NCBWA, Louisville Slugger and D1Baseball. He was a sixth-round draft pick by the Chicago Cubs and earned Pac-12 Pitcher of the Year honors after posting 13 saves and a 7-1 record in 43 appearances, notching a 0.68 ERA and allowing just 49 hits and eight walks over 66 2/3 innings while striking out 65 batters. Berg leads the nation in pitching appearances, ranks second in ERA, seventh in WHIP (0.86) and strikeout-to-walk ratio (8.13), and 10th in walks allowed per nine innings (1.08). He is one of only three players ever to earn four first team All-Pac-12 honors and contributed to the first no-hitter in UCLA history on May 15. Berg helped UCLA earn the No. 1 national seed in the 2015 NCAA Tournament and the Bruins reached the NCAA Los Angeles Regional final. He set the NCAA career record for appearances with 175.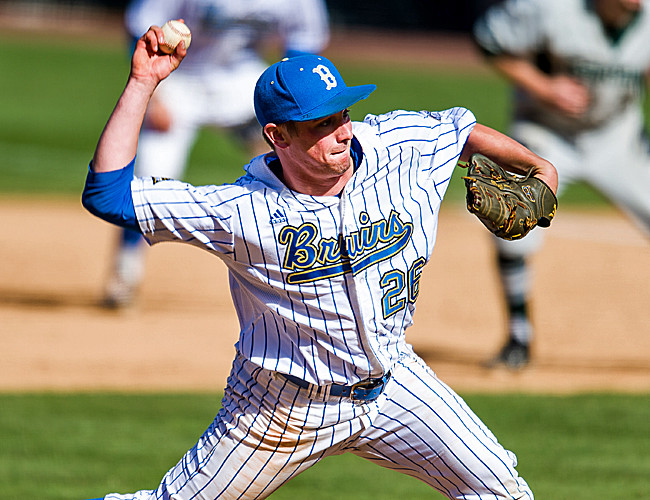 UCLA's David Berg
2014 Winner: Nick Burdi, Louisville
Burdi has put together a tremendous junior season, in which he posted a 3-1 record with 18 saves and an 0.51 ERA. He became Louisville's single-season saves leader after recording the final three outs in a win over Kennesaw State that sent the Cardinals to the NCAA College World Series for the second year in a row. In 30 appearances this year, Burdi has registered 35.1 innings of work, allowing just four runs, two earned, while opponents are hitting just .133 against the Cardinals' right-hander. Burdi has posted 62 strikeouts to just 10 walks and has allowed just one extra base hit all season. He enters the College World Series, having not allowed a run in 10 straight relief appearances – a span of 11.1 consecutive scoreless innings.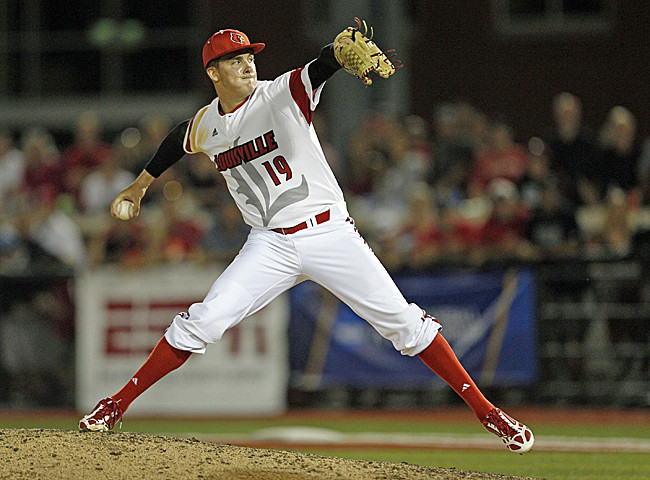 Louisville's Nick Burdi
2013 Winner: David Berg, UCLA
Berg, the 2013 Pac-12 Pitcher of the Year, has posted a record of 7-0 with 21 saves while currently leading the nation in ERA with a 0.88 mark. Berg's 21 saves are also a new UCLA single-season record and rank tied for second in all of Division I baseball, two shy of tying the single-season NCAA Division I record. The right-hander has helped UCLA post a current 44-17 overall record and a 21-9 record in the Pac-12 Conference.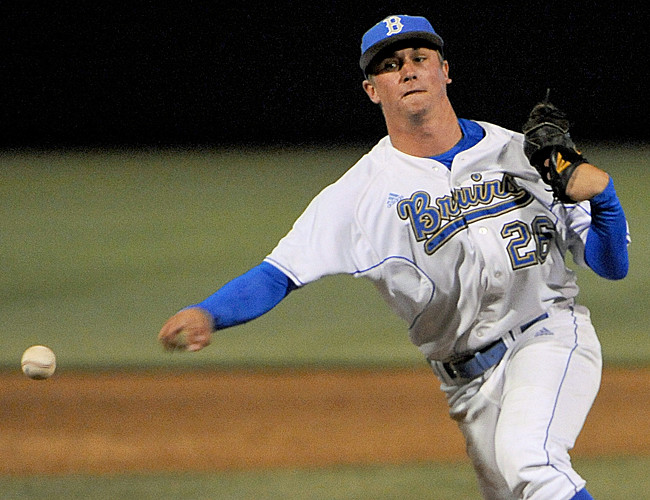 UCLA's David Berg
2012 Winner: Stefan Lopez, Southeastern Louisiana
Lopez set Southeastern Louisiana's single-season saves record in with 20 and holds the school record for career saves with 30. This season, he went 2-1 with an 0.61 ERA in 28 appearances. He pitched 29.1 innings and allowed just two earned runs on 19 hits with five walks and 42 strikeouts.
• Preseason Watch List | Midseason Watch List | Finalists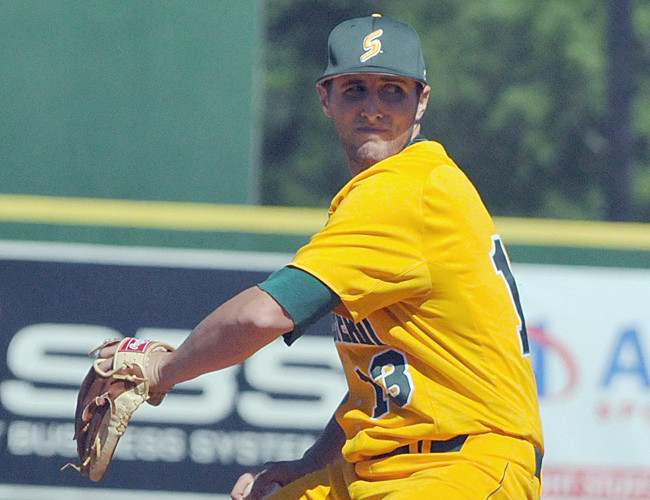 Southeastern Louisiana's Stefan Lopez
2011 Winner: Corey Knebel, Texas
The freshman from Georgetown, Texas, set the Texas freshmen record with 19 saves and was 3-2 with a 1.13 ERA and 61 strikeouts in 55.2 innings. He allowed just 28 hits and seven earned runs, while holding opponents to a .151 batting average. With two saves in Super Regional play, he has posted the most saves of any pitcher in the nation this season. In addition, he has made 38 appearances, the most in the Big 12.
• Preseason Watch List | Midseason Watch List | Finalists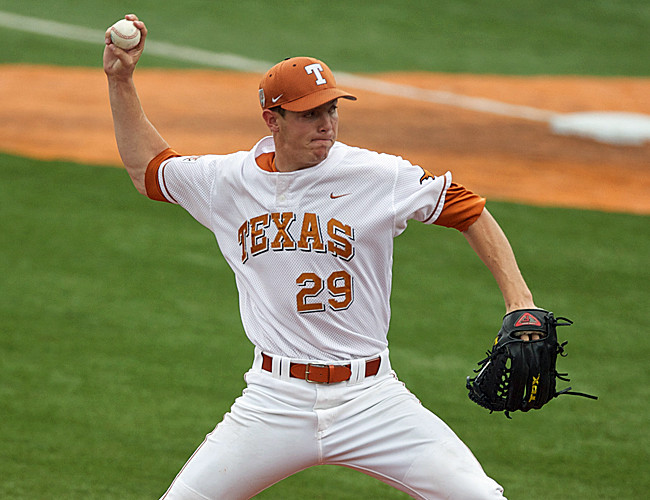 Texas' Corel Knebel
2010 Winner: Chance Ruffin, Texas
The junior from Austin, Texas, ranked second in the nation with a microscopic 1.11 ERA, which was the Longhorns' lowest single-season ERA since 1982 and fifth best all-time. He compiled a 6-1 record and 14 saves and fanned 97 batters in just 64.2 innings. Ruffin led the nation and finished second on Texas' single-season list with 13.50 strikeouts per nine innings. He also became the first Texas player to record 10 or more wins in a season (2009) and 10 or more saves in a season (2010).
• Preseason Watch List | Midseason Watch List | Finalists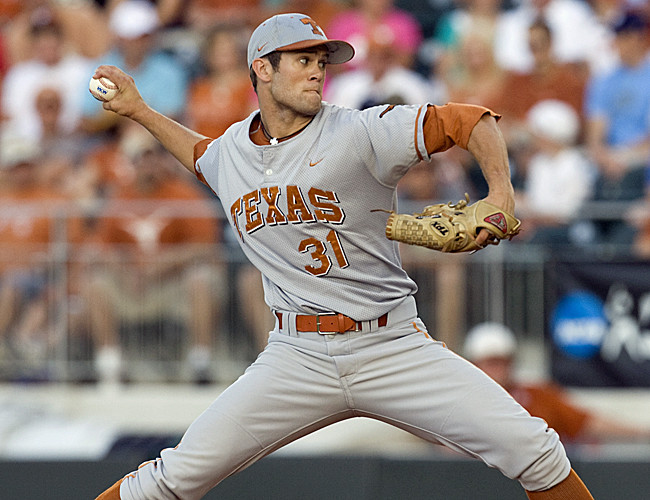 Texas' Chance Ruffin
2009 Winner: Addison Reed, San Diego State
The sophomore from Rancho Cucamonga, Calif., recorded a nation-leading 20 saves in 20 opportunities this season. He finished the season with a microscopic 0.65 earned run average and 38 strikeouts over his 27.2 innings of work. Reed has allowed only seven walks, with two of those being intentional passes. Only one of the 20 hits he allowed in 2009 went for extra bases (a double vs. Nevada on Feb. 26). His save total is a new San Diego State and Mountain West Conference season record, breaking the old mark record of 17 set by Royce Ring during the 2002 season.
• Preseason Watch List | Midseason Watch List | Finalists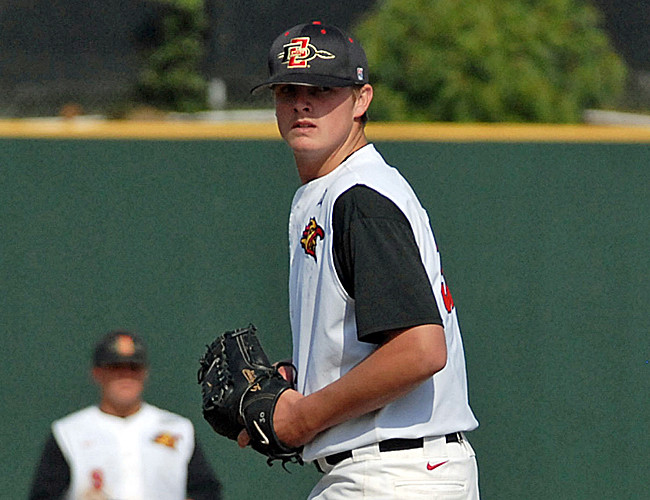 San Diego State's Addison Reed
2008 Winner: Joshua Fields, Georgia
The senior right-hander from Hull, Ga., tallied 16 saves and a 2-2 record with a 2.27 earned run average in 30 relief appearances. The 2008 Southeastern Conference Pitcher of the Year registered 56 strikeouts and held opposing hitters to a .112 average while preventing any of the 13 runners he inherited from scoring. Twelve of his 16 saves in 2008 came against conference competition.
• Preseason Watch List | Midseason Watch List | Finalists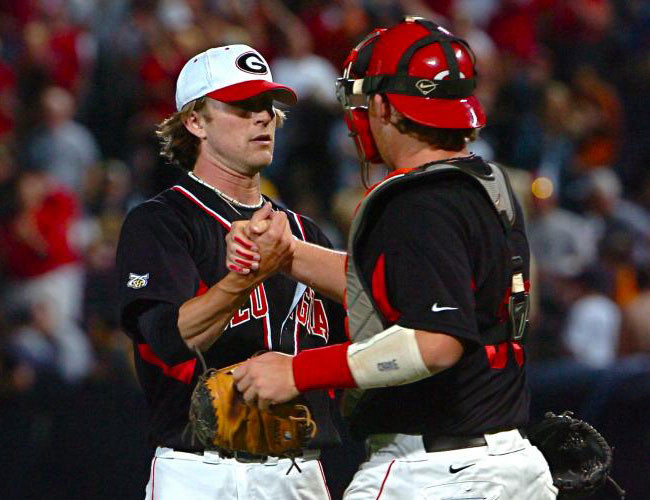 Georgia's Joshua Fields
2007 Winner: Luke Prihoda, Sam Houston State
The senior right-hander from Weimar, Texas, compiled a 7-3 record with a national-best 18 saves in 19 chances, while posting a 1.62 ERA in 35 appearances. The Southland Conference Pitcher of the Year and Southland Tournament Most Valuable Player, Prihoda struck out 65 and walked 11 in 72.2 innings of work and allowed just five of 35 inherited runners to score.
• Preseason Watch List | Midseason Watch List | Finalists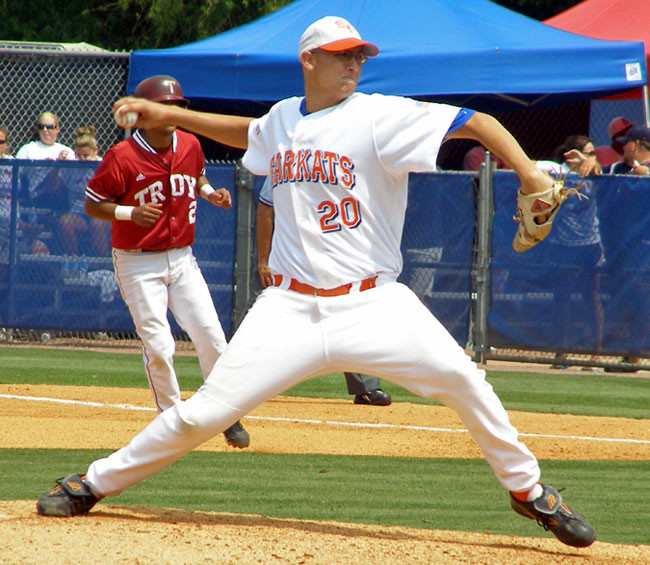 Sam Houston State's Luke Prihoda was the third winner of the NCBWA Stopper of the Year Award
2006 Winner: Don Czyz, Kansas
Czyz led the NCAA with in the regular season 19 saves and finished the 2006 season with a 6-0 record and a 1.56 ERA while striking out 60 batters in 63.1 innings. Czyz was the highest Jayhawk taken in the draft since Brandon O'Neal was selected by the Anaheim Angels in the sixth round of the 2000 draft.
• Preseason Watch List | Midseason Watch List | Finalists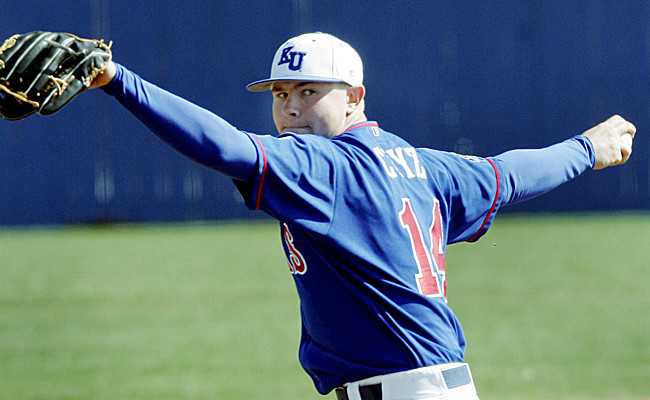 Kansas' Don Czyz
2005 Winner: J. Brent Cox, Texas
In the regular season, Cox was 7-2 with a 1.69 ERA in 64.0 innings. He had 71 strikeouts against 16 walks in 34 appearances this season. He held opponents to a .205 batting average and had combined for five shutouts. Opponents had 47 hits, but scored only 14 runs (12 earned). Take away six earned runs in an 8-7 win over Stanford on Feb. 19 and he allowed only eight runs with six earned.
• Preseason Watch List | Midseason Watch List | Finalists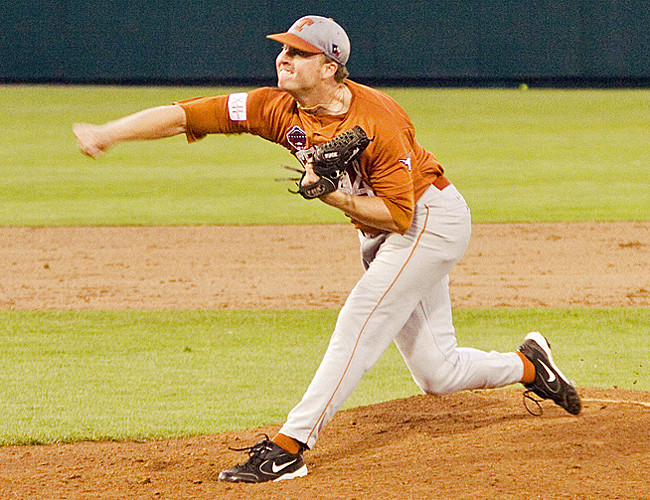 Texas' J. Brent Cox