OMAHA, Neb. (NCBWA) – Texas State's Tristan Stivors was named the 2022 Stopper of the Year by the National Collegiate Baseball Writers Association (NCBWA), the organization announced Friday, becoming the first player from the Sun Belt to win the honor since the award's inception in 2005.
Stivors, a right-handed pitcher from Castroville, Texas, boasted a 7-1 record with a nation-leading 18 saves. He allowed just 18 runs, 15 earned, in 61 innings pitched while holding opponents to a .210 batting average. The senior allowed multiple runs in just four of his 32 appearances.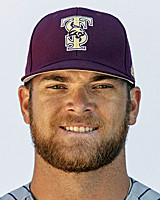 He earned a selection to the Stanford All-Region team after guiding the Bobcats to the regional final. Stivors threw two scoreless innings and struck out five to close Texas State's first meeting with Stanford to send TXST to the regional final. In his second game, he held the Cardinal to a run over seven innings, while striking out nine.
Stivors was a first-team All-America selection and First-Team All-Sun Belt honoree.
The remaining finalists for the Stopper of the Year Award included Will Brian (Eastern Kentucky), Blake Burkhalter (Auburn), Jack Gowen (Georgia), Tyler Guilfoil (Kentucky), Jackson Kelley (Mercer), William Privette (Charleston), Carter Spivey (East Carolina), Andrew Walters (Miami, Fla.) and Redmond Walsh (Tennessee).
Stivors joins a standout list of previous NCBWA Stoppers of the Year: Texas' J. Brent Cox, 2005; Kansas' Don Czyz, 2006; Luke Prihoda of Sam Houston State, 2007; Georgia's Joshua Fields, 2008; San Diego State's Addison Reed, 2009; Texas' Chance Ruffin, 2010; Texas' Corey Knebel, 2011; Southeastern Louisiana's Stefan Lopez, 2012; UCLA's David Berg, 2013 and 2015; Louisville's Nick Burdi, 2014; Miami (Fla.)'s Bryan Garcia, 2016; Louisville's Lincoln Henzman, 2017; Florida's Michael Byrne, 2018; and UCLA's Holden Powell in 2019 and Arkansas' Kevin Kopps in 2021. There was no winner in 2020 due to the COVID-19-shortened season.
The NCBWA, founded in 1962, presents the Dick Howser Trophy presented by The Game Headwear to the nation's top player and the Mike Martin National Coach of the Year to the nation's top coach. It also selects All-America Teams for all divisions, a Division I Freshman All-American team, Division I, II and III Players of the Week and Division I, II and III Players of the Year.