OMAHA, NEBRASKA (NCBWA) – Oral Roberts' Cade Denton received 2023 Stopper of the Year honors by the National Collegiate Baseball Writers Association (NCBWA), the organization announced Friday. He is the first player from the Summit League to receive the award since the Stopper of the Year debuted in 2005.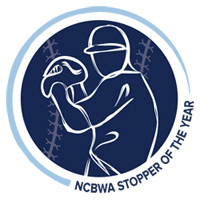 Denton, a right-handed pitcher, holds a 2-1 record and is tied with a nation-best 15 saves. The junior gave up 12 earned runs on 44 hits in 58.1 innings pitched. He fanned 78 batters and walked just 11, limiting opponents to a .210 batting average. Denton held opponents scoreless in 25 of his 33 appearances.
He picked up his second win of the season against Oregon in Game 2 of the Super Regionals (June 10), allowing two runs on four hits in 3.1 innings pitched. Denton was voted Pitcher of the Year and First Team All-League by The Summit League coaches. In 2022, Denton was selected as an NCBWA Third-Team All-American relief pitcher. A native of Rowlett, Texas, Denton is the third consecutive player from the Lone Star state to win the Stopper of the Year, joining Arkansas's Kevin Kopps (Sugar Land) and Texas State's Tristan Stivors (Castroville).
The remaining finalists for the Stopper of the Year Award included Kyle Amendt (Dallas Baptist), Simon Miller (UTSA), Camden Minacci (Wake Forest), Tyson Neighbors (Kansas State), Brandon Neely (Florida), Mitchell Scott (Kent State), Teddy Sharkey (Coastal Carolina), James Tallon (Duke) and Andrew Walters (Miami).
Denton joins a standout list of previous NCBWA Stoppers of the Year: Texas' J. Brent Cox, 2005; Kansas' Don Czyz, 2006; Luke Prihoda of Sam Houston State, 2007; Georgia's Joshua Fields, 2008; San Diego State's Addison Reed, 2009; Texas' Chance Ruffin, 2010; Texas' Corey Knebel, 2011; Southeastern Louisiana's Stefan Lopez, 2012; UCLA's David Berg, 2013 and 2015; Louisville's Nick Burdi, 2014; Miami (Fla.)'s Bryan Garcia, 2016; Louisville's Lincoln Henzman, 2017; Florida's Michael Byrne, 2018; UCLA's Holden Powell, 2019; Arkansas' Kevin Kopps, 2021; and Texas State's Tristan Stivors in 2022. There was no winner in 2020 due to the COVID-19-shortened season.
The NCBWA, founded in 1962, presents the Dick Howser Trophy presented by The Game Headwear to the nation's top player and the Mike Martin National Coach of the Year to the nation's top coach. It also selects All-America Teams for all divisions, a Division I Freshman All-American team, Division I, II and III Players of the Week and Division I, II and III Players of the Year.