DALLAS (FWAA) – Two first-time winners and nine previous ones comprise the 14th Super 11 Awards, which the Football Writers Association of America presents annually to the best performing College Sports Communicators departments in the NCAA Division I Football Bowl Subdivision. The awards announced this week are for the 2022 season.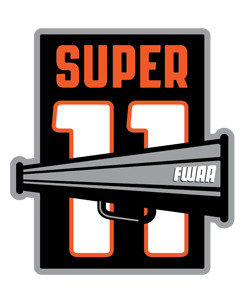 In addition, the FWAA is presenting a Super 11 Coach of the Year Award to Sonny Dykes of TCU, who won most of the FBS national coach of the year honors, including the FWAA's Eddie Robinson Coach of the Year and Steve Spurrier First-Year Coach awards. Dykes, who granted outstanding access to his program during the 2022 season, is the fifth head coach to win this award since its inception during the 2018 season.
As for the 2022 CSC department awards, Clemson and Colorado each collected a 10th award and Nebraska a ninth. Navy won for the sixth time, Kansas State and Pitt each a fifth time and South Carolina, UAB and West Virginia each a second time.
The first-time recipients in the 2022 Super 11 award, which dates back to the 2009 season, are BYU and TCU. Seven of the 10 FBS Conferences and one Independent are represented among the 11 winners this season.
This past year, with the pandemic a lesser concern, in-person press access to college football teams improved dramatically. But work for access still remains.
This year's winners were deemed to have had excellent accessibility during the week of the game and after the game – with a program's players, coaches and assistant coaches – along with the other listed criteria on Page 21 of the 2022-23 FWAA Directory.
FWAA Executive Director Steve Richardson said, "TCU Coach Sonny Dykes winning the Super 11 Coach Award is significant. It clearly shows a coach can give good access to his program and win big even in his first year at the school. Coaches don't have to isolate their players from the media in order to play for the national championship. Clemson has shown that as well."
FWAA members provided input during the season when press boxes were judged on how well they were run and maintained in terms of neutrality, pool reporters, noise level and accessibility to the press box that could affect a media person's ability to his or her job.
In addition, Virginia has been awarded a special commendation for its media access after the tragic shooting deaths last fall on campus of three Cavalier football players and the injuries of two others.
"I believe the Virginia SID staff deserves special recognition on the way they handled the recent tragedy. Jim Daves, Scott Fitzgerald and crew went above and beyond to provide information to me (and others)... in the face of such unimaginable circumstances," said 2023 FWAA First Vice President Andrea Adelson of ESPN.com.
A second special commendation goes to IIllinois' Kent Brown, who is retiring after 36 years in sports information in June. Most of his career was at Illinois for 32 years. Kent is expected to remain around the Illinois athletic program in some capacity in the future.
"Kent Brown has been a joy to work with over the years," said Bob Asmussen, sports reporter for the Champaign-Urbana News-Gazette. "He helps us do our jobs. He has been friendly, funny, polite and understanding. My paper writes a lot of big picture stories and historical pieces. Kent has always been willing to share his thoughts and resources.
"On a personal side, I got very sick 10 years ago and Kent has gone beyond my expectations in terms of accommodating my needs in the pressbox, parking and gameday assistance. He has led me to postgame press conferences at Big Ten stadium. Luckily he is tall and easy to follow. ... Kent will be missed."
Colorado's Dave Plati, whose department is tied with Clemson with 10 Super 11 awards, has retired from his post. He will be remembered as one of the tops in his profession. He claimed the FWAA Lifetime Achievement Award (2018).
"When I came to CU in April 1979, David impressed me immediately with his skills in managing the details of the sports information profession as a 19-year-old student," said long-time FWAA member Tim Simmons, former SID at CU. "In my second year with the Buffs in 1980 and David's sophomore year at CU, I turned over the press box operation to him.
"What makes David so special is 'encyclopedic' recall. David is amazing with statistics and is so creative in presenting facts to the media and the sporting public. David's involvement with all sports has made him one of the most recognizable sporting individuals in the 'Centennial State.' If you think of David, you think of the following: his creativity; his humor and his mentoring/teaching. The Sports Information profession has produced a lot of GOATs, and David is one of them."
Plati has assumed the role of SID Emeritus and will work on special projects and will remain the school's SID for men's golf.
In January 2009, the FWAA formed the first Super 11 Committee. The concept is supported by the College Sports Communicators (formerly CoSIDA). The FWAA has now awarded Super 11 to 79 different programs over the years.
Founded in 1941, the Football Writers Association of America consists of journalists, broadcasters, publicists, photographers and key executives in all areas of college football. The FWAA works to govern media access and game-day operations while presenting awards and honors, including an annual FWAA All-America Team. For more information about the FWAA and its program and initiatives, contact Executive Director Steve Richardson at 214-870-6516 or tiger@fwaa.com.
2022 FWAA Super 11 Honorees
BYU (1)
Clemson (10)
Colorado (10)
Kansas State (5)
Navy (6)
Nebraska (9)
Pittsburgh (5)
South Carolina (2)
TCU (1)
UAB (2)
West Virginia (2)
2022 Super 11 Coach of the Year
Sonny Dykes, TCU