DALLAS (FWAA) – Missouri Western State University's Shane Simpson and Jack Long are the weekly nominees for the 2011 Discover Orange Bowl-FWAA Courage Award, to be announced at the end of the season. Simpson, a junior defensive back from Blue Springs, Mo., and Long, a senior defensive back from Parkville, Mo., rescued a toddler from a locked car on a 95-degree day last August.
Simpson and Long, starters and co-captains for the Griffons, were driving away from football practice August 23 when they noticed a woman beating on the window of a car.
"We thought maybe she had locked her keys in the car," Long told the Associated Press, "but then thought that was kind of an extreme thing to do for keys."
Theresa Gall's 17-month-old grandson, Liam Snook, was locked in the car along with her keys. The toddler was throwing up and appeared to be losing consciousness. Using a hammer, Gall and others had been unable to break the car's window.
"We were hitting the glass as hard as we could and nothing," Gall told KSHB-TV. "All I could think was, 'God, please send somebody.'"
"The women came running out saying, 'My baby's in the car, help!'" Simpson told the St. Joseph (Mo.) News-Press. "She gave me the hammer and said, 'Break the window.'"
Simpson needed one try to break the window. Liam was dehydrated, but made a full recovery. Simpson and Long left after Liam had been rescued, but returned a few moments later to check on him.
"It was just so remarkable," Gall told the News-Press. "Not only did they stop and save his life, but they came back. They came back because they knew about heatstroke and were worried about the little guy. I can't even really express how grateful I am."
Gall offered a monetary reward, which both players declined. A few days later, Liam and his grandmother attended a Griffons' practice, and then their season opener against Pittsburg State.
"I'm just glad," Simpson said, "I got to be able to do it."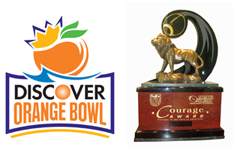 For the sixth straight year, the Football Writers Association of America and the Discover Orange Bowl will announce a weekly nominee for the Discover Orange Bowl/FWAA Courage Award each Wednesday during the season. A blue-ribbon panel will determine the award's recipient from those weekly nominees. The recipient of the Courage Award will be announced in December and presented with the trophy in conjunction with this year's Discover Orange Bowl.
The Courage Award was created by ESPN The Magazine's senior writer Gene Wojciechowski, also an FWAA member. A select group of FWAA members vote on the recipient each year. The requirements for nomination include displaying courage on or off the field, including overcoming an injury or physical handicap, preventing a disaster or living through hardship.
Previous winners of the FWAA's Courage Award are Rutgers defensive tackle Eric LeGrand (2010), the University of Connecticut football team (2009), Tulsa's Wilson Holloway (2008), Navy's Zerbin Singleton (2007), Clemson's Ray Ray McElrathbey (2006), the Tulane football team (2005), Memphis' Haracio Colen (2004), San Jose State's Neil Parry (2003) and Toledo's William Bratton (2002).
The Orange Bowl Committee is a 341-member, primarily-volunteer non-profit sports organization that promotes and serves the South Florida community. The Orange Bowl Festival features a year-round schedule of events culminating with the Discover Orange Bowl on January 4, 2012. Other OBC core events include the MetroPCS Orange Bowl Basketball Classic, Orange Bowl Youth Football Alliance presented by Sports Authority, Orange Bowl International Tennis Championships, Orange Bowl Sailing Regatta Series and Orange Bowl Paddle Championships. For more information on the 2011-12 Orange Bowl Festival and its events, including promotional and volunteer opportunities through the Ambassador Program, visit orangebowl.org.
The Football Writers Association of America, a non-profit organization founded in 1941, consists of more than 1,200 men and women who cover college football for a living. The membership includes journalists, broadcasters and publicists, as well as key executives in all the areas that involve the game. The FWAA works to govern areas that include gameday operations, major awards and its annual All-America team. For more information about the FWAA and its award programs, contact Steve Richardson at tiger@fwaa.com or 972-713-6198.
2011 Orange Bowl Courage Award Nominees
• Sept. 28: Shane Blissard and Robbie Stewart, Middle Tennessee
• Oct. 5: Carson Tinker, Alabama
• Oct. 12: Blaine Irby, Texas
• Oct. 19: David Lerner, Florida
• Oct. 26: Mike James, Miami
• Nov. 2: Arthur Ray Jr., Michigan State
• Nov. 16: Shane Simpson and Jack Long, Missouri Western State
Related link:
• Orange Bowl Courage Award