DALLAS (FWAA) – Middle Tennessee receiver Shane Blissard and athletic trainer Robbie Stewart are the first weekly nominees for the 2011 Discover Orange Bowl FWAA Courage Award, to be announced at the end of the season.
| | |
| --- | --- |
| | |
| Blissard | Stewart |
Blissard, a senior from Murfreesboro, Tenn., has returned to football after suffering an injury to his spleen during a scrimmage last spring. Stewart, an athletic trainer at the school, quickly diagnosed the symptoms, enabling Blissard to receive prompt treatment for the internal injuries.
Blissard was injured March 26 when tackled after a catch. Two defensive players hit him; a helmet speared him. Blissard suffered a ruptured spleen, fractured rib and bruised kidney. In addition, the hit caused pneumothorax, a collection of air in the pleural cavity (between the lungs and the chest wall).
"It was a normal hit," Blissard told the Daily News Journal of Murfreesboro, "and I thought the wind was knocked out of me."
Blissard returned to the sideline, but Stewart continued to monitor him. When Blissard vomited and then reported dizziness, Stewart took notice. Blissard's blood pressure abruptly changed, too. Stewart had previous experience with a ruptured spleen.
"Robbie recognized it, even though it's not something you see that often," Drew Shea, Middle Tennessee State's director of sports medicine, told the Daily News Journal. "But for Robbie to pick up on that is pretty impressive."
Blissard was quickly transported to the hospital and underwent emergency surgery less than 90 minutes after the hit. He lost more than 3-1/2 liters of blood from internal bleeding from the spleen, and underwent a second surgery the next morning after losing more blood because of a damaged vessel.
"When I finally got the phone call that said, 'We're in surgery and he's stable,' that's when the relief came over me," Stewart told the Daily News Journal.
Doctors told Blissard's mother Stewart's quick actions saved her son's life.
"Robbie is the hero here," Missy Blissard told the Daily News Journal.
Blissard, a walk-on who has forged a playing role for the Blue Raiders, recovered well and returned to football this fall. He caught passes in the first two games, extending his personal streak to 12 straight games, before being shut out in the third.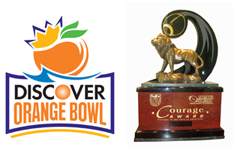 For the sixth straight year, the Football Writers Association of America and the Discover Orange Bowl will announce a weekly nominee for the Discover Orange Bowl/FWAA Courage Award each Wednesday during the season. A blue-ribbon panel will determine the award's recipient from those weekly nominees. The recipient of the Courage Award will be announced in December and presented with the trophy in conjunction with this year's Discover Orange Bowl.
The Courage Award was created by ESPN The Magazine's senior writer Gene Wojciechowski, also an FWAA member. A select group of FWAA members vote on the recipient each year. The requirements for nomination include displaying courage on or off the field, including overcoming an injury or physical handicap, preventing a disaster or living through hardship.
Previous winners of the FWAA's Courage Award are Rutgers defensive tackle Eric LeGrand (2010), the University of Connecticut football team (2009), Tulsa's Wilson Holloway (2008), Navy's Zerbin Singleton (2007), Clemson's Ray Ray McElrathbey (2006), the Tulane football team (2005), Memphis' Haracio Colen (2004), San Jose State's Neil Parry (2003) and Toledo's William Bratton (2002).
The Orange Bowl Committee is a 341-member, primarily-volunteer non-profit sports organization that promotes and serves the South Florida community. The Orange Bowl Festival features a year-round schedule of events culminating with the Discover Orange Bowl on January 4, 2012. Other OBC core events include the MetroPCS Orange Bowl Basketball Classic, Orange Bowl Youth Football Alliance presented by Sports Authority, Orange Bowl International Tennis Championships, Orange Bowl Sailing Regatta Series and Orange Bowl Paddle Championships. For more information on the 2011-12 Orange Bowl Festival and its events, including promotional and volunteer opportunities through the Ambassador Program, visit orangebowl.org.
The Football Writers Association of America, a non-profit organization founded in 1941, consists of more than 1,200 men and women who cover college football for a living. The membership includes journalists, broadcasters and publicists, as well as key executives in all the areas that involve the game. The FWAA works to govern areas that include gameday operations, major awards and its annual All-America team. For more information about the FWAA and its award programs, contact Steve Richardson at tiger@fwaa.com or 972-713-6198.
2011 Orange Bowl Courage Award Nominees
• Sept. 28: Shane Blissard and Robbie Stewart, Middle Tennessee
• Oct. 5: Carson Tinker, Alabama
• Oct. 12: Blaine Irby, Texas
• Oct. 19: David Lerner, Florida
• Oct. 26: Mike James, Miami
• Nov. 2: Arthur Ray Jr., Michigan State
• Nov. 16: Shane Simpson and Jack Long, Missouri Western State
Related link:
• Orange Bowl Courage Award