DALLAS (FWAA) – Alabama's Carson Tinker is the weekly nominee for the 2011 Discover Orange Bowl/FWAA Courage Award, to be announced at the end of the season. Tinker, a junior long snapper from Murfreesboro, Tenn., was thrown 100 yards from his destroyed house by a tornado that ripped through Tuscaloosa, Ala., last April 27.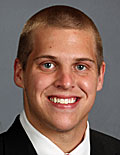 Tinker
Tinker's girlfriend, Ashley Harrison, a fellow Alabama student who had huddled with Tinker and two of his roommates in a walk-in closet, did not survive. Her body was found the next day in the same field Tinker had landed in; she was among the 51 fatalities on one of the most deadly tornado outbreaks in U.S. history.
The house was leveled to its foundations. Tinker suffered a concussion, a broken bone in his right wrist and cuts on his head and right ankle.
Tinker told the Birmingham News that football has been therapeutic. Once his injuries had healed, he resumed summer conditioning with teammates, and was back on the field snapping for punts, field goals and extra points when the Crimson Tide started the season Sept. 3.
"I was telling somebody earlier ... they asked what Sept. 3 meant to me," Tinker told the Birmingham News. "I said, 'I've been looking forward to that day for a very long time. Not just the day. The season.
"When I was doing my rehab and doing all the things that I needed to get healthy ... what I thought about was running out of that tunnel and playing football."
Alabama coach Nick Saban said Tinker has handled the tragedy "as well as anybody could."
"If you're around Carson," Saban told the Birmingham News, "He's such a positive and upbeat guy. You really don't know that anything happened."
Tinker has spoken a couple of times to groups, and said: "I want to go out and I want to reach everybody that I can and try to inspire them. ... There's a lot of people that have been through very similar things that I've been through, and if I can help them, I'm all for it."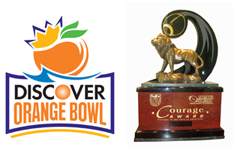 For the sixth straight year, the Football Writers Association of America and the Discover Orange Bowl will announce a weekly nominee for the Discover Orange Bowl/FWAA Courage Award each Wednesday during the season. A blue-ribbon panel will determine the award's recipient from those weekly nominees. The recipient of the Courage Award will be announced in December and presented with the trophy in conjunction with this year's Discover Orange Bowl.
The Courage Award was created by ESPN The Magazine's senior writer Gene Wojciechowski, also an FWAA member. A select group of FWAA members vote on the recipient each year. The requirements for nomination include displaying courage on or off the field, including overcoming an injury or physical handicap, preventing a disaster or living through hardship.
Previous winners of the FWAA's Courage Award are Rutgers defensive tackle Eric LeGrand (2010), the University of Connecticut football team (2009), Tulsa's Wilson Holloway (2008), Navy's Zerbin Singleton (2007), Clemson's Ray Ray McElrathbey (2006), the Tulane football team (2005), Memphis' Haracio Colen (2004), San Jose State's Neil Parry (2003) and Toledo's William Bratton (2002).
The Orange Bowl Committee is a 341-member, primarily-volunteer non-profit sports organization that promotes and serves the South Florida community. The Orange Bowl Festival features a year-round schedule of events culminating with the Discover Orange Bowl on January 4, 2012. Other OBC core events include the MetroPCS Orange Bowl Basketball Classic, Orange Bowl Youth Football Alliance presented by Sports Authority, Orange Bowl International Tennis Championships, Orange Bowl Sailing Regatta Series and Orange Bowl Paddle Championships. For more information on the 2011-12 Orange Bowl Festival and its events, including promotional and volunteer opportunities through the Ambassador Program, visit orangebowl.org.
The Football Writers Association of America, a non-profit organization founded in 1941, consists of more than 1,200 men and women who cover college football for a living. The membership includes journalists, broadcasters and publicists, as well as key executives in all the areas that involve the game. The FWAA works to govern areas that include gameday operations, major awards and its annual All-America team. For more information about the FWAA and its award programs, contact Steve Richardson at tiger@fwaa.com or 972-713-6198.
2011 Orange Bowl Courage Award Nominees
• Sept. 28: Shane Blissard and Robbie Stewart, Middle Tennessee
• Oct. 5: Carson Tinker, Alabama
• Oct. 12: Blaine Irby, Texas
• Oct. 19: David Lerner, Florida
• Oct. 26: Mike James, Miami
• Nov. 2: Arthur Ray Jr., Michigan State
• Nov. 16: Shane Simpson and Jack Long, Missouri Western State
Related link:
• Orange Bowl Courage Award