DALLAS (FWAA) – Michigan State's Arthur Ray Jr. is the weekly nominee for the 2011 Discover Orange Bowl/FWAA Courage Award, to be announced at the end of the season. Ray, a senior offensive lineman from Chicago, has returned to football this season, four years after bone cancer derailed his career.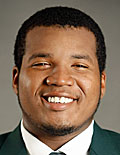 Ray
Ray signed with Michigan State as a highly recruited lineman from Chicago's Mount Carmel High School in 2007, but was soon diagnosed with cancer in his left leg. Through nine surgeries – including four bone grafts – countless rounds of chemotherapy and several outbreaks of infection, he was unable to practice or play. For almost two years, he was unable to walk without crutches.
He had been given a medical disqualification and remained on scholarship with Michigan State. But last April, doctors cleared him to resume football.
"I was in class, and I just cried tears of joy," Ray told the Associated Press. "It felt so good because it just represents so much now. I just feel like I have to represent everybody that's still dealing with bad things, like chemo."
Still, practicing was one thing; playing quite another. On Sept. 3, when the Spartans opened the season against Youngstown State, starting left guard Joel Foreman – a fifth-year senior and a team co-captain – asked Michigan State coach Mark Dantonio if he could give up his position to his friend. Foreman had started 22 straight games and 36 of 38 in his career.
During a team meal on the eve of the opener, Dantonio asked Ray to stand, then said, according to the Detroit News: "Young man, you are going to start your first college football game."
Ray participated in only the first play, but blocked two players.
"I know he probably thinks it was powerful for him, but it was just as powerful for me to watch him out there," Foreman said. "It's something he deserves and something he earned. It's not something I did."
Said Ray: "I've been waiting for this moment for so long, it was just a great feeling. Actually, I had butterflies for about two hours before the game. Man, I missed that feeling for so long."
He has since played against Florida Atlantic and continues to practice with the goal of earning more playing time.
"If anybody's a walking miracle," Ray said, "you're looking at him. A lot of people told me to turn around and do other things, and I never really listened to them. Football's always been my heart and my passion."
Said Dantonio: "It … gives hope to everybody who has been in any kind of tough situation in their life, that if you can keep pushing and push through adversity you've got a chance."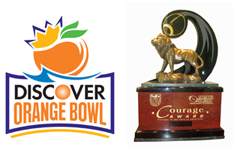 For the sixth straight year, the Football Writers Association of America and the Discover Orange Bowl will announce a weekly nominee for the Discover Orange Bowl/FWAA Courage Award each Wednesday during the season. A blue-ribbon panel will determine the award's recipient from those weekly nominees. The recipient of the Courage Award will be announced in December and presented with the trophy in conjunction with this year's Discover Orange Bowl.
The Courage Award was created by ESPN The Magazine's senior writer Gene Wojciechowski, also an FWAA member. A select group of FWAA members vote on the recipient each year. The requirements for nomination include displaying courage on or off the field, including overcoming an injury or physical handicap, preventing a disaster or living through hardship.
Previous winners of the FWAA's Courage Award are Rutgers defensive tackle Eric LeGrand (2010), the University of Connecticut football team (2009), Tulsa's Wilson Holloway (2008), Navy's Zerbin Singleton (2007), Clemson's Ray Ray McElrathbey (2006), the Tulane football team (2005), Memphis' Haracio Colen (2004), San Jose State's Neil Parry (2003) and Toledo's William Bratton (2002).
The Orange Bowl Committee is a 341-member, primarily-volunteer non-profit sports organization that promotes and serves the South Florida community. The Orange Bowl Festival features a year-round schedule of events culminating with the Discover Orange Bowl on January 4, 2012. Other OBC core events include the MetroPCS Orange Bowl Basketball Classic, Orange Bowl Youth Football Alliance presented by Sports Authority, Orange Bowl International Tennis Championships, Orange Bowl Sailing Regatta Series and Orange Bowl Paddle Championships. For more information on the 2011-12 Orange Bowl Festival and its events, including promotional and volunteer opportunities through the Ambassador Program, visit orangebowl.org.
The Football Writers Association of America, a non-profit organization founded in 1941, consists of more than 1,200 men and women who cover college football for a living. The membership includes journalists, broadcasters and publicists, as well as key executives in all the areas that involve the game. The FWAA works to govern areas that include gameday operations, major awards and its annual All-America team. For more information about the FWAA and its award programs, contact Steve Richardson at tiger@fwaa.com or 972-713-6198.
2011 Orange Bowl Courage Award Nominees
• Sept. 28: Shane Blissard and Robbie Stewart, Middle Tennessee
• Oct. 5: Carson Tinker, Alabama
• Oct. 12: Blaine Irby, Texas
• Oct. 19: David Lerner, Florida
• Oct. 26: Mike James, Miami
• Nov. 2: Arthur Ray Jr., Michigan State
• Nov. 16: Shane Simpson and Jack Long, Missouri Western State
Related link:
• Orange Bowl Courage Award