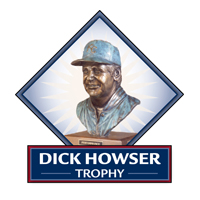 DALLAS (NCBWA) – One of the nation's top utility players, the Southeastern Conference Player of the Year, the Atlantic Coast Conference Player of the Year and national co-freshman of the year, a national player of the year and a first team All-American third baseman have been named as finalists for the 2016 Dick Howser Trophy presented by Easton Foundations.
Balloting was conducted by the National Collegiate Baseball Writers Association, in conjunction with the Dick Howser Trophy committee and the St. Petersburg Area Chamber of Commerce.
Clemson freshman outfielder Seth Beer, Wake Forest junior third baseman Will Craig, Louisville sophomore utility player (SP/1B) Brendan McKay, Kent State junior pitcher Eric Lauer and Texas A&M junior third baseman Boomer White are the elite final five finalists for the 30th annual Howser Trophy ceremonies.
The winner will be unveiled on MLB Network on Friday, June 17, and then a press conference with the winner will be held in Omaha, Nebraska, on Saturday, June 18 at 10 a.m. (CDT), the opening day of the 2016 College World Series.
Each finalist also represents the ideals of character, leadership, desire, and competitive spirit exhibited by Dick Howser, the All-America shortstop and later head coach at Florida State, before managing the Kansas City Royals to the world championship in 1985. He also is the namesake for Dick Howser Stadium at FSU.
Beer was named a Baseball America first-team All-American and Collegiate Baseball's co-Freshman of the Year and a second team All-American. The 2016 ACC Player of the Year hit .369 with a .700 slugging percentage, a .535 OBP, 70 RBI and 57 runs. Beer ranked third nationally in OBP and walks, ninth in slugging percentage, and 12th in home runs. The Suwanee, Ga., native slugged 18 homers and 13 doubles, walked 62 times, finished the season with a 60-game on-base streak and posted a 26-game hitting streak during the campaign.
A native of Johnson City, Tenn., Craig was named a first-team All-American by Baseball America and Collegiate Baseball. The first-team All-ACC selection led Wake Forest to its first NCAA Regional berth since 2007 and ranks third nationally in slugging percentage with a .731 mark. He also ranks eighth with a .520 OBP and eighth with 1.2 runs batted in per game. For the season, Craig led the Demon Deacons with a .379 average, 16 home runs, 66 RBI and 563 runs. He also posted a team-high nine saves, going 2-0 with a 3.54 ERA in 28 innings pitched.
Lauer, who was named Collegiate Baseball's National Player of the Year and a first-team All-American by Collegiate Baseball and Baseball America, posted a miniscule 0.69 ERA the best by a Division I starting pitcher since 1979 · and went 10-2 with 125 strikeouts in 104 innings pitched, the second-most strikeouts in a season in Kent State history. The Mid-American Conference Pitcher of the Year and a semifinalist for the College Baseball Hall of Fame's National Pitcher of the Year, Lauer also was named a second-team CoSIDA Academic All-American. Lauer led all starting pitchers in Division I baseball with a 0.74 WHIP, ranking second overall, and ranked sixth nationally in strikeouts.
A native of Darlington, Pa., McKay was a first-team All-American by Baseball America and a Louisville Slugger third-team All-American. He is 12-3 on the mound with a 2.12 ERA, a 1.20 WHIP and 119 strikeouts in 101.2 innings pitched, while hitting .336 with five home runs, a .420 OBP and 40 RBI as the Cardinals' primary first baseman. McKay was a first-team All-ACC selection as both a starting pitcher and utility player, and was the Most Outstanding Player of the NCAA Louisville Regional after hitting .455 with a homer and three RBI, and striking out 10 in a win on the mound. He also was named the NCBWA Pitcher of the Month in February. McKay also is a semifinalist for the John Olerud Two-Way Player of the Year Award, which he won in 2015, and was a semifinalist for the National College Baseball Hall of Fame's National Pitcher of the Year Award.
White, the SEC Player of the Year, leads Texas A&M into this weekend's NCAA Super Regional round by hitting .398 with a .533 slugging percentage and a .476 OBP. The Houston, Texas, native, who was named a Baseball America first-team All-American and was a third-team selection by Collegiate Baseball, has 98 hits on the season including an SEC record 57 during conference play · and needs 10 more to break Texas A&M's single-season record. White, who also was an All-SEC first-teamer and a member of the NCAA College Station Regional All-Tournament Team, has 46 RBI, 49 runs, 18 doubles and five homers on the season, while walking 33 times and swiping 10 bases.
Voting for the Dick Howser Trophy has been conducted by the NCBWA membership since 1999 after the American Baseball Coaches Association selected the recipient from 1987-1998. The NCBWA also selects the Stopper of the Year, the Division I National Coach of the Year and National Freshman Hitter and Pitcher of the Year, along with NCAA Division II and III All-America teams, Players and Coaches of the Year.
The Howser Trophy was created in 1987, shortly after Howser's death. Previous winners of the Howser Trophy are Mike Fiore, Miami, 1987; Robin Ventura, Oklahoma State, 1988; Scott Bryant, Texas, 1989; Alex Fernandez, Miami-Dade Community College South, 1990; Frank Rodriguez, Howard College (Texas), 1991; Brooks Kieschnick, Texas, 1992 and 1993; Jason Varitek, Georgia Tech, 1994; Todd Helton, Tennessee, 1995; Kris Benson, Clemson, 1996; J. D. Drew, Florida State, 1997; Eddy Furniss, LSU, 1998; Jason Jennings, P, Baylor, 1999; Mark Teixeira, 1B, Georgia Tech, 2000; Mark Prior, P, USC, 2001; Khalil Greene, SS, Clemson, 2002; Rickey Weeks, 2B, Southern U., 2003; Jered Weaver, P, Long Beach State, 2004; Alex Gordon, 3B, Nebraska, 2005; Brad Lincoln, P, Houston, 2006; David Price, P, Vanderbilt, 2007; Buster Posey, C, Florida State, 2008; Stephen Strasburg, P, San Diego State, 2009; Anthony Rendon, 3B, Rice, 2010; Taylor Jungmann, P, Texas, 2011; Mike Zunino, C, Florida, 2012; Kris Bryant, 3B, San Diego; A.J. Reed, P/1B, Kentucky, 2014 and Andrew Benintendi, OF, Arkansas.
2016 Dick Howser Trophy:

Fri., May 20: Dick Howser Trophy semifinalists announced

· Thurs., June 9: Dick Howser Trophy finalists announced

· Fri., June 17: Dick Howser Trophy winner announced on MLB Network

· Sat., June 18: Dick Howser Trophy presented at College World Series
Related links:

More on the Dick Howser Trophy