OMAHA (NCBWA) – Clemson's Seth Beer, the most honored freshman in Atlantic Coast Conference history and the first freshman to capture this national honor, is the 30th recipient of the Dick Howser Trophy, presented by Easton Foundations, as college baseball's Player of the Year.
The Howser Trophy committee and National Collegiate Baseball Writers Association denoted the award Saturday at a national news conference at TD Ameritrade Park prior to the opening game of the 70th annual NCAA Division I Baseball College World Series. This also follows Beer being selected as 2016 NCBWA Freshman Hitter of the Year.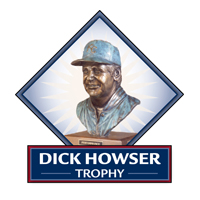 Beer, a 6-2, 195-pound first-year outfielder from the Atlanta suburb of Suwanee, Ga., became the first ACC standout to win both Player of the Year (awarded by the conference since 1991) and Freshman Hitter of the Year (first lauded in 1991) after a stellar season for head coach Monte Lee's Tigers.
He is among the top three in virtually every ACC hitting statistic with 18 home runs (tops in the conference), 70 runs-batted-in (second overall), .700 slugging percentage (second), .535 on-base percentage (second), and 2.29 total bases per game (second), and .369 (eighth in the ACC).
The 2016 ACC Player and Freshman Hitter of the Year also was among national leaders in numerous batting categories.
His .535 on-base percentage is fourth in NCAA Division I individual stats. His 62 bases-on-balls ranks third nationally and second in the conference while his 18-homer total is tied for 13th nationally along with leading the league. Beer's 70 RBI is ninth nationally while he is 21st in RBI per game with a 1.13 average over 62 contests in which he competed. His .700 slugging percentage is ninth in NCAA Division I individually.
The consensus All-America and All-ACC choice as well as NCBWA Freshman of the Year also led the Tigers to the 2016 ACC postseason title in Durham, N.C., and an automatic berth as host of the NCAA Clemson Regional. The Tigers closed at 44-20, were runnerup in the regional and tallied their most wins under first-year head coach Lee since the 2010 crew closed at 45-25 and advanced to the NCAA World Series.
He also was selected NCBWA National Hitter of the Month for March with nine homers, a .431 batting average and 21 RBI over 19 games with a 14-5 mark. He tied for the fourth-longest hitting streak in CU history with a 26-gamer.
Beer became the third Clemson student-athlete in history to attain the Howser Trophy after pitcher Kris Benson in 1996 and shortstop Khalil Greene in 2002.
The Dick Howser Trophy, given in memory of the former Florida State University All-America shortstop and Major League player and manager who died of brain cancer in 1987, is regarded by many as college baseball's most prestigious award. Criteria for consideration for the trophy include performance on the field, leadership, moral character, and courage, qualities which were exemplified by Dick Howser's life.
"Our father would be so happy to see the performance, growth and visibility of today's game of college baseball and within it, the recognition of those whose seasons are most outstanding. "We congratulate this year's winner, Seth Beer of Clemson, who had a tremendous first college season and became the first freshman to have ever won the Dick Howser Trophy. We are so proud of you, Seth, and our Dad would be also," Jana Howser and Jill Howser Reingold.
Prior to Beer's honor this season, only three four-year college sophomores had won the Howser Trophy Brooks Kieschnick of Texas in 1992, Anthony Rendon of Rice in 2010 and Andrew Benintendi of Arkansas in 2015. Only a handful of freshmen ever have been finalists for this prestigious award, and Beer has a chance to join Kieschnick in '92 and '93 as the only two-time recipients of this trophy. Beer's reception of the award also ties Clemson with Texas for the most all-time Dick Howser Trophy winners at three apiece.
Beer is the latest in a long line of Clemson national standouts along with Benson, Greene, Matthew LeCroy, Billy O'Dell, Ty Cline, Jimmy Key, Denny Walling, Bill Spiers, Tony Sipp, and Ben Paulsen, among others. He is the 12th Tiger to be named ACC Player or Hitter of the Year over the last 48 seasons.
"Seth Beer truly deserves this national honor," said Howser Trophy committee chair David Feaster, "and his status as national player of the year as a freshman is a history-making moment. In just a short time he has exhibited the Dick Howser traits of excellent performance on the field, leadership, moral character, and courage."
Beer was joined among the top vote-getters by 2016 Howser Trophy finalists Wake Forest junior third baseman Will Craig, Louisville sophomore utility player (SP/1B) Brendan McKay, Kent State junior pitcher Eric Lauer, and Texas A&M junior third baseman Boomer White.
A Florida native, Howser was twice an All-America shortstop at Florida State (1957-58), then head coach of the Seminoles in 1979 after a career as a Major League player and coach. After one year in the college ranks, he returned to the majors to manage the New York Yankees and Kansas City Royals and won the World Series with the Royals in 1985. The baseball stadium on the Florida State campus is named for Howser.
NCBWA membership includes writers, broadcasters and publicists. Designed to promote and publicize college baseball, it is the sport's only college media-related organization, founded in 1962.
The Howser Trophy was created in 1987, shortly after Howser's death. Previous winners of the Howser Trophy are Mike Fiore, Miami, 1987; Robin Ventura, Oklahoma State, 1988; Scott Bryant, Texas, 1989; Alex Fernandez, Miami-Dade Community College South, 1990; Frank Rodriguez, Howard College (Texas), 1991; Brooks Kieschnick, Texas, 1992 and 1993; Jason Varitek, Georgia Tech, 1994; Todd Helton, Tennessee, 1995; Kris Benson, Clemson, 1996; J. D. Drew, Florida State, 1997; Eddy Furniss, LSU, 1998; Jason Jennings, Baylor, 1999; Mark Teixeira, Georgia Tech, 2000; Mark Prior, P, USC, 2001, Khalil Greene, SS, Clemson, 2002; Rickie Weeks, 2B, Southern U., 2003; Jered Weaver, P, Long Beach State, 2004; Alex Gordon, 3B, Nebraska, 2005; Brad Lincoln, P/DH, Houston, 2006; David Price, P, Vanderbilt, 2007; Buster Posey, C, Florida State, 2008; Stephen Strasburg, P, San Diego State, 2009; Anthony Rendon, 3B, Rice, 2010; Taylor Jungmann, P, Texas, 2011; Mike Zunino, C, Florida, 2012; Kris Bryant, 3B, San Diego, 2013; A.J. Reed, Kentucky, 2014; Andrew Benintendi, Arkansas, 2015; Seth Beer, Clemson, 2016.
2016 Dick Howser Trophy:

Fri., May 20: Dick Howser Trophy semifinalists announced

· Thurs., June 9: Dick Howser Trophy finalists announced

· Fri., June 17: Dick Howser Trophy winner announced on MLB Network

· Sat., June 18: Dick Howser Trophy presented at College World Series
Related links:

More on the Dick Howser Trophy