DALLAS (FWAA) East Carolina's Thomas "Rock" Roggeman is the weekly nominee for the 2009 FedEx Orange Bowl-FWAA Courage Award, to be announced at the end of the season. Roggeman, the Pirates' defensive tackles coach, has taken a medical leave of absence while battling non-Hodgkin's lymphoma.
Roggeman, 46, in his fifth season as an ECU assistant, was diagnosed with the cancer of the lymphatic system last summer. He continued coaching while undergoing treatments, but left the team in late September in order to undertake a more aggressive treatment plan.
"All I had to hear the doctor say, 'We can cure this,'" Roggeman told the South Bend Tribune last summer. "When I got the word, I was scared, I was humbled. I don't complain. I don't make this a burden on anyone, especially the team. I'm just gonna compete, compete, compete."
On Sept. 26, before East Carolina's 19-14 win over Central Florida, Roggeman delivered the pregame remarks. East Carolina coach Skip Holtz didn't provide specifics, but said, "It was not a 'Win-one-for-Rock' type of talk."
"It was very emotional, an inspiration," ECU quarterback Patrick Pinkney told Bonesville.net. "A lot of people don't get the opportunity to do what we do, and what coach 'Rock' is going through, that's an inspiration to us.
"He's fighting for his life. That's more than the game of football. We're praying for him and we're going to keep giving that determination to win each and every week."
Roggeman, who played linebacker and nose guard at Notre Dame, has dropped in on several Pirates' practices between treatments, providing a lift to players and coaches.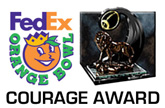 For the fourth straight year, the Football Writers Association of America and the FedEx Orange Bowl will announce a weekly nominee each Wednesday during the season. A blue-ribbon panel will determine the winner from all of the nominees. The winner of the FedEx Orange Bowl/FWAA Courage Award will be announced in December and be presented with the trophy.
The Courage Award was created by ESPN The Magazine's senior writer Gene Wojciechowski, also a FWAA member. A select group of writers from the FWAA vote on the winner each year. The requirements for nomination include displaying courage on or off the field, including overcoming an injury or physical handicap, preventing a disaster or living through hardship.
Previous winners of the FWAA's Courage Award are Tulsa's Wilson Holloway (2008), Navy's Zerbin Singleton (2007), Clemson's Ray Ray McElrathbey (2006), the Tulane football team (2005), Memphis' Haracio Colen (2004), San Jose State's Neil Parry (2003) and Toledo's William Bratton (2002).
The Orange Bowl Committee is a not-for-profit, 330-member, primarily-volunteer organization. It is a self-sustaining, independent organization that supports and produces activities and events that enhance the image, economy and culture of South Florida . The Orange Bowl Festival features a year-round schedule of events culminating with the FedEx Orange Bowl on January 5, 2010. In 2013, the OBC will again double-host both the FedEx Orange Bowl and the BCS National Championship. Other OBC core events include the MetroPCS Orange Bowl Basketball Classic, Orange Bowl Youth Football Alliance, Orange Bowl International Tennis Championships and Orange Bowl Sailing Regatta Series. For more information on the 2009-10 Orange Bowl Festival and its events, including promotional and volunteer opportunities through the Ambassador Program, log on to www.orangebowl.org.
The Football Writers Association of America, a non-profit organization
founded in 1941, consists of more than 1,100 men and women who cover college football
for a living. The membership includes journalists, broadcasters and publicists,
as well as key executives in all the areas that involve the game. The FWAA works
to govern areas that include gameday operations, major awards and its annual All-America
team. For more information about the FWAA and its award programs, contact Steve
Richardson at tiger@fwaa.com or 972-713-6198.
2009 Orange Bowl Courage Award Nominees

Sept. 23: D.J. Williams, Arkansas

· Sept. 30: Mark Herzlich, Boston College

· Oct. 7: Darius Nall, UCF

· Oct. 14: Ricky Rosas, USC

· Oct. 21: Derrick Coleman, UCLA

· Oct. 28: Connecticut Huskies

· Nov. 4: Antoine "Shaky" Smithson, Utah

· Nov. 11: Dan Potokar, Ohio State

· Nov. 18: Thomas "Rock" Roggeman, East Carolina