DALLAS (FWAA) Arkansas' D.J. Williams is the first weekly nominee for the 2009 FedEx Orange Bowl/FWAA Courage Award, to be announced at the end of the season. Williams, a junior tight end from Little Rock, Ark., has overcome a childhood dominated by an abusive, drug-addicted father to excel in the classroom, the community and on the field.
Williams' father, David Williams, is currently serving time in a Texas prison. But D.J. Williams' early memories are of fearing a father who, beset by depression and hooked on crack cocaine, regularly beat and abused his mother.
"I feared for my mother's life," Vanessa Williams, D.J.'s older sister, recently told espn.com. "If we hadn't gotten out of there, she probably wouldn't have made it."
Ten years ago this month, Vicky Williams took Vanessa, Valerie and D.J. and fled their home in a Dallas suburb. When officials at a local shelter for battered women suggested they leave the state, Vicky showed D.J. a map and asked the 11-year-old where he wanted to go. He chose Little Rock, where they lived in a shelter for battered women for several months, but have made a new life.
Williams was an all-SEC selection and a Mackey Award semifinalist in 2008, when he led the Razorbacks in catches, receiving yards and touchdown catches. He's expected to be a key cog in Bobby Petrino's upgraded passing attack.
He's one of the football program's best students, and has taken on leadership roles in community service and other areas.
"When things get tough for me, whether it's on the football field or anywhere else, I just think about what my mom's gone through and the great things football has brought me," Williams told espn.com. "Hopefully, I'll be able to give back to her and give back to others. I want moms and kids out there who are going through what we went through to know that there is a way out.
"Look at us. We've come from living in a shelter and wearing hand-me-down clothes to me standing in front of 80,000-plus almost every Saturday just to watch me play football. Even when you think all hope is lost, dreams do come true."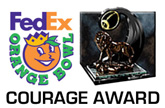 For the fourth straight year, the Football Writers Association of America and the FedEx Orange Bowl will announce a weekly nominee each Wednesday during the season. A blue-ribbon panel will determine the winner from all of the nominees. The winner of the FedEx Orange Bowl/FWAA Courage Award will be announced in December and be presented with the trophy.
The Courage Award was created by ESPN The Magazine's senior writer Gene Wojciechowski, also a FWAA member. A select group of writers from the FWAA vote on the winner each year. The requirements for nomination include displaying courage on or off the field, including overcoming an injury or physical handicap, preventing a disaster or living through hardship.
Previous winners of the FWAA's Courage Award are Tulsa's Wilson Holloway (2008), Navy's Zerbin Singleton (2007), Clemson's Ray Ray McElrathbey (2006), the Tulane football team (2005), Memphis' Haracio Colen (2004), San Jose State's Neil Parry (2003) and Toledo's William Bratton (2002).
The Orange Bowl Committee is a not-for-profit, 330-member, primarily-volunteer organization. It is a self-sustaining, independent organization that supports and produces activities and events that enhance the image, economy and culture of South Florida . The Orange Bowl Festival features a year-round schedule of events culminating with the FedEx Orange Bowl on January 5, 2010. In 2013, the OBC will again double-host both the FedEx Orange Bowl and the BCS National Championship. Other OBC core events include the MetroPCS Orange Bowl Basketball Classic, Orange Bowl Youth Football Alliance, Orange Bowl International Tennis Championships and Orange Bowl Sailing Regatta Series. For more information on the 2009-10 Orange Bowl Festival and its events, including promotional and volunteer opportunities through the Ambassador Program, log on to www.orangebowl.org.
The Football Writers Association of America, a non-profit organization
founded in 1941, consists of more than 1,100 men and women who cover college football
for a living. The membership includes journalists, broadcasters and publicists,
as well as key executives in all the areas that involve the game. The FWAA works
to govern areas that include gameday operations, major awards and its annual All-America
team. For more information about the FWAA and its award programs, contact Steve
Richardson at tiger@fwaa.com or 972-713-6198.
2009 Orange Bowl Courage Award Nominees

Sept. 23: D.J. Williams, Arkansas

· Sept. 30: Mark Herzlich, Boston College

· Oct. 7: Darius Nall, UCF

· Oct. 14: Ricky Rosas, USC

· Oct. 21: Derrick Coleman, UCLA

· Oct. 28: Connecticut Huskies

· Nov. 4: Antoine "Shaky" Smithson, Utah

· Nov. 11: Dan Potokar, Ohio State

· Nov. 18: Thomas "Rock" Roggeman, East Carolina