DALLAS (FWAA) Utah's Antoine "Shaky" Smithson is the weekly nominee for the 2009 FedEx Orange Bowl-FWAA Courage Award, to be announced at the end of the season. Smithson, a junior receiver-running back from Baltimore, has become legal guardian for his 15-year-old brother Anthony.
Shaky Smithson, 22, the oldest of seven siblings, grew up in a rough part of Baltimore. He carried a 3.2 grade-point average at East Los Angeles Community College and graduated in three semesters. Shortly after enrolling last February at Utah, he began the process of taking custody of his younger brother.
"It is a big responsibility," Utah coach Kyle Whittingham told SI.com. "But if you know Shaky, he's a very responsible kid; he's very mature. Once he laid it out for me and explained the situation it sounded to me like he was doing the right thing."
Smithson applied for and received a waiver from the NCAA to allow extra benefits. Anthony joined him in Salt Lake City last June; the Smithsons became the fourth family to gain such a waiver (former Courage Award winner Ray Ray McElrathbey of Clemson was the first).
"I can think of no more responsible act," Rev. France Davis, pastor of Calvary Baptist Church in Salt Lake City and a member of the Smithsons' support team, told the Salt Lake Tribune. "What he's doing is stepping up and saying, I'm going to do the right thing. I've given myself a chance. Now I want my brother to have a chance, too.'"
Shaky credits his parents and a basketball coach at Frederick Douglass High School for keeping him out of trouble. He said he learned from others' mistakes and wanted to help his younger brother avoid temptation, as well.
"I don't want to be just helping myself," Shaky told SI.com. "I want to be helping everybody else so that it's not just me that's being successful, it's a lot of other people being successful."
Smithson has nine catches for 56 yards and is averaging 23.5 yards per kickoff return.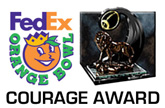 For the fourth straight year, the Football Writers Association of America and the FedEx Orange Bowl will announce a weekly nominee each Wednesday during the season. A blue-ribbon panel will determine the winner from all of the nominees. The winner of the FedEx Orange Bowl/FWAA Courage Award will be announced in December and be presented with the trophy.
The Courage Award was created by ESPN The Magazine's senior writer Gene Wojciechowski, also a FWAA member. A select group of writers from the FWAA vote on the winner each year. The requirements for nomination include displaying courage on or off the field, including overcoming an injury or physical handicap, preventing a disaster or living through hardship.
Previous winners of the FWAA's Courage Award are Tulsa's Wilson Holloway (2008), Navy's Zerbin Singleton (2007), Clemson's Ray Ray McElrathbey (2006), the Tulane football team (2005), Memphis' Haracio Colen (2004), San Jose State's Neil Parry (2003) and Toledo's William Bratton (2002).
The Orange Bowl Committee is a not-for-profit, 330-member, primarily-volunteer organization. It is a self-sustaining, independent organization that supports and produces activities and events that enhance the image, economy and culture of South Florida . The Orange Bowl Festival features a year-round schedule of events culminating with the FedEx Orange Bowl on January 5, 2010. In 2013, the OBC will again double-host both the FedEx Orange Bowl and the BCS National Championship. Other OBC core events include the MetroPCS Orange Bowl Basketball Classic, Orange Bowl Youth Football Alliance, Orange Bowl International Tennis Championships and Orange Bowl Sailing Regatta Series. For more information on the 2009-10 Orange Bowl Festival and its events, including promotional and volunteer opportunities through the Ambassador Program, log on to www.orangebowl.org.
The Football Writers Association of America, a non-profit organization
founded in 1941, consists of more than 1,100 men and women who cover college football
for a living. The membership includes journalists, broadcasters and publicists,
as well as key executives in all the areas that involve the game. The FWAA works
to govern areas that include gameday operations, major awards and its annual All-America
team. For more information about the FWAA and its award programs, contact Steve
Richardson at tiger@fwaa.com or 972-713-6198.
2009 Orange Bowl Courage Award Nominees

Sept. 23: D.J. Williams, Arkansas

· Sept. 30: Mark Herzlich, Boston College

· Oct. 7: Darius Nall, UCF

· Oct. 14: Ricky Rosas, USC

· Oct. 21: Derrick Coleman, UCLA

· Oct. 28: Connecticut Huskies

· Nov. 4: Antoine "Shaky" Smithson, Utah

· Nov. 11: Dan Potokar, Ohio State

· Nov. 18: Thomas "Rock" Roggeman, East Carolina