DALLAS (FWAA) Ohio State's Dan Potokar is the weekly nominee for the 2009 FedEx Orange Bowl-FWAA Courage Award, to be announced at the end of the season. Potokar, from Grove City, Ohio, has battled several rounds with cancer and is currently helping the Buckeyes as a student assistant.
Though a walk-on, Potokar had been impressive as a wide receiver during spring practice in 2007 and was part of the Ohio State track team's 400-meter relay team. But in the fall of 2007, he became ill and was diagnosed with testicular cancer that had spread to his lungs and abdomen.
Despite surgery and chemotherapy, the lesions remained on his lungs. Potokar underwent several weeks of intensive treatments in Indianapolis, including two stem-cell transplants. Several months later, five tumors were discovered in Potokar's brain, necessitating full-brain radiation and something similar to laser surgery.
Last winter, tests indicated the cancer was gone.
"I enjoy things even more and appreciate people more," Potokar told the Columbus Dispatch. "That's a major change, just taking everything in. and another thing is I'm much more of an emotional person. When I see things that are sad or extremely happy, I get teary-eyed from time to time. That's a big change. I used to be a hardened football player. Now, I'm expressing emotions."
Potokar has continued to participate in the football program, helping as a student assistant coach, and will be honored with the Buckeyes' seniors on Saturday. He's on track to earn a business degree and is scheduled to be married next May. Potokar has also reached out to other athletes who have been diagnosed with cancer.
"An amazing guy," said Shelly Poe, Ohio State's director of athletic communications.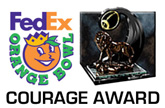 For the fourth straight year, the Football Writers Association of America and the FedEx Orange Bowl will announce a weekly nominee each Wednesday during the season. A blue-ribbon panel will determine the winner from all of the nominees. The winner of the FedEx Orange Bowl/FWAA Courage Award will be announced in December and be presented with the trophy.
The Courage Award was created by ESPN The Magazine's senior writer Gene Wojciechowski, also a FWAA member. A select group of writers from the FWAA vote on the winner each year. The requirements for nomination include displaying courage on or off the field, including overcoming an injury or physical handicap, preventing a disaster or living through hardship.
Previous winners of the FWAA's Courage Award are Tulsa's Wilson Holloway (2008), Navy's Zerbin Singleton (2007), Clemson's Ray Ray McElrathbey (2006), the Tulane football team (2005), Memphis' Haracio Colen (2004), San Jose State's Neil Parry (2003) and Toledo's William Bratton (2002).
The Orange Bowl Committee is a not-for-profit, 330-member, primarily-volunteer organization. It is a self-sustaining, independent organization that supports and produces activities and events that enhance the image, economy and culture of South Florida . The Orange Bowl Festival features a year-round schedule of events culminating with the FedEx Orange Bowl on January 5, 2010. In 2013, the OBC will again double-host both the FedEx Orange Bowl and the BCS National Championship. Other OBC core events include the MetroPCS Orange Bowl Basketball Classic, Orange Bowl Youth Football Alliance, Orange Bowl International Tennis Championships and Orange Bowl Sailing Regatta Series. For more information on the 2009-10 Orange Bowl Festival and its events, including promotional and volunteer opportunities through the Ambassador Program, log on to www.orangebowl.org.
The Football Writers Association of America, a non-profit organization
founded in 1941, consists of more than 1,100 men and women who cover college football
for a living. The membership includes journalists, broadcasters and publicists,
as well as key executives in all the areas that involve the game. The FWAA works
to govern areas that include gameday operations, major awards and its annual All-America
team. For more information about the FWAA and its award programs, contact Steve
Richardson at tiger@fwaa.com or 972-713-6198.
2009 Orange Bowl Courage Award Nominees

Sept. 23: D.J. Williams, Arkansas

· Sept. 30: Mark Herzlich, Boston College

· Oct. 7: Darius Nall, UCF

· Oct. 14: Ricky Rosas, USC

· Oct. 21: Derrick Coleman, UCLA

· Oct. 28: Connecticut Huskies

· Nov. 4: Antoine "Shaky" Smithson, Utah

· Nov. 11: Dan Potokar, Ohio State

· Nov. 18: Thomas "Rock" Roggeman, East Carolina