NEWPORT BEACH, Calif. (FWAA) The Football Writers Association of America and Aon Insurance announced their ninth annual Freshman All-America Team on Thursday morning during the association's annual awards breakfast. Ten of the 11 NCAA Bowl Subdivision Conferences were represented on the team sponsored by AON Insurance.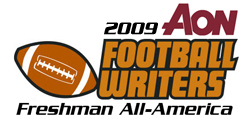 The Southeastern Conference and Pac-10 each placed five players on the FWAA team. The Atlantic Coast had four players and the Big East and Big 12 three each. No other conference had more than two players. Of the 28 players honored, the team was exactly split between true freshmen and redshirt freshmen.
Oregons first-year coach Chip Kelly was selected as the best first-year coach after leading his team to a Pacific-10 title and berth in the Rose Bowl.
The team and coach are selected by a 11-person panel of nationally-prominent writers led by Mike Griffith of the Knoxville News Sentinel. Both true freshmen and redshirt freshmen were considered for the team and are so noted.
The Football Writers Association of America, a non-profit organization founded in 1941, consists of more than 1,100 men and women across North America who cover college football for a living. The membership includes journalists, broadcasters and publicists, as well as key executives in all the areas that involve the game. The FWAA works to govern areas that include gameday operations, major awards, a national poll and its annual All-America team.
For more information on the FWAA and its award programs, contact Executive Director Steve Richardson (972-713-6198, tiger@fwaa.com) or visit the association's official website, footballwriters.com.
All-Time FWAA Freshman All-America Teams

2001 |
2002 |
2003 |
2004 |
2005 |
2006 |
2007 |
2008 |
2009