FT. LAUDERDALE, Fla. (FWAA) The Football Writers Association of America and Aon Insurance announced their eighth annual Freshman All-America Team on Thursday morning during the association's annual awards breakfast. Each member of the team will receive a custom-designed mini helmet courtesy of Schutt Sports, the world's leading maker of football helmets and faceguards.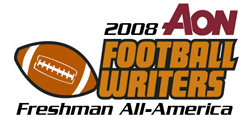 The Atlantic Coast, Big Ten, Southeastern, Big 12 and Pacific-10 conferences each placed four players on the 27-man team. Conference USA was the only other conference with multiple players on the team with two. Of the 27 players selected, 14 were true freshmen and 12 were redshirt freshmen.
In addition, Georgia Tech coach Paul Johnson was named the top first-year coach at his school after leading the Yellow Jackets to a 9-4 season and a berth in the Chick-Fil-A Bowl.
The team and coach are selected by a 11-person panel of writers led by Mike Griffith of the Knoxville News Sentinel. Both true freshmen and redshirt freshmen were considered for the team and are so noted. A total of 116 players were nominated for the team and considered by the committee.
The Football Writers Association of America, a non-profit organization founded in 1941, consists of nearly 1,000 men and women across North America who cover college football for a living. The membership includes journalists, broadcasters and publicists, as well as key executives in all the areas that involve the game. The FWAA works to govern areas that include gameday operations, major awards, a national poll and its annual All-America team.
Headquartered in Chicago, Aon Corporation provides more insurance brokerage, reinsurance brokerage and risk management services than any other company in the world, and is a leader in human capital management consulting. Aon has 36,000 employees in 500 offices in more than 120 countries.
For more information on the Aon Insurance/FWAA Freshman All-America Team and other FWAA awards, go to www.footballwriters.com.
All-Time FWAA Freshman All-America Teams

2001 |
2002 |
2003 |
2004 |
2005 |
2006 |
2007