DALLAS (NCBWA) – Ten relievers have been named finalists for the 18th NCBWA Stopper of the Year Award, given to the top relief pitcher in NCAA Division I Baseball.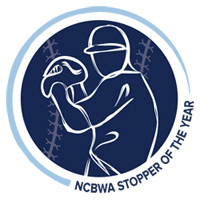 The Atlantic Coast Conference leads the way with three players on the list, while Conference USA follows with two. Other conferences represented include the Big 12 Conference, the Mid-American Conference, the Southeastern Conference and the Summit League. All 10 finalists received all-conference accolades. Oral Roberts' Cade Denton (1-1, 1.65 ERA and 15 saves) and UTSA's Simon Miller (8-1, 2.30 ERA and 11 saves) were named pitcher of the year from their respective conference.
Four finalists are two wins from reaching the 2023 College World Series in Omaha. In addition to Denton, Duke's James Tallon (1-1, 1.69 ERA and 11 saves), Florida's Brandon Neely (0-2, 3.63 ERA and 12 saves) and Wake Forest's Camden Minacci (0-1, 2.83 ERA and 12 saves) are competing in Super Regionals this weekend.
ORU's Denton and Kent State's Mitchell Scott (2-2, 1.94 ERA) are tied for the NCAA statistical lead with 15 saves. This is the second consecutive year that Miami's Andrew Walters is a Stopper of the Year finalist. The junior Hurricane has 12 saves with a 4-0 record and a 1.21 ERA in 44.2 innings pitched.
Other top relievers featured on this year's list include Dallas Baptist's Kyle Amendt (1-1, 1.75 ERA and 12 saves), Kansas State's Tyson Neighbors (5-1, 1.85 ERA and 11 saves) and Coastal Carolina's Teddy Sharkey (7-2, 2.90 ERA and 11 saves).
These finalists join a standout list of previous NCBWA Stoppers of the Year with Texas J. Brent Cox, 2005; Kansas· Don Czyz, 2006; Luke Prihoda of Sam Houston State, 2007; Georgia's Joshua Fields, 2008; San Diego State's Addison Reed, 2009; Texas' Chance Ruffin, 2010; Texas' Corey Knebel, 2011; Southeastern Louisiana's Stefan Lopez, 2012; UCLA's David Berg, 2013 and 2015; Louisville's Nick Burdi, 2014; Miami (Fla.) hurler Bryan Garcia, 2016; Louisville's Lincoln Henzman, 2017; Florida's Michael Byrne, 2018; UCLA's Holden Powell, 2019; Arkansas' Kevin Kopps, 2021; and Texas State's Tristan Stivors in 2022. There was no winner in 2020 due to the COVID-19-shortened season.
The Stopper of the Year recipient will be announced via a news conference on Friday, June 16, at Charles Schwab Field in Omaha, Nebraska.
The NCBWA, founded in 1962, presents the Dick Howser Trophy to the nation's top player and the Mike Martin National Coach of the Year to the nation's top coach. It also selects All-America Teams for all Divisions, a Division I Freshman All-American team, Division I, II and III Players of the Week and Division I, II and III Players of the Year.
2023 NCBWA Stopper of the Year Finalists
Kyle Amendt, Dallas Baptist (6-5, 237, Jr. Pleasantville, Iowa)
Cade Denton, Oral Roberts (6-3, 180, Jr., Rowlett, Texas)
Simon Miller, UTSA (6-2, 210, Jr., Canton, Texas)
Camden Minacci, Wake Forest (6-2, 215, Jr., Tampa, Fla.)
Tyson Neighbors, Kansas State (6-2, 220, So., Royse City, Texas)
Brandon Neely, Florida (6-3, 210, So., Seville, Fla.)
Mitchell Scott, Kent State (6-1, 225, Gr., San Mateo, Calif.)
Teddy Sharkey, Coastal Carolina (5-11, 215, Jr., Wall, N.J.)
James Tallon, Duke (6-5, 195, Fr., Arlington, Va.)
Andrew Walters, Miami (6-4, 220. Jr., Palm Bay, Fla.)