OMAHA, Neb. (NCBWA) – After leading Notre Dame back to the NCAA College World Series for the first time since 2002, head coach Link Jarrett has been named the 2022 National Collegiate Baseball Writers Association Mike Martin National Coach of the Year.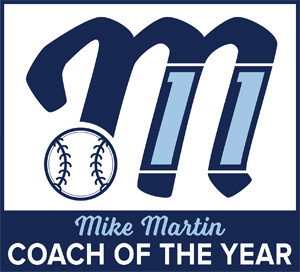 "Coach Link Jarrett is very deserving of the 2022 NCBWA Mike Martin National Coach of the Year Award," Bo Carter, NCBWA Executive Director said. "He has done an exceptional job in his short time as the Notre Dame skipper, providing leadership and developing a championship-level baseball squad. One thing I have noticed is that coach Jarrett goes about his business and strives to instill all the same qualities and characteristics that Mike Martin had in his Florida State squads."
Jarrett led the Irish to their first 40-win mark since 2006 and back to Omaha for the third time in program history. Jarrett is one of two coaches (Mike Bianco, OIe Miss) in the eight-team field to reach the College World Series as a player and coach after going three times as a player at Florida State.
Notre Dame is one of two teams in the College World Series to earn its spot in Omaha after winning the Regional and Super Regional rounds on the road. The Irish swept the Statesboro Regional with a 3-2 win over Texas Tech, a 6-4 win over host Georgia Southern and the regional-clinching 2-1 win over the Red Raiders. Notre Dame claimed the Super Regional opener against top-seeded Tennessee 12-4 and clinched its spot in Omaha with a 7-3, comeback victory in the series rubber match, to become the first team to win a series in Knoxville all season.
"A ton of credit needs to go to Jarrett and his staff for leading his 2022 Fighting Irish baseball squad to the NCAA College World Series, not only winning the regional at Georgia Southern, but the Super Regional at Tennessee, knocking off one of college baseball's all-time great programs." Carter added.
Jarrett, in his third season in South Bend, has led the Irish to a 40-15 overall record, including a 16-11 mark in ACC play this year. Notre Dame won all three games at the Cambria College Classic in Minneapolis in March, claimed conference series wins at No. 17 NC State, at No. 5 Florida State, Clemson, Wake Forest, Boston College and Pitt and added two more wins over Florida State and Virginia at the ACC Conference Tournament.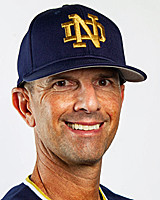 Under Jarrett this season, three players were named All-Americans; starting pitcher John Michael Bertrand was named to the NCBWA All-America Second Team, two-way standout Jack Brannigan earned third-team honors from Perfect Game and lefthander Jack Findlay earned Freshman All-America honors from Collegiate Baseball. Bertrand was also named the NCBWA District Five Player of the Year and ABCA Midwest All-Region First Team.
About the Mike Martin National Coach of the Year Award
The National Collegiate Baseball Writers Association Coach of the Year Award, introduced in 2008, is voted on by the NCBWA Board of Directors, and chosen from a list that includes all Division I conference coaches of the year and the coaches of the eight NCAA College World Series teams.
In 2020, the NCBWA board of directors voted unanimously to name the annual award after Mike Martin, the winningest head coach in NCAA Division I baseball history after he retired at Florida State in 2019 with a 2,029-736-4 mark over 40 seasons in leading the FSU program from 1980-2019.
"When I heard about it," he said with a smile, "I was simply flabbergasted. It is such an honor to have my name associated with this award, and it is a tribute to all the players and coaches who worked with me at Florida State."
"We could not think of any other coach, historically, to associate a name for this annual award besides coach Mike Martin," said NCBWA executive director Bo Carter. "He has meant so much to college baseball as it has continued year-by-year to gain additional national popularity."
NCBWA membership includes writers, broadcasters and publicists. Designed to promote and publicize college baseball, it is the sport's only college media-related organization, founded in 1962.
ALL-TIME MIKE MARTIN/NCBWA NATIONAL COACH OF THE YEAR WINNERS
2022: Link Jarrett, Notre Dame
2021: Tony Vitello, Tennessee
2020: None
2019: Eric Bakich, Michigan
2018: Gary Henderson, Mississippi State
2017: Pat Casey, Oregon State
2016: Gary Gilmore, Coastal Carolina
2015: Paul Mainieri, LSU
2014: Mike Gillespie, UC Irvine
2013: Tracy Smith, Indiana
2012: Matt Senk, Stony Brook
2011: David Esquer, California
2010: Jim Schlossnagle, TCU
2009: Brian O'Connor, Virginia
2008: Mike Batesole, Fresno State