The National Collegiate Baseball Writers Association (NCBWA) released its Dick Howser Trophy National Player of the Week awards presented by The Game Headwear for the period ending May 22. Iowa redshirt sophomore centerfielder Kyle Huckstorf and LSU redshirt sophomore outfielder Brayden Jobert were named National Co-Hitters of the Week, while Saint Joseph's graduate student right-handed pitcher Ian McCole was named the National Pitcher of the Week. The NCBWA Board reviews candidates from each Division I Conference and names winners each Tuesday throughout the season.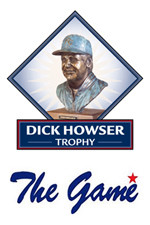 Huckstorf, a Waterford, Wisconsin, native, earned the distinction after having a night for the ages on May 19 against Indiana. The outfielder finished 6-for-7 with three home runs and 12 RBI in Iowa's 30-16 victory.
In Iowa's 10-run fourth inning, Huckstorf hit two three-run home runs and followed with a fifth-inning grand slam. In the eighth, he lined a two-run single to right center field for his record-breaking hit and RBI total.
Huckstorf's 12 RBI set a Big Ten Conference record and his six hits tie the league mark for all and conference-only games. He is the first player since 2010 to have six hits in a game. Iowa's 30 runs in the victory were the program's most ever in a league game and the second-most all-time.
Jobert, a Slidell, Louisiana, native, enjoyed a phenomenal week, hitting .500 (8-for-16) in four games with one double, one triple, five homers and 13 RBI. In the three-game Vanderbilt series, he batted .500 (6-for-12) with one double, one triple, three homers and 10 RBI.
In Sunday's win over Vanderbilt that clinched the No. 4 seed in the SEC Tournament for the Tigers, Jobert tied the LSU single-game record for RBI with nine, blasting a grand slam, a three-run homer and a two-run double. He tied the school RBI record originally set on March 5, 1999, by Eric Hendrickson versus Ohio University.
Jobert, who also homered twice and drove in three runs in the Tigers' midweek win over Northwestern State, is second on the LSU club this season in homers (17) and RBI (55).
McCole dazzled on Thursday, tossing the seventh no-hitter in Saint Joseph's baseball history in an 18-0 win at St. Bonaventure. He allowed a walk and hit two hit batters, facing just three batters over the minimum and striking out six.
The native of Frackville, Pennsylvania, threw the first no-hitter in the Atlantic 10 since 2019 and the first for the Hawks since Randy Mower, Dominic Favazza, and Chris Prescott combined to blank Saint Peter's in 2008. McCole's feat is the first solo no-hitter by a Hawk since Dave Landers tossed one against Albright in 1970.
Founded in 1962, the NCBWA is dedicated to the advancement of college baseball. Membership is open to writers, broadcasters and publicists of the sport. For more information about the NCBWA, visit the association's official Web site, www.ncbwa.com. For more information, contact NCBWA Executive Associate Director Mike Montoro (304-293-2821, mike.montoro@mail.wvu.edu).