DALLAS (NCBWA) – With the final month of the 2022 collegiate baseball season looming, 62 of the sport's top relief pitchers were named to the Midseason Watch List for the 17th annual National Collegiate Baseball Writers Association Stopper of the Year award, members of the association announced Wednesday. Relievers who are not on the midseason list still have an opportunity to be named a finalist for the award.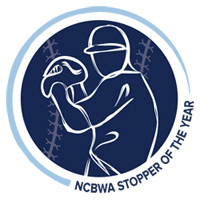 Eighteen of the 62 players were on the preseason watch list, released in February, including Tyler Braithwaite (West Virginia, 5 saves), Will Brian (Eastern Kentucky, 12), Blake Burkhalter (Auburn, 11), Holden Christian (Arizona, 5), Noah Dean (Old Dominion, 5), Zach Franklin (Western Carolina, 3), Stephen Halstead (North Florida, 5), Payton Harris (Alabama State, 3), Jacob Meyer (Evansville, 4), Cam Minacci (Wake Forest, 5), Aaron Nixon (Texas, 4), Jake Pecilunas (Towson, 4), Jared Rine (Kennesaw State, 6), Kolby Somers (Oregon, 7), Dale Stanavich (Rutgers, 8), Redmond Walsh (Tennessee, 5), Andrew Walters (Miami, Fla., 12) and Chris Villaman (NC State, 7).
Belmont's Kyle Brennan is one of the newcomers featured on this list. The senior leads the nation with 13 saves in 21 1/3 innings pitched. Eastern Kentucky's Will Brian (1.88 ERA/12 saves) and Miami's Andrew Walters (0.38 ERA/12 saves) are tied for No. 2 on the NCAA list. Other relivers with double-digit saves at this point of the season include: Auburn's Blake Burkhalter (11), Eastern Illinois' Zane Robbins (10), Grand Canyon's Vince Reilly (10), McNeese's Cameron Foster (10), TCU's River Ridings (10) and UC Santa Barbara's Ryan Harvey (10). Walters holds the best ERA amongst the double-digit saves leaders with a 0.38 mark through 23 2/3 innings pitched.
There are 20 conferences represented on the list with the Southeastern Conference leading the way with seven relief pitchers. The American Athletic Conference, ASUN Conference, Atlantic Coast Conference, Big Ten Conference, Big 12 Conference and Pac-12 Conference each had five selections. The ACC and Conference USA followed with four apiece. In all, 16 of the 20 conferences have multiple selections.
The NCBWA will announce the finalists on Wednesday, June 8 with the winner being named on Friday, June 17 at the 2022 College World Series.
2022 NCBWA STOPPER OF THE YEAR MIDSEASON WATCH LIST (62)
Chase Allen, Michigan
Brady Hill, San José State
Andrew Reitmeyer, Houston Baptist
Chandler Arnold, Dallas Baptist
Carson Hobbs, Samford
Jared Rine, Kennesaw State
Trey Braithwaite, West Virginia
Cade Hungate, Liberty
River Ridings, TCU
Kyle Bischoff, Michigan State
Dalton Kendrick, Memphis
Zane Robbins, Eastern Illinois
Will Brian, Eastern Kentucky
Luke Llewellyn, Iowa
Tristen Roehrich, North Dakota State
Kyle Brennan, Belmont
Trevor Long, Arizona
Nick Sando, Santa Clara
Blake Burkhalter, Auburn
Trevor Martin, Oklahoma State
Thomas Schultz, Vanderbilt
Holden Christian, Arizona
Reid McLaughlin, BYU
Ben Sears, Houston
Kyle Crigger, Louisiana Tech
Jakob Meyer, Evansville
Carter Spivey, East Carolina
Noah Dean, Old Dominion
Trevin Michael, Oklahoma
Kolby Somers, Oregon
Zach DeVito, Tulane
Camden Minacci, Wake Forest
Dale Stanavich, Rutgers
Jake Drew, North Dakota State
Hunter Mink, South Florida
Tristan Stivors, Texas State
Ethan Flanagan, UCLA
Aaron Nixon, Texas
Collin Taylor, UAB
Cameron Foster, McNeese
Davis Palermo, North Carolina
Alonzo Tredwell, UCLA
Zach Franklin, Western Carolina
Jake Pecilunas, Towson
Jay Thompson, Georgia Southern
Jack Gowen, Georgia
William Privette, Charleston
Brady Tygart, Arkansas
Tyler Guilfoil, Kentucky
Michael Prosecky, Louisville
Redmond Walsh, Tennessee
Payton Harris, Alabama State
Blake Purnell, Florida
Andrew Walters, Miami (Fla.)
Landon Harper, Southern Miss
Dalton Rhadans, Wofford
Chris Villaman, NC State
Ryan Harvey, UC Santa Barbara
Vince Reilly, Grand Canyon
Tyler Vogel, Jacksonville
Stephen Halstead, North Florida
Noah Rennard, Michigan
Texas hurler J. Brent Cox won the inaugural Stopper of the Year Award in 2005, with Don Czyz of Kansas claiming the honor in 2006 and Luke Prihoda of Sam Houston State winning it in 2007. Georgia's Joshua Fields topped the field in 2008, San Diego State's Addison Reed grabbed the honor in 2009 and Texas' Chance Ruffin earned the honor in 2010. The Longhorns' Corey Knebel won in 2011, with Southeastern Louisiana's Stefan Lopez picking up the honor in 2012. UCLA's David Berg was crowned the winner in 2013, Louisville's Nick Burdi took home the 2014 honor, and Berg became the award's first two-time winner in 2015. Miami (Fla.)'s Bryan Garcia was honored as the 2016 recipient, followed by Louisville's Lincoln Henzman in 2017, Florida's Michael Byrne in 2018 and UCLA's Holden Powell in 2019. Arkansas' Kevin Kopps, the 2021 Dick Howser Trophy Award winner, was bestowed with the accolade in 2021.
The NCBWA, founded in 1962, presents the Dick Howser Trophy to the nation's top player and the Mike Martin National Coach of the Year to the nation's top coach. It also selects All-America Teams for all Divisions, a Division I Freshman All-America team, rookie hitter and pitcher of the year, Division I, II and III Dick Howser Trophy National Players and Pitchers of the Week and Division II and III National Players and Pitchers of the Year.