MORGANTOWN, W. VA. (NCBWA) – The National Collegiate Baseball Writers Association (NCBWA) released its Dick Howser Trophy National Player of the Week awards presented by The Game Headwear for the period ending April 24. Clemson sophomore infielder Max Wagner and Tennessee Tech junior outfielder Ryan Guardino were named National Co-Hitters of the Week, while Siena senior left-hander Ben Seiler and Grambling graduate student left-handed pitcher Shemar Page were named National Co-Pitchers of the Week. The NCBWA Board reviews candidates from each Division I Conference and names winners each Tuesday throughout the season.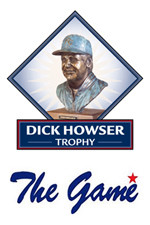 Wagner had one of the best slugging weeks in school history by going 8-for-19 (.421) with six home runs, one double, 10 RBIs, eight runs, three walks against only one strikeout, a 1.421 slugging percentage and .500 on-base percentage in leading Clemson to a 4-1 record, four of which were games against top-10 teams.
On Tuesday at No. 10 Georgia, the Green Bay, Wisconsin native, hit a homer in Clemson's 8-4 win. Then he hit a homer against East Tennessee State on Wednesday. In the three-game series against No. 9 Florida State, he hit four home runs in the first two games. With Clemson trailing 4-2 on Friday, he hit a grand slam on an 0-2 pitch, his second long ball of the game, in the eighth inning to give the Tigers a 6-4 win. On Saturday, he hit two home runs for the second game in a row, upping his homer streak to five consecutive games, tying a school record. On Sunday, he added a double off the wall in Clemson's series-clinching win.
Guardino was a force at the plate for the Golden Eagles all weekend, making program history by smacking seven home runs in a three-game span at UT Martin. Tying the program's single-game home run record with three round-trippers on Saturday, the Santa Barbara, California, native, also became the first Tech player with multiple dingers in three straight games and recorded the most long balls over a three-game span in school history.
He hit a robust .588 while slugging 1.824 and driving in 11 during the week, scoring 10 times and striking out just once. He opened the weekend series with a 4-for-4 at the dish, smacking two dingers, driving in four runs, and scoring three runs.
In Saturday's contest, Guardino became just the 11th Golden Eagle to hit three round-trippers in one game as part of a 4-for-6 performance. He drove in five more runs and scored four times. The right-fielder wrapped things up with two more bombs, two RBI and three runs scored on Sunday.
Seiler had to settle for a no-decision, despite his nine remarkable innings of work. The Albany, New York native, tallied his record 19th strikeout on his 152nd and final pitch to send the game to extras for just the second time all season – and second time in as many days - in the series-opener Friday.
Seiler now holds two of the three highest single-game strikeout totals nationally so far this season. His 19 strikeouts broke the previous single-game high of 17 set by Oregon State's Cooper Hjerpe on April 1 vs. Stanford. Earlier this season, Seiler set a then career-high with 16 strikeouts in a Mar. 27 victory over Saint Peter's, which is now tied with two others for the third highest single-game mark in the country in 2022.
Page threw just 84 pitches in a perfect game, collecting a season and career-high 13 strikeouts in the process, as the Tigers won their third consecutive SWAC game and 11th straight over Alcorn State with a 16-0 victory in seven innings.
The Laurel, Mississippi native, was in cruise control from the start, striking out the first two batters in the game. He retired four consecutive Alcorn State batters between the third and fourth innings in picking up his fifth victory over the season.
Founded in 1962, the NCBWA is dedicated to the advancement of college baseball. Membership is open to writers, broadcasters and publicists of the sport. For more information about the NCBWA, visit the association's official Web site, ncbwa.com.
For more information on the Dick Howser Trophy and the NCBWA Division I National Players of the Week, contact NCBWA Assistant Executive Director Mike Montoro at West Virginia University at 304-293-2821.