MORGANTOWN, W. VA. (NCBWA) – The National Collegiate Baseball Writers Association (NCBWA) released its Dick Howser Trophy National Player of the Week awards presented by The Game Headwear for the period ending April 17. Old Dominion senior first/third baseman Matt Coutney was named National Hitter of the Week, Florida State sophomore left-hander Parker Messick was named National Pitcher of the Week. The NCBWA Board reviews candidates from each Division I Conference and names winners each Tuesday throughout the season.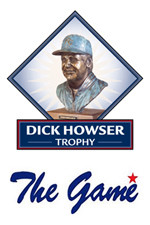 Coutney hit safely in all four of ODU's games last week, notching four two-hit games. The Edmonton, Alberta, native homered in all four games, hitting five total long balls in a 3-1 week for the Monarchs. Coutney went 2-for-4 and drove in four runs in ODU's 9-2 win at No. 8 Virginia on Tuesday.
He finished 6-for-13 (.462) in the UAB series, driving in seven and scoring five, helping lift the Monarchs to a series win over the Blazers. Overall, Coutney was 8-for-17 (.471), slugged 1.412 with five home runs, a double, 11 RBI, six runs scored and also added a pair of walks.
On Thursday, Messick struck out 14 Louisville batters and allowed just five hits in 6.2 innings. The Plant City, Florida native, is the only pitcher in the conference with multiple 14-strikeout games this season. Louisville – ranked No. 9 entering the weekend and leaders of the Atlantic Division – had the nation's top scoring offense before being silenced by Messick.
It marked his third game this season with at least 10 strikeouts and no walks allowed. He has six double-digit strikeout games this year, and his 94 strikeouts are the most in the country this season.
Founded in 1962, the NCBWA is dedicated to the advancement of college baseball. Membership is open to writers, broadcasters and publicists of the sport. For more information about the NCBWA, visit the association's official Web site, ncbwa.com.
For more information on the Dick Howser Trophy and the NCBWA Division I National Players of the Week, contact NCBWA Assistant Executive Director Mike Montoro at West Virginia University at 304-293-2821.