MORGANTOWN, W. VA. (NCBWA) – The National Collegiate Baseball Writers Association (NCBWA) released its Dick Howser Trophy National Player of the Week awards presented by The Game Headwear for the period ending April 10. Illinois State sophomore outfielder Ryan Cermak and Bellarmine graduate student outfielder Matt Higgins were named National Co-Hitters of the Week, while St. Thomas graduate student left-hander Graham Laubscher and Louisiana sophomore right-hander Cooper Rawls were named National Co-Pitchers of the Week. The NCBWA Board reviews candidates from each Division I Conference and names winners each Tuesday throughout the season.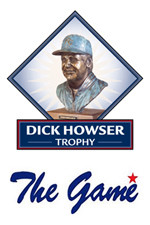 Cermak blasted five home runs and two doubles, while recording 14 RBI and nine runs scored as he went 11-for-21. He homered in four consecutive plate appearances. Cermak hit homers in his final three at-bats at Western Illinois. Then he led off with a 470-foot circuit clout in his first at-bat against Kansas. Against Western Illinois, he hit grand slams in back-to-back innings en route to 10 RBI, breaking a 37-year old Illinois State record for RBI in a game.
For the week, Higgins had 11 hits in 18 at bats in four games with five home runs, 15 RBI and two walks to go with eight runs scored.
The Louisville, Kentucky native's assault on his opponents began with a two-homer, four-RBI outing in a midweek contest at Eastern Illinois. In a Saturday doubleheader against North Alabama, he went 3-for-4 in the opener with a grand slam and three-run homer. In the tail end, Higgins went 5-for-6 with a homer and four RBIs. He added a single in the Sunday finale as the Knights completed a series sweep of the Lions.
Laubscher went 8 1/3 scoreless innings and struck out a career-high 15 to earn his first Division I victory as St. Thomas defeated league-leading North Dakota State 6-0 in the opening game of a three-game Summit League series. The Stillwater, Minnesota native, set down the first 17 Bison he faced before surrendering a bloop single to right field in the bottom of the sixth to break up the perfect game.
The lefthander yielded just one more hit to the league's top offense (came in batting .327 and averaging 11.2 runs per League game) before departing with one out in the ninth.
Rawls went 2-0 on the mound last week in two appearances with a 0.93 earned run average and a combined 14 strikeouts in 9-2/3 innings.
Making his first appearance in over a month in last Wednesday's 8-6 win at Louisiana Tech, the Hallsville, Texas native pitched the final 7-2/3 innings and fanned 12 batters. Then in an 10-inning victory at Arkansas State on Sunday, Rawls pitched the final two innings to earn his second win in five days, allowing one hit and striking out a pair of batters.
Founded in 1962, the NCBWA is dedicated to the advancement of college baseball. Membership is open to writers, broadcasters and publicists of the sport. For more information about the NCBWA, visit the association's official Web site, ncbwa.com.
For more information on the Dick Howser Trophy and the NCBWA Division I National Players of the Week, contact NCBWA Assistant Executive Director Mike Montoro at West Virginia University at 304-293-2821.