MORGANTOWN, W. VA. (NCBWA) – The National Collegiate Baseball Writers Association (NCBWA) released its Dick Howser Trophy National Player of the Week awards presented by The Game Headwear for the period ending April 2. UNLV junior outfielder Joey Walls was named National Hitter of the Week, while Oregon State sophomore left-hander Cooper Hjerpe and Tennessee freshmnan right-hander Drew Beam were named National Co-Pitchers of the Week. The NCBWA Board reviews candidates from each Division I Conference and names winners each Tuesday throughout the season.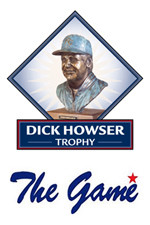 Walls helped UNLV to a 4-0 record, including a series sweep at New Mexico. The Las Vegas, Nevada native, batted .706 with 12 hits, including three home runs, 13 RBI, 11 runs scored and three walks. He posted a 1.588 slugging percentage and a .750 on-base percentage and recorded a multi-hit effort in all four games.
In the 11-10 win against Arizona State during the midweek, Walls finished with two hits in three at bats, walked two and scored two runs. In the first game against the Lobos, Walls went 3-for-5 with a double, a homer, scored three runs and drove in four. In game two, he finished with three hits, including a double and his second homer of the weekend, scored two runs, drove in three runs. In the series sweep, he save his best game for the finale, finishing with four hits, including a double and his third homer of the series and scored four runs.
Hjerpe tied a 28-year old Oregon State single-game record with 17 strikeouts versus Stanford on Friday night, equaling Mason Smith's 1994 mark against Portland. The 17 strikeouts are the most by an NCAA Division I pitcher this season.
The Capay, California native, worked a career-long eight innings and held the Cardinal to two hits and a walk, receiving a no-decision. Stanford failed to put a runner into scoring position against the lefty. Hjerpe pushed his season strikeout total to 68 in 2022, which ranks tied for fifth and first in the Pac-12. His six wins are also tied for the nation's lead.
Beam, who was named on April 4, the NCBWA Dick Howser Trophy Player of the Month presented by The Game Headwear for March, continued his incredible debut season by going the distance and throwing the first complete-game shutout by a UT pitcher since Garrett Stallings vs. Ole Miss on May 16, 2019.
The Murfreesboro, Tennessee, native, allowed just two hits, faced one batter over the minimum and did not allow a single Vandy player to advance past first base for the entire game. Beam retired the last 16 batters he faced in the contest and did not issue a walk while finishing with four strikeouts as the Vols completed their first series sweep over the Commodores since 2009.
Following Sunday's gem, Beam has pitched at least 7.1 innings in each of his three SEC starts this season and has allowed just six hits and one run combined in those three outings, posting a 0.38 ERA and holding opposing hitters to a .078 batting average in those appearances.
Founded in 1962, the NCBWA is dedicated to the advancement of college baseball. Membership is open to writers, broadcasters and publicists of the sport. For more information about the NCBWA, visit the association's official Web site, ncbwa.com.
For more information on the Dick Howser Trophy and the NCBWA Division I National Players of the Week, contact NCBWA Assistant Executive Director Mike Montoro at West Virginia University at 304-293-2821.