MORGANTOWN, W. VA. (NCBWA) – The National Collegiate Baseball Writers Association (NCBWA) released its Dick Howser Trophy National Player of the Week awards presented by The Game Headwear for the period ending March 27. Kennesaw State senior outfielder Josh Hatcher and Southern Miss junior first baseman Christopher Sargent were named Co-National Hitters of the Week, while Cal Poly redshirt sophomore right-hander Drew Thorpe was named National Pitcher of the Week. The NCBWA Board reviews candidates from each Division I Conference and names winners each Tuesday throughout the season.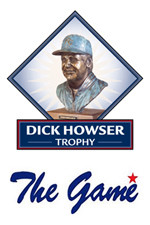 After hitting for the cycle twice in three games, Hatcher finished 12-for-24 with three doubles, three triples and two home runs. The Albany, Ga., native, completed his first cycle at No. 12 Georgia Tech with a 4-for-6 performance that led KSU to victory. Two games later, the centerfielder repeated the feat with a 4-for-6 day that included five RBI in a win over North Florida.
Hatcher became first player in KSU's Division I history to hit for the cycle and was the third player in NCAA Division I history to hit for two cycles in the same season. He currently holds an 18-game hit streak and a 22-game on-base streak. The KSU outfielder has registered 13 doubles on the year and is one shy of the national leader.
Sargent hit .600 during a 4-0 week for the Golden Eagles, going 12-for-20 with nine runs, three doubles, five home runs and 15 RBI. The Wilmer, Alabama native, also enjoyed a 1.500 slugging percentage and homered in all four games to now lead the team in both homers (8) and RBI (25).
After going 2-for-5 at New Orleans to open the week with a double and a three-run homer, Sargent then went 10-for-15 in the WKU series, homering in all three games to now give him seven in his two-year career against the Hilltoppers.
Sargent opened the series with a 2-for-5 performance with a two-run homer, before going 5-for-6 with two doubles, two homers and six RBI in the middle game. He finished the weekend with a 3-for-4 day that included a three-run home run.
Following a 15-strikeout performance in seven innings against UC San Diego last Friday night in La Jolla, Thorpe moved into the No. 1 spot in NCAA Division I with 66 strikeouts this season. The Washington, Utah native, scattered three hits and walked just two, combining with reliever Jason Franks on the 7-0 shutout. The pair fanned 20 Triton batters, also tying a Cal Poly Division I record set against Cal State Fullerton in 2014.
Thorpe's 15 K's tied a school Division I mark set by Matt Imhof against Seattle, also in 2014. His 66 strikeouts this season are one more than Florida State's Parker Messick, who struck out 16 Duke batters in a 4-0 win Friday night.
Founded in 1962, the NCBWA is dedicated to the advancement of college baseball. Membership is open to writers, broadcasters and publicists of the sport. For more information about the NCBWA, visit the association's official Web site, ncbwa.com.
For more information on the Dick Howser Trophy and the NCBWA Division I National Players of the Week, contact NCBWA Assistant Executive Director Mike Montoro at West Virginia University at 304-293-2821.