MORGANTOWN, W. VA. (NCBWA) – The National Collegiate Baseball Writers Association (NCBWA) released its Dick Howser Trophy National Player of the Week awards presented by The Game Headwear for the period ending March 22. Grand Canyon sophomore shortstop Jacob Wilson was named National Hitter of the Week, while Gonzaga's sophomore right-handed pitcher Gabriel Hughes was named National Pitcher of the Week. The NCBWA Board reviews candidates from each Division I Conference and names winners each Tuesday throughout the season.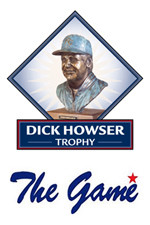 Wilson had a career week, racking up 18 hits in 23 at bats in five games. The Thousand Oaks, California native, hit .783 in the Lopes' 4-1 week that including a midweek victory at No. 5 Oregon State and a conference sweep of Utah Valley. On the week, he finished with 18 hits, 13 RBIs, nine runs scored, four doubles and three home runs and had a 1.348 slugging percentage.
Wilson started the week with a 4-for-4 game at Oregon State on Tuesday and then went 3-for-5 in Corvallis the next day to help the Lopes earn a 13-7 win over the fifth-ranked Beavers. Returning home for WAC play, he was 11-of-14 at the plate in a three-game sweep of Utah Valley, including a 5-for-5 game on Saturday.
He had four games with multiple runs, five games with multiple hits and multiple RBI, had two walks and did not strike out. At one point, Wilson had base hits in 10 consecutive at bats spanning Friday through Sunday.
After throwing six hitless innings and fanning a career-high 13 batters in a 13-0 win against Pacific on Friday, Hughes earned his fourth win this season in Gonzaga's series opener. The Eagle, Idaho native, ended the night after six frames on the mound - all hitless and scoreless, only allowing one walk and hitting one batter. The Bulldogs went on to win, 13-0, and swept the series with the Tigers after taking a 9-7 win in game two and 5-3 win in the finale.
Founded in 1962, the NCBWA is dedicated to the advancement of college baseball. Membership is open to writers, broadcasters and publicists of the sport. For more information about the NCBWA, visit the association's official Web site, ncbwa.com.
For more information on the Dick Howser Trophy and the NCBWA Division I National Players of the Week, contact NCBWA Assistant Executive Director Mike Montoro at West Virginia University at 304-293-2821.