MORGANTOWN, W. VA. (NCBWA) – The National Collegiate Baseball Writers Association (NCBWA) released its Dick Howser Trophy National Player of the Week awards presented by The Game Headwear for the period ending March 15. Arizona sophomore catcher Daniel Susac was named National Hitter of the Week, while Mississippi State's junior right-handed pitcher Parker Stinnett was named National Pitcher of the Week. The NCBWA Board reviews candidates from each Division I Conference and names winners each Tuesday throughout the season.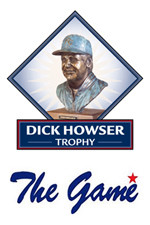 Across four games against New Mexico and California last week, Susac hit an astounding .526 (10-for-19) with five runs scored, two doubles, three home runs, 11 RBI, a 1.105 slugging percentage, and a .500 on-base percentage. The Roseville, Calif., native, led all Arizona players in hits, extra-base hits, RBI, and slugging percentage as they went 3-1 on the week.
Defensively, Susac started all four games behind the plate for the Wildcats and posted a perfect 1.000 fielding percentage on 30 chances.
His week featured multiple base hits and at least one run scored in all four games as the consensus Preseason All-American raised his season batting average to .416. In Sunday's rubber match at California, Susac hit two home runs in the first inning, making him the first Arizona player to accomplish the feat in 24 years.
Stinnett led all SEC pitchers last week with 24 strikeouts in 11.0 innings pitched after starting twice in a span of six days. The junior registered a career-high 12 strikeouts twice this past week, including in just his second career start, as MSU defeated No. 11 Texas Tech, 11-5, in Biloxi.
The Oxford, Miss., native posted a 2-0 record in two starts and held opposing hitters to a .125 average, while allowing just one extra-base hit to help lead State to a 4-1 week.
Founded in 1962, the NCBWA is dedicated to the advancement of college baseball. Membership is open to writers, broadcasters and publicists of the sport. For more information about the NCBWA, visit the association's official Web site, ncbwa.com.
For more information on the Dick Howser Trophy and the NCBWA Division I National Players of the Week, contact NCBWA Assistant Executive Director Mike Montoro at West Virginia University at 304-293-2821.