MORGANTOWN, W. VA. (NCBWA) – The National Collegiate Baseball Writers Association (NCBWA) released its Dick Howser Trophy National Player of the Week awards presented by The Game Headwear for the period ending March 5. Saint Mary's sophomore designated hitter Nathan Chong was named National Hitter of the Week, while Western Kentucky's senior right-handed pitcher Sean Bergeron and UCLA freshman right-hander Thatcher Hurd were named National Co-Pitchers of the Week. The NCBWA Board reviews candidates from each Division I Conference and names winners each Tuesday throughout the season.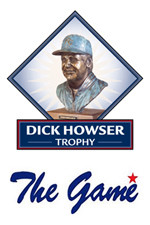 Chong was 11-for-15 for the week, with two home runs, two triples, and four doubles. The Fullerton, California native, had 12 RBI and racked up 25 total bases for some gaudy percentages, including a .733 batting average, a .762 on base percentage, and a 1.667% slugging. He had a sacrifice fly, was 1-for-1 in stolen bases, was hit by two pitches, and only struck out once in the 19 plate appearances last series.
Bergeron struck out a career-high 16 batters In game two of the Hilltoppers' series against Hartford, while surrendering just three hits and not allowing a walk in a complete-game shutout performance. The Crosby, Texas native's outing marked the first nine-inning complete-game shutout by a WKU pitcher since March 25, 2018, when Paul Kirkpatrick accomplished the same feat in a 4-0 win against Rice.
The senior's 16 strikeouts were also the most by a Hilltopper since at least 2005 – as far back as WKU game records go – topping the previous mark of 14 by Ryan Thurston.
Hurd struck out 15 batters over 6-2/3 shutout innings in two appearances (one start, one in relief) as he only allowed two hits. In a start against Long Beach State, he registered five scoreless innings and allowed two hits, while striking out 12, the most by a UCLA freshman since Gerrit Cole in 2009. Then the Manhattan Beach, California native, threw 1-2/3 innings of relief against Oklahoma without giving up a hit, while striking out three.
Founded in 1962, the NCBWA is dedicated to the advancement of college baseball. Membership is open to writers, broadcasters and publicists of the sport. For more information about the NCBWA, visit the association's official Web site, ncbwa.com.
For more information on the Dick Howser Trophy and the NCBWA Division I National Players of the Week, contact NCBWA Assistant Executive Director Mike Montoro at West Virginia University at 304-293-2821.