MORGANTOWN, W. VA. (NCBWA) The National Collegiate Baseball Writers Association released its Dick Howser Trophy National Player of the Week awards presented by The Game Headwear for the period ending Feb. 20. NC State freshman first baseman Tommy White was named National Hitter of the Week, while Florida sophomore left-handed pitcher Hunter Barco was named National Pitcher of the Week. The NCBWA Board reviews candidates from each Division I Conference and names winners each Tuesday throughout the season.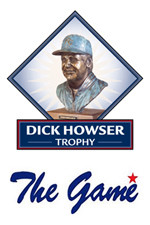 White hit three home runs Friday in his collegiate debut, jump-starting the Wolfpack to a three-game sweep of visiting Evansville. The St. Pete Beach, Fla., native followed up with a grand slam in game 2 and another two run-homer in Sundays finale. White hit .643 for the series with nine hits and 12 RBIs with multiple hits and multiple RBIs in each of the three games.
White became the first NC State player since 2010 to hit three home runs in a game and is only the second Wolfpack player since at least 1999 to do so.
Making his first-career Friday night start on opening day against Liberty, Barco, a Jacksonville, Fla., native took a perfect game into the sixth inning en route to earning the victory for Florida. After retiring the first 16 batters of the game in order, the third-year southpaw worked around a pair of sixth-inning baserunners to finish with six shutout innings pitched on one hit and one walk while striking out a career-high 11 batters.
The 11 strikeouts were the most by a Florida pitcher on opening day since at least 1999.
Founded in 1962, the NCBWA is dedicated to the advancement of college baseball. Membership is open to writers, broadcasters and publicists of the sport. For more information about the NCBWA, visit the association's official Web site, ncbwa.com.
For more information on the Dick Howser Trophy and the NCBWA Division I National Players of the Week, contact NCBWA Assistant Executive Director Mike Montoro at West Virginia University at 304-293-2821.