DALLAS (NCBWA) – Sixty-six players have been named to the initial watch list for the 17th Annual National Collegiate Baseball Writers Association Stopper of the Year Award, given to the top relief pitcher in NCAA Division I Baseball, the association announced Thursday. Nominees were submitted by institution and conference publicity directors.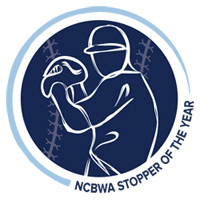 This year's impressive group is led by 11 preseason NCBWA All-America selections including first-teamers Nick Maldonado (Vanderbilt), Aaron Nixon (Texas) and Carson Palmquist (Miami, Fla.). Palmquist, a finalist for the award in 2021, led the way with 14 saves and a 2.22 ERA in 25 appearances for the Hurricanes. Nixon notched a 2.12 ERA with nine saves in 27 appearances for the Longhorns, while Maldonado crafted together nine saves and a 2.31 ERA in 28 showings for the Commodores.
Additional preseason NCBWA All-Americans on this year's list include Will Brian (Eastern Kentucky/third-team), TJ Brock (Ohio State/third-team), Kevin Davis (USC Upstate/second-team), Devereaux Harrison (Long Beach State/third-team), Marcus Johnson (Duke/second-team), Jacob King (UC Irvine/third-team), C.J. Mayhue (East Carolina/third-team), Jake Rappaport (NJIT/third-team), Jonah Ulane (Kansas/second-team) and Jacob Watters (West Virginia/third-team).
The Atlantic Coast Conference led the way with 11 players finding their names on the watch list. The Southeastern Conference followed with nine, while the Big Ten had seven on the list.
Of the initial 66 members, 18 were featured on last year's midseason watch list. In total, 19 conferences are represented on this list with at least two players coming from 13 different leagues.
2022 NCBWA STOPPER OF THE YEAR PRESEASON WATCH LIST (66)
Eric Adler, Wake Forest
Stephen Halstead, North Florida
Jake Pecilunas, Towson
Matt Bollenbacher, East Tennessee State
Sean Harney, Kentucky
Alex Perkins, Radford
Trey Braithwaite, West Virginia
Payton Harris, Alabama State
Jake Rappaport, NJIT
Will Brian, Eastern Kentucky
Devereaux Harrison, Long Beach State
Dalton Rhadans, Wofford
TJ Brock, Ohio State
Brandon Johnson, Ole Miss
Jared Rine, Kennesaw State
Drayton Brown, Northwestern State
Marcus Johnson, Duke
Aaron Roberts, California
Blake Burkhalter, Auburn
Orion Kerkering, USF
Will Semb, Minnesota
Derrick Cherry, Houston
Jacob King, UC Irvine
Caleb Seroski, New Orleans
Holden Christian, Arizona
Jimmy Loper, Duke
Noah Short, West Virignia
Stone Churby, Oregon
Nick Maldonado, Vanderbilt
Carson Skipper, Auburn
Ty Cummings, Campbell
Nolan Manzer, Norfolk State
Kolby Somers, Oregon
Kevin Davis, USC Upstate
C.J. Mayhue, East Carolina
Dale Stanavich, Rutgers
Noah Dean, Old Dominion
Trey McDaniel, Southern Illinois
Brandon Talley, Louisiana
Drew Dominik, Evansville
Chris McElvain, Vanderbilt
Jonah Ulane, Kansas
Connor Fenlong, Indiana State
Mason Mellott, Penn State
Redmond Walsh, Tennessee
Graham Firoved, Virginia Tech
Jakob Meyer, Evansville
Andrew Walters, Miami
Zach Franklin, Western Carolina
Cam Minacci, Wake Forest
Jacob Watters, West Virginia
Geoffrey Gilbert, Clemson
Dylan Nedved, Iowa
Willie Weiss, Michigan
Gage Gillian, North Carolina
Wyatt Nelson, North Dakota State
Jaden Woods, Georgia
Ben Grable, Northwestern
Aaron Nixon, Texas
Mitchell Verburg, Oregon State
Landon Green, Alabama
Caden O'Brien, North Carolina
Chris Villaman, NC State
Lliam Grubbs, James Madison
Carson Palmquist, Miami
Trey Ziegenbein, Missouri State
Texas hurler J. Brent Cox won the inaugural Stopper of the Year Award in 2005, with Don Czyz of Kansas claiming the honor in 2006 and Luke Prihoda of Sam Houston State winning it in 2007. Georgia's Joshua Fields topped the field in 2008, San Diego State's Addison Reed grabbed the honor in 2009 and Texas' Chance Ruffin earned the honor in 2010. The Longhorns' Corey Knebel won in 2011, with Southeastern Louisiana's Stefan Lopez picking up the honor in 2012. UCLA's David Berg was crowned the winner in 2013, Louisville's Nick Burdi took home the 2014 honor, and Berg became the award's first two-time winner in 2015. Miami (Fla.)'s Bryan Garcia was honored as the 2016 recipient, followed by Louisville's Lincoln Henzman in 2017, Florida's Michael Byrne in 2018 and UCLA's Holden Powell in 2019. Arkansas' Kevin Kopps, the 2021 Dick Howser Trophy Award winner, was bestowed with the accolade in 2021.
The NCBWA, founded in 1962, presents the Dick Howser Trophy to the nation's top player and the Mike Martin National Coach of the Year to the nation's top coach. It also selects All-America Teams for all Divisions, a Division I Freshman All-America team, rookie hitter and pitcher of the year, Division I, II and III Dick Howser Trophy National Players and Pitchers of the Week and Division II and III National Players and Pitchers of the Year.