OMAHA (FWAA) – Seven semifinalists for the 77th Outland Trophy – five offensive linemen and two defensive tackles – were announced Wednesday by the Greater Omaha Sports Committee. The seven come from different schools within four separate conferences – the Big Ten has four of the seven – and represent all four positions eligible for the award.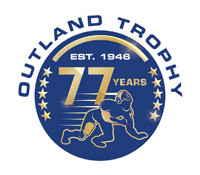 The 2022 Outland Trophy is awarded annually to the nation's best college interior lineman on offense or defense. The All-America Committee of the Football Writers Association of America (FWAA) selected the semifinalists.
The semifinalists will be pared to three finalists on Tues., Nov. 29. The recipient of the 2022 Outland Trophy will be announced on The Home Depot College Football Awards, live in a virtual presentation on ESPN on Thurs., Dec. 8. The official presentation to the winner will be made at the Outland Trophy Awards Dinner sponsored by Werner Enterprises and produced by the Greater Omaha Sports Committee in Omaha, Neb., on Wed., Jan. 11, 2023.
The field for the 2022 Outland Trophy is as follows: guard Steve Avila of TCU, defensive tackle Jalen Carter of Georgia, offensive tackle Paris Johnson Jr. of Ohio State, defensive tackle Calijah Kancey of Pitt, center Olusegun Oluwatimi of Michigan, offensive tackle Peter Skoronski of Northwestern and center John Michael Schmitz of Minnesota.
Carter, Johnson, Kancey and Schmitz have previous Outland Trophy winners at their respective schools that combine for 10 previous awards. Oluwatimi would be Michigan's first Outland winner, though it's had previous finalists. Avila and Skoronski are their school's first Outland Trophy semifinalists.
Here is a quick glance at the seven semifinalists:
Steve Avila, G, TCU (6-4, 330, Sr., Arlington, Texas): Avila, one of the Horned Frogs' captains, has anchored one of the FBS' top offensive lines that has put TCU, picked seventh in the preseason Big 12 poll, in contention for a College Football Playoff berth. With first-year head coach Sonny Dykes at the helm, TCU is tops in the FBS in plays of 50-plus (15) and 60-plus (9) yards and one of three (Ohio State, Oregon) averaging at least 270 yards per game passing, 200 rushing and have at least 20 passing and 20 rushing touchdowns. A two-time All-Big 12 center now playing guard with 30 career starts to date, Avila has helped running back Kendre Miller (1,147 yards) become TCU's first 1,000-yard rusher since 2016 and push for the Big 12 rushing title.
TCU has never had an Outland Trophy semifinalist. The Frogs last had defensive linemen on the FWAA All-America teams from 2008-10 with Jerry Hughes (2008, '09) and Wayne Daniels (2010).
Jalen Carter, DT, Georgia (6-3, 300, Jr., Apopka, Fla.): Carter, already considered one of the top interior linemen in the nation coming into the season, has missed time with a knee injury and has played in only eight games. He's been a force in his last two games. In his Nov. 5 return against then-No. 1 Tennessee, Carter had four tackles, a sack and two TFL's and forced two fumbles as Georgia shut down the Volunteers and gave up its only touchdown with the game decided. The following week, Carter had a career-high seven tackles, another sack to go with 1.5 TFL's at Mississippi State. With Carter in its interior for most of the season, Georgia has only allowed three rushing touchdowns this season.
Carter gives Georgia consecutive defensive tackle semifinalists following 2021 Outland Trophy winner Jordan Davis, the Bulldogs' second winner. Defensive tackle Bill Stanfill won the Outland in 1968. Carter is also Georgia's third semifinalist from the last four seasons, following fellow defensive tackles Davis (2021) and Andrew Thomas (2019).
Paris Johnson Jr., OT Ohio State (6-6, 310, Jr., Cincinnati, Ohio): Johnson is the stalwart among a host of great Buckeyes up front, starting in 23 consecutive games dating back to the start of the 2021 season and powering one of the nation's top offenses in that time. The Buckeyes have a balanced average of 501.9 yards of total offense – 294 passing and 207 rushing – that is sixth nationally, and their 63 offensive touchdowns lead the FBS and their 46.8 points per game is second. The line is tied for sixth nationally in fewest TFL's allowed with 37 and with only seven sacks allowed. Part of its scoring prowess moving most often to Johnson's side, Ohio State has scored on 47 of 49 trips into the red zone.
Johnson is Ohio State's third consecutive semifinalist following Nicholas Petit-Frere in 2021 and Wyatt Davis in 2020. Billy Price was also a semifinalist in 2017. The Buckeyes have four previous winners of the Outland Trophy in Orlando Pace (1996), John Hicks (1973), Jim Stillwagon (1970) and Jim Parker (1956).
Calijah Kancey, DT, Pitt (6-0, 280, Jr., Miami, Fla.): Kancey is the among the national leaders with 14.0 tackles for loss (t-11th in FBS) and 7.0 sacks (t-26th). The pass-rush specialist is also a finalist for the Bronko Nagurski Trophy, the FWAA's award honoring the nation's most outstanding defensive player. Kancey's career highs of 3.0 sacks (vs. Virginia) and 3.5 TFL's (vs. Georgia Tech) have come within Pitt's last six games. Kancey – his first name is pronounced Kah-LIE-jah and rhymes with 'Elijah' – is seventh on the team with 29 total tackles with 17 solos. Bolstered by his efforts on the outside, Pitt leads the nation in sacks with 3.70 per game.
Pitt already boasts a defensive tackle from its two former Outland Trophy winners, Aaron Donald in 2013. Offensive tackle Mark May won it in 1980. Mark Stepnoski, a guard, was a finalist in 1988. Three of Pitt's five FWAA All-Americans over the past four seasons – Jaylen Twyman on the 2019 second team, Rashad Weaver on the 2020 first team and now Kancey – have come from its defensive line.
Olusegun Oluwatimi, C, Michigan (6-3, 307, Gr., Upper Marlboro, Md.): Michigan has returned to contention in the Big Ten and the College Football Playoff because of its offensive line success ahead of its run game. Oluwatimi was a second-team FWAA All-American at Virginia in 2021 before becoming a graduate transfer to Michigan last spring. He has 42 career starts at center between the two schools and has helped the Wolverines ichigan produce six 225-yard-plus rushing performances this season and the Wolverines lead the Big Ten and are fourth nationally in rushing at 251.4 yards per game. In the passing game, Michigan has yielded only 12 sacks (21st in FBS) and 44 total TFL's (23rd) in 706 snaps.
Michigan has not had an Outland Trophy winner in its past and its last finalist, offensive tackle Jake Long, came in 2007. Center David Baas (2004) and offensive tackle Greg Skrepenak (1991) are also former finalists. Also of note, Michigan's last offensive lineman to earn FWAA All-America status was center David Molk in 2011.
John Michael Schmitz, C, Minnesota (6-4, 320, Sr., Flossmoor, Ill.): Schmitz is in the middle of a line that has had remarkable consistency starting the same five up front in every game this season. Schmitz, considered one of the two best centers in the nation along with Michigan's Oluwatimi, guides an offense that has running back Mohamed Ibrahim on a streak of 18 consecutive 100-yard games – the longest by any FBS player since 2000 according to ESPN. Ibrahim averages 5.4 yards per carry and has three games of 200-plus yards. In protection, the Gophers have given up just 10 sacks in 10 games, tied for 13th in the FBS for fewest allowed, and given up 42 TFL's is the 16th-best mark. Minnesota has dominated time of possession this year averaging 35:44 minutes with the ball, second only to Air Force nationally.
Schmitz is Minnesota's first Outland semifinalist and first FWAA All-American on the offensive line since 2005 when Greg Eslinger won the Outland Trophy. Eslinger is one of three former Gophers to win the Outland along with defensive tackle Bobby Lee Bell (1962) and guard Tom Brown (1960). Those are Minnesota's only prior semifinalists
Peter Skoronski, OT, Northwestern (6-4, 315, Jr., Park Ridge, Ill.): Skoronski leads all offensive linemen with a 93.1 pass blocking grade, according to Pro Football Focus. A team captain with 30 career starts, Skoronski has allowed only five pressures on 383 pass-blocking snaps this season. A two-time All-Big Ten player – second team in 2020 and first team in '21 – his run-blocking grade is also in the top-15 per PFF. Skoronski and the line combined to give up only one sack for minus-five yards and 9.0 total TFL's in feature games against Ohio State and Penn State this season.
Skoronski is the first Northwestern player to earn an Outland semifinalist nod and the Wildcats' first FWAA All-American since 2012 (punt returner Venric Mark). Northwestern's last FWAA All-American along the offensive line was Zach Strief in 2005.
The Outland Trophy is the third-oldest major college football award. Created in 1946 when Dr. John Outland presented the FWAA with a financial contribution to initiate the award, the Outland Trophy has been given to the best interior lineman in college football ever since. Dr. Outland, an All-American at the University of Pennsylvania in the late 1890s, eventually took up practice in Kansas City, Mo. An avid outdoorsman, Dr. Outland believed linemen did not get the credit they deserved and wanted an award to recognize them.
The Outland Trophy is a member of the National College Football Awards Association (NCFAA), which encompasses college football's most prestigious awards. The NCFAA's 25 awards have honored more than 800 recipients since 1935. Visit NCFAA.org for more information.
Founded in 1941, the Football Writers Association of America consists of journalists, broadcasters, publicists, photographers and key executives in all areas of college football. The FWAA works to govern media access and gameday operations while presenting awards and honors, including an annual All-America team. For more information about the FWAA and its programs and initiatives, contact Executive Director Steve Richardson at 214-870-6516 or tiger@fwaa.com.