OMAHA (FWAA) Offensive tackles whose teams will face each other in a College Football Playoff semifinal and one of the nation's top defensive tackles were named as the three finalists for the 2020 Outland Trophy by the Football Writers Association of America. Liam Eichenberg, an offensive tackle for Notre Dame's top-20 rushing offense, and Alex Leatherwood, an offensive tackle on one of the nation's top offenses at top-ranked SEC champion Alabama, join Daviyon Nixon, an Iowa defensive tackle who led all interior linemen in tackles for loss, as this season's superior interior linemen.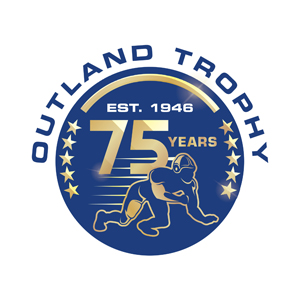 The Outland Trophy is awarded annually to the nation's best college interior lineman on offense or defense. The All-America Committee of the Football Writers Association of America selected the three finalists from among the six semifinalists announced last week.
The recipient of the 75th Outland Trophy will be announced during ESPN's The Home Depot College Football Awards on Jan. 7, 2021 and is scheduled to be honored on Jan. 13 in Omaha at a dinner hosted by the Greater Omaha Sports Committee and sponsored by Werner Enterprises.
A closer look at each of the finalists, with a note that Eichenberg and Leatherwood will oppose each other in the Rose Bowl Game presented by Capital One on Jan. 1, 2021 in a College Football Playoff Semifinal.
Liam Eichenberg, OT, Notre Dame (6-6, 302, Gr., Cleveland, Ohio): Eichenberg, the winner of the ACC's Jacobs Blocking Trophy as the league's most outstanding blocker, anchors a talented offensive front that was third in the ACC and 11th nationally in rushing offense at 235.0 yards per game in leading the Fighting Irish to a 10-1 season. The Irish were third in the ACC in fewest sacks allowed per game (2.09, and 23 total). Eichenberg's efforts helped Notre Dame produce a 1,000-yard rusher in Kyren Williams, and three different running backs had 100-yard games for a combined nine 100-yard days in 11 games. The Irish topped 500 total yards four times this season. Eichenberg was named the ACC's Offensive Lineman of the Week twice, and his protection at left tackle helped quarterback Ian Book to set a school record with 266 consecutive passing attempts without an interception. Notre Dame has had three Outland Trophy winners, the most recent being defensive end Ross Browner in 1976 (also guard Bill Fischer in 1948 and tackle George Connor in 1946). In 2017 guard Quenton Nelson was a finalist and offensive tackle Mike McGlinchey was a semifinalist.
Alex Leatherwood, OT, Alabama (6-6, 312, Sr., Pensacola, Fla.): Leatherwood's qualification is simple: he's regarded as the best offensive lineman on the nation's best offense that continues to post record marks in an 11-0 season. Alabama's 52 points in its SEC Championship Game win marks the third straight game for the Tide to top 50 points and Leatherwood's protection at left tackle helped quarterback Mac Jones set SEC Championship Game records for yards (418) and completions (33). Alabama has scored 35 or more points in 24 consecutive games, the longest streak in major-college football history, and averages 49.7 points per game. Leatherwood has an overall blocking grade of 90.8 by the Alabama coaching staff and has graded out at a team-high-tying 99.6 on all assignments. Running back Najee Harris (1,262 yards, 5.90 ypc) has 24 rushing touchdowns, the second-most in Alabama history. Leatherwood was named a permanent team captain by his Crimson Tide teammates as well as one of four Offensive Achievement Award winners by the coaches. Four of Alabama's five previous Outland winners have been offensive tackles Cam Robinson (2016), Barrett Jones (2011), Andre Smith (2008) and Chris Samuels (1999) · as well as five of the Tide's last seven finalists.
Daviyon Nixon, DT, Iowa (6-3, 305, Jr., Kenosha, Wis.): This is the first career postseason honor for Nixon, the Big Ten Defensive Player of the year and Defensive Lineman of the Year who tied for the conference lead with 5.5 sacks on a team that has won six straight games after an 0-2 start. In just eight games played Nixon led the nation among defensive tackles with 13.5 tackles for loss, clogging the middle on an Iowa defense that was second in the Big Ten in total defense (313.8 ypg), third in scoring defense (16.0) and rushing defense (107.6) and fourth in pass defense (206.1). Nixon is tied for third in tackles for the Hawkeyes with 45 and 22 solos. He opened the season with seven tackles at Purdue and then posted a career-high 11 against division champion Northwestern, and his 71-yard interception return for a touchdown at Penn State remains on network highlight packages. The Hawkeyes have had four Outland winners in their past, most recently offensive tackle Brandon Scherff in 2014. Offensive tackle Tristan Wirfs was a semifinalist last season. Offensive tackle Robert Gallery (2003), tackle Alex Karras (1957) and guard Calvin Jones (1955) are the school's other winners.
The Outland Trophy, which has been awarded annually by the FWAA since 1946, is named after the late John Outland, an All-America lineman at the University of Pennsylvania in the late 1800s. The Outland Trophy is the third-oldest award in major college football behind the Heisman Trophy and Maxwell Award.
The Outland Trophy is the third-oldest major college football award. Created in 1946 when Dr. John Outland presented the FWAA with a financial contribution to initiate the award, the Outland Trophy has been given to the best interior lineman in college football ever since. Dr. Outland, an All-American at the University of Pennsylvania in the late 1890s, eventually took up practice in Kansas City, Mo. An avid outdoorsman, Dr. Outland believed linemen did not get the credit they deserved and wanted an award to recognize them.
The Outland Trophy is a member of the National College Football Awards Association (NCFAA), which encompasses the most prestigious awards in college football. Founded in 1997, the NCFAA and its 25 awards now boast over 800 recipients, dating to 1935. Visit ncfaa.org to learn more about our story.
Founded in 1941, the Football Writers Association of America consists of 1,300 men and women who cover college football.
The membership includes journalists, broadcasters and publicists, as well as key
executives in all the areas that involve the game. The FWAA works to govern areas
that include game-day operations, major awards and its annual All-America team.
For more information about the FWAA and its award programs, contact Steve Richardson
at tiger@fwaa.com.
Related links:
Preseason Watch
List | Semifinalists |
Finalists
·
All-time Outland Trophy winners,
candidates
• Download 75th Anniversary Outland Trophy logo: Primary (.jpg) | Dark background (.jpg) | Illustrator (.ai)