OMAHA (FWAA) Six semifinalists for the 75th Anniversary Outland Trophy · five offensive linemen and one defensive tackle · were announced Monday by the Greater Omaha Sports Committee. The semifinalists include two teammates and are players from five schools at four different positions representing three different conferences.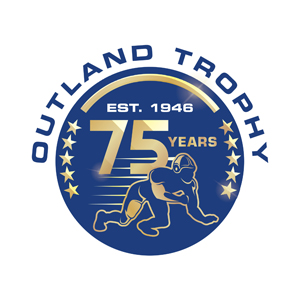 The Outland Trophy is awarded annually to the nation's best college interior lineman on offense or defense. The All-America Committee of the Football Writers Association of America (FWAA) selected the semifinalists from nominations by the membership.
The field for the 2020 Outland Trophy is as follows: guard Wyatt Davis of Ohio State, center Landon Dickerson of Alabama, offensive tackle Liam Eichenberg of Notre Dame, guard Kenyon Green of Texas A&M, offensive tackle Alex Leatherwood of Alabama and defensive tackle Daviyon Nixon on Iowa.
The six semifinalists will be pared to three finalists on Dec. 22. The recipient of the 75th Outland Trophy will be announced during ESPN's The Home Depot College Football Awards on Jan. 7, 2021. The official presentation to the winner by the Greater Omaha Sports Committee is still to be determined.
Here is a closer look at each of the semifinalists:
Wyatt Davis, G, Ohio State (6-4, 315, Jr., Bellflower, Calif.): Davis is at the forefront of an offensive line that guides one of the countrys most explosive offenses. The Buckeyes in five games played are fourth nationally in scoring offense at 46.6 points per game and sixth nationally in total offense at 536.4 ypg while leading the Big Ten in rushing at 233.2 ypg. The interior protection by Davis, a second-team FWAA All-American last year, has been stellar as Justin Fields moved to fourth in the nation in quarterback efficiency while completing 79 percent of his passes with 13 touchdowns against only three interceptions. Ohio State has four Outland winners in its past, started off by guard Jim Parker in 1956. Middle guard Jim Stillwagon (1970) and offensive tackles John Hicks (1973) and Orlando Pace (1996) have won it since. Center Billy Price is the Buckeyes· most recent semifinalist in 2017.
Landon Dickerson, C, Alabama (6-6, 325, Sr., Hickory, N.C.): Dickerson, a Florida State transfer, has made the most of his only season calling the blocking assignments up front for the Crimson Tide. Alabama is third nationally in scoring at 49.2 points per game tops among schools playing five of more games · and has averaged 548.3 yards per game (4th nationally) while topping 500 yards in six of nine games. Setting things up front each play, Dickerson has helped Alabama establish national leaders at all three skill positions. The Crimson Tide claims two of the last four Outland winners, one on each side of the ball. Quinnen Williams, a defensive tackle, won in 2018, and offensive tackle Cam Robinson won the 2016 award. Alabama has not had a center win the Outland but Barrett Jones was a finalist in 2012 after winning the Outland as an offensive tackle in 2011, and center Ryan Kelly was a semifinalist in 2015. Alabama·s five Outland winners are tied with Oklahoma for the second-most all-time (Nebraska, 9).
Liam Eichenberg, OT, Notre Dame (6-6, 302, Gr., Cleveland, Ohio): Eichenberg anchors a talented offensive front that currently leads the ACC in fewest sacks allowed per game (1.67, and 15 total) while also second in the ACC in rushing offense (229.7 ypg). Three different running backs have totaled seven 100-yard games this season and ball control has allowed the Irish to only trail for 38:10 minutes out of a total 540 minutes of regulation. Eichenbergs protection has given quarterback Ian Book the extra time to attempt 237 passes without an interception, tied for the longest stretch among FBS signal-callers. Notre Dame has had three Outland winners, the most recent being defensive end Ross Browner in 1976 (also guard Bill Fischer in 1948 and tackle George Connor in 1946). In 2017 guard Quenton Nelson was a finalist and offensive tackle Mike McGlinchey was a semifinalist.
Kenyon Green, G, Texas A&M (6-4, 325, So., Humble, Texas): Green has led the Aggies into national prominence by allowing quarterback Kellen Mond to set school passing records while also paving the way for an underrated running attack. Hes the best among an offensive line which is fifth in the nation and leads the SEC allowing just 0.5 sacks per game and 4.0 total on the season. The line's 4.0 TFL·s allowed per game is also top-10 nationally as Mond has set six career passing records, including wins as a quarterback. Texas A&M has an Outland winner from 2012 in offensive tackle Luke Joeckel, and offensive tackle Jake Matthews was a finalist in 2013.
Alex Leatherwood, OT, Alabama (6-6, 312, Sr., Pensacola, Fla.): At times the Crimson Tide offense is so fast and fluid you can miss watching the guys up front that make it so. Leatherwood has been a standout in protection as well as blocking, allowing quarterback Mac Jones to rank in the top 10 nationally of nearly every passing statistic. The Crimson Tide has scored 35 or more points in 22 consecutive games, the longest streak in major-college football history. Four of Alabamas five previous Outland winners have been offensive tackles · Cam Robinson (2016), Barrett Jones (2011), Andre Smith (2008) and Chris Samuels (1999) · as well as five of the Tide·s last seven finalists.
Daviyon Nixon, DT, Iowa (6-3, 305, Jr., Kenosha, Wis.): In just seven games, Nixon leads the Big Ten with 5.0 sacks and 11.5 tackles for loss in his first season on the Iowa front. His 36 tackles are tied for the most among Big Ten defensive linemen. Nixon opened the season with seven tackles at Purdue and then posted a career-high 11 against division champion Northwestern, and his 71-yard interception return for a touchdown at Penn State remains a national season highlight. The Hawkeyes have four Outland winners in their past, most recently offensive tackle Brandon Scherff in 2014. Offensive tackle Tristan Wirfs was a semifinalist last season. Offensive tackle Robert Gallery (2003), tackle Alex Karras (1957) and guard Calvin Jones (1955) are other winners.
The Outland Trophy, which has been awarded annually by the FWAA since 1946, is named after the late John Outland, an All-America lineman at the University of Pennsylvania in the late 1800s. The Outland Trophy is the third-oldest award in major college football behind the Heisman Trophy and Maxwell Award.
The Outland Trophy is the third-oldest major college football award. Created in 1946 when Dr. John Outland presented the FWAA with a financial contribution to initiate the award, the Outland Trophy has been given to the best interior lineman in college football ever since. Dr. Outland, an All-American at the University of Pennsylvania in the late 1890s, eventually took up practice in Kansas City, Mo. An avid outdoorsman, Dr. Outland believed linemen did not get the credit they deserved and wanted an award to recognize them.
The Outland Trophy is a member of the National College Football Awards Association (NCFAA), which encompasses the most prestigious awards in college football. Founded in 1997, the NCFAA and its 24 awards now boast over 800 recipients, dating to 1935. Visit ncfaa.org to learn more about our story.
Founded in 1941, the Football Writers Association of America consists of 1,300 men and women who cover college football.
The membership includes journalists, broadcasters and publicists, as well as key
executives in all the areas that involve the game. The FWAA works to govern areas
that include game-day operations, major awards and its annual All-America team.
For more information about the FWAA and its award programs, contact Steve Richardson
at tiger@fwaa.com.
Related links:
Preseason Watch
List | Semifinalists |
Finalists
·
All-time Outland Trophy winners,
candidates
• Download 75th Anniversary Outland Trophy logo: Primary (.jpg) | Dark background (.jpg) | Illustrator (.ai)