DALLAS (FWAA) The Mississippi State football team is the weekly nominee for the 2010 Discover Orange Bowl Courage Award, to be announced at the end of the season by the Football Writers Association of America.
The Bulldogs are dealing with the tragic death of a teammate earlier this month.
Nick Bell, 20, a sophomore defensive end from Bessemer, Ala., died Nov. 2 after a brief battle with cancer. Bell had played in the Bulldogs' first four games, starting two, but after experiencing headaches and weakness in a hand, doctors found a mass on Bell's brain. The diagnosis was synovial sarcoma, a rare and aggressive form of cancer.
Bell underwent surgery Oct. 1. Doctors were hopeful Bell would return to football after treatment was completed. Wearing a camouflage hat, he watched Mississippi State's win over UAB from the sidelines Oct. 23. But before chemotherapy could begin, his health worsened.
When Bell noticed he couldn't touch his thumb to his index finger and his vision was blurry, he was rushed to the hospital Oct. 31 for emergency surgery to remove another mass from his brain, according to the Birmingham News. Buses from Starkville, Miss., carried more than 50 teammates and coaches to the Birmingham, Ala., hospital, but Bell did not regain consciousness.
"We grabbed a bus and loaded up a bunch of guys," coach Dan Mullen told the Associated Press. "I think it's great that a lot of our players got to go over there, see the situation and get to say their goodbyes."
His teammates have persevered. Despite losing both games (to ranked opponents Alabama and Arkansas) since his death, Mississippi State is 7-4 heading into the annual "Egg Bowl" battle with in-state rival Mississippi.
The school has honored Bell's life in several ways. At last Saturday's home game with Arkansas, Bell's mother, Linda, ended an emotional pregame ceremony with MSU's greatest tradition, raising a cowbell above her head. The MSU marching band honored Bell with a formation that spelled out "36," his jersey number. Each 36-yard line was painted black rather than the traditional white, and the number 36 was painted on the field inside a maroon-and-white circle.
The Bulldogs are wearing patches with Bell's name and number on their jerseys. Against Arkansas, tight end Kendrick Cook wore Bell's jersey number.
"Nick lived his life like a champion and will always be remembered in our hearts that way," Mullen said in a statement released by the school. "During this impossible time, we pray for Nick's family and all those he has touched."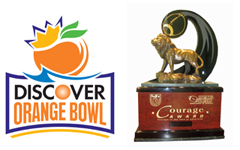 For the fifth straight year, the Football Writers Association of America and the Discover Orange Bowl will announce a weekly nominee for the Discover Orange Bowl Courage Award each Wednesday during the season. A blue-ribbon panel will determine the award's recipient from those weekly nominees. The recipient of the Courage Award will be announced in December and presented with the trophy in conjunction with this year's Discover Orange Bowl.
The Courage Award was created by ESPN The Magazine's senior writer Gene Wojciechowski, also an FWAA member. A select group of FWAA members vote on the recipient each year. The requirements for nomination include displaying courage on or off the field, including overcoming an injury or physical handicap, preventing a disaster or living through hardship.
Previous winners of the FWAA's Courage Award are the Connecticut Huskies (2009), Tulsa's Wilson Holloway (2008), Navy's Zerbin Singleton (2007), Clemson's Ray Ray McElrathbey (2006), the Tulane Green Wave (2005), Memphis' Haracio Colen (2004), San Jose State's Neil Parry (2003) and Toledo's William Bratton (2002).
The Orange Bowl Committee is a not-for-profit, 343-member, primarily-volunteer organization. It is a self-sustaining, independent organization that supports and produces activities and events that enhance the image, economy and culture of South Florida. The Orange Bowl Festival features a year-round schedule of events culminating with the Discover Orange Bowl on January 3, 2011. Other OBC core events include the MetroPCS Orange Bowl Basketball Classic, Orange Bowl Youth Football Alliance presented by Sports Authority, Orange Bowl International Tennis Championships and Orange Bowl Sailing Regatta Series. For more information on the 2010-11 Orange Bowl Festival and its events, including promotional and volunteer opportunities through the Ambassador Program, visit www.orangebowl.org.
The Football Writers Association of America, a non-profit organization
founded in 1941, consists of more than 1,200 men and women who cover college football
for a living. The membership includes journalists, broadcasters and publicists,
as well as key executives in all the areas that involve the game. The FWAA works
to govern areas that include gameday operations, major awards and its annual All-America
team. For more information about the FWAA and its award programs, contact Steve
Richardson at tiger@fwaa.com or 972-713-6198.
2010 Orange Bowl Courage Award Nominees

Sept. 29: Zac Etheridge, Auburn and Rodney Scott,
Ole Miss

· Oct. 6: Jon Hoese, Minnesota

· Oct. 13: Marquez Herrod, Colorado

· Oct. 20: Matt Anderson, North Dakota State

· Oct. 27: Jamie Hampton, Troy

· Nov. 3: Ricky Dobbs, Navy

· Nov. 17: Andrew, Colter and Paul Phillips

· Nov. 24: Mississippi State Bulldogs

· Dec. 1: Eric LeGrand, Rutgers