DALLAS (FWAA) Auburn safety Zac Etheridge and Ole Miss running back Rodney Scott are the first weekly nominees for the 2010 Discover Orange Bowl/FWAA Courage Award, to be announced at the end of the season.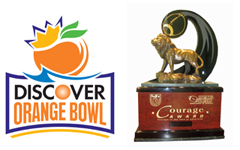 Etheridge, a senior from Troy, Ala., has returned to football after he was temporarily paralyzed while making a tackle in 2009. Scott, a sophomore from Cross City, Fla., is being recognized for his action or inaction · in helping prevent further injury to Etheridge.
During the teams' game last October, Etheridge tackled Scott. When both players remained motionless, it became apparent something was wrong. Etheridge had suffered a neck injury. Scott, sensing Etheridge was seriously injured, did not move.
"If I had moved, he could have been paralyzed," Scott told reporters.
"It was one of the most amazing things I've seen," Auburn coach Gene Chizik said. "I've got to give (Scott) a lot of credit. I don't know how he knew, but he just knew he couldn't move. He sat as still as the night, laying right underneath (Etheridge). It was one of the most phenomenal things I've witnessed."
Etheridge's spine wasn't structurally damaged. He suffered torn ligaments and a cracked fifth vertebra and had to wear an invasive neck brace for three months.
Etheridge earned his degree in public administration last December. He did not participate in spring practice, but was cleared to play just before the season. He ranks second on the team in tackles. Scott has played in a reserve role for the Rebels. The players have spoken on the phone several times since the accident.
"I take my hat off to Rodney Scott," Etheridge said a few days after the accident. "If he would have moved, I wouldn't be here today."
For the fifth straight year, the Football Writers Association of America and the Discover Orange Bowl will announce a weekly nominee for the Discover Orange Bowl/FWAA Courage Award each Wednesday during the season. A blue-ribbon panel will determine the award's recipient from those weekly nominees. The recipient of the Courage Award will be announced in December and presented with the trophy in conjunction with this year's Discover Orange Bowl.
The Courage Award was created by ESPN The Magazine's senior writer Gene Wojciechowski, also an FWAA member. A select group of FWAA members vote on the recipient each year. The requirements for nomination include displaying courage on or off the field, including overcoming an injury or physical handicap, preventing a disaster or living through hardship.
Previous winners of the FWAA's Courage Award are the Connecticut Huskies (2009), Tulsa's Wilson Holloway (2008), Navy's Zerbin Singleton (2007), Clemson's Ray Ray McElrathbey (2006), the Tulane Green Wave (2005), Memphis' Haracio Colen (2004), San Jose State's Neil Parry (2003) and Toledo's William Bratton (2002).
The Orange Bowl Committee is a not-for-profit, 343-member, primarily-volunteer organization. It is a self-sustaining, independent organization that supports and produces activities and events that enhance the image, economy and culture of South Florida. The Orange Bowl Festival features a year-round schedule of events culminating with the Discover Orange Bowl on January 3, 2011. Other OBC core events include the MetroPCS Orange Bowl Basketball Classic, Orange Bowl Youth Football Alliance presented by Sports Authority, Orange Bowl International Tennis Championships and Orange Bowl Sailing Regatta Series. For more information on the 2010-11 Orange Bowl Festival and its events, including promotional and volunteer opportunities through the Ambassador Program, visit www.orangebowl.org.
The Football Writers Association of America, a non-profit organization
founded in 1941, consists of more than 1,200 men and women who cover college football
for a living. The membership includes journalists, broadcasters and publicists,
as well as key executives in all the areas that involve the game. The FWAA works
to govern areas that include gameday operations, major awards and its annual All-America
team. For more information about the FWAA and its award programs, contact Steve
Richardson at tiger@fwaa.com or 972-713-6198.
2010 Orange Bowl Courage Award Nominees

Sept. 29: Zac Etheridge, Auburn and Rodney Scott,
Ole Miss

· Oct. 6: Jon Hoese, Minnesota

· Oct. 13: Marquez Herrod, Colorado

· Oct. 20: Matt Anderson, North Dakota State

· Oct. 27: Jamie Hampton, Troy

· Nov. 3: Ricky Dobbs, Navy

· Nov. 17: Andrew, Colter and Paul Phillips

· Nov. 24: Mississippi State Bulldogs

· Dec. 1: Eric LeGrand, Rutgers