SCOTTSALE, Ariz. (FWAA) – The Football Writers Association of America announced its 10th annual Freshman All-America Team on Monday morning during the association's annual awards breakfast. Each of the 11 NCAA Division I Bowl Subdivision Conferences is represented on the team.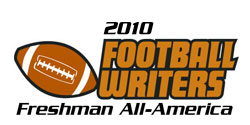 The Big 12 and Southeastern conferences each placed five players on the team, followed by the Atlantic Coast with four, the Pacific-10 with three, and the Big Ten, Big East, Mountain West and Conference USA with two players each.
Florida State's first-year coach, Jimbo Fisher, taking over for the legendary Bobby Bowden, claimed the first-year coaching honors when his Seminoles finished with a 10-4 record after beating South Carolina in the Chick-fil-A Bowl.
The team and coach are selected by a 11-person panel of nationally-prominent writers led by Mike Griffith of the Knoxville News Sentinel. Both true freshmen and redshirt freshmen were considered for the team and are so noted.
2010 FWAA FRESHMAN ALL-AMERICA TEAM
OFFENSE
Pos.
Player, School
Ht.
Wt.
Hometown
QB
Danny O'Brien, Maryland
6-3
215
Kernersville, N.C.
RB
• Ronnie Hillman, San Diego State
5-10
175
La Habra, Calif.
RB
• Marcus Lattimore, South Carolina
6-0
218
Duncan, S.C.
WR
Josh Boyce, TCU
6-0
203
Copperas Cove, Texas
WR
• Marquess Wilson, Washington State
6-3
173
Tulare, Calif.
WR
• Robert Woods, USC
6-1
185
Carson, Calif.
TE
Ted Bolser, Indiana
6-6
252
Cincinnati, Ohio
T
• Seantrel Henderson, Miami
6-8
330
St. Paul, Minn.
T
• Luke Joeckel, Texas A&M
6-6
304
Arlington, Texas
G
Alvin Bailey, Arkansas
6-5
323
Broken Arrow, Okla.
G
Will Jackson, Georgia Tech
6-3
285
Knoxville, Tenn.
C
• James Stone, Tennessee
6-4
295
Nashville, Tenn.
DEFENSE
Pos.
Player, School
Ht.
Wt.
Hometown
DE
• Damontre Moore, Texas A&M
6-4
248
Rowlett, Texas
DE
• Junior Onyeali, Arizona State
5-11
233
Denver, Colo.
DT
• Roosevelt Nix, Kent State
6-0
250
Reynoldsburg, Ohio
DT
Akeem Spence, Illinois
6-1
305
Fort Walton Beach, Fla.
LB
• Shaun Lewis, Oklahoma State
5-11
212
Missouri City, Texas
LB
• C.J. Mosley, Alabama
6-2
225
Theodore, Ala.
LB
• Keith Smith, San Jose State
6-2
225
Covina, Calif.
LB
Tom Wort, Oklahoma
6-1
225
New Braunfels, Texas
CB
• Tyrann Mathieu, LSU
5-9
180
New Orleans, La.
CB
Xavier Rhodes, Florida State
6-1
209
Miami, Fla.
S
• Marco Nelson, Tulsa
6-0
192
Glenpool, Okla.
S
• Ty Zimmerman, Kansas State
6-1
203
Junction City, Kan.
SPECIALISTS
Pos.
Player, School
Ht.
Wt.
Hometown
P
• Tom Hornsey, Memphis
6-3
205
Geelong, Australia
K
• Ross Krautman, Syracuse
5-7
154
Franklin Lakes, N.J.
PR
• Terrence Mitchell, USF
5-10
165
Tampa, Fla.
KR
• Willie McNeal, Western Kentucky
5-10
160
Bradenton, Fla.
HEAD COACH
Jimbo Fisher, Florida State
• Denotes true freshman
The Football Writers Association of America, a non-profit organization founded in 1941, consists of more than 1,200 men and women who cover college football for a living. The membership includes journalists, broadcasters and publicists, as well as key executives in all the areas that involve the game. The FWAA works to govern areas that include gameday operations, major awards and its annual All-America team. For more information about the FWAA and its award programs, contact Steve Richardson at tiger@fwaa.com or 972-713-6198.
All-Time FWAA Freshman All-America Teams
• 2001 | 2002 | 2003 | 2004 | 2005 | 2006 | 2007 | 2008 | 2009 | 2010
2010 FWAA FRESHMAN ALL-AMERICA COMMITTEE
Marc Anderson
Las Vegas Review Journal
Mountain West
Marc Blaudschun
Boston Globe
ACC
Mike Griffith
Knoxville News Sentinel
SEC
Blair Kerkhoff
Kansas City Star
Big 12
Paul Letlow
Scout.Com
Sun Belt
Phil Miller
Minneapolis Star Tribune
Big Ten
Brian Murphy
Idaho Statesman
WAC
George Schroeder
Eugene Register-Guard
Pacific-10
Phil Stukenborg
Memphis Commercial Appeal
Conference USA
Donnie Webb
Syracuse Post-Standard
Big East
Doug Zaleski
Muncie Star Press
MAC